Commentary
MLB's best & worst promotions
Originally Published:
March 31, 2011
By
DJ Gallo
| Page 2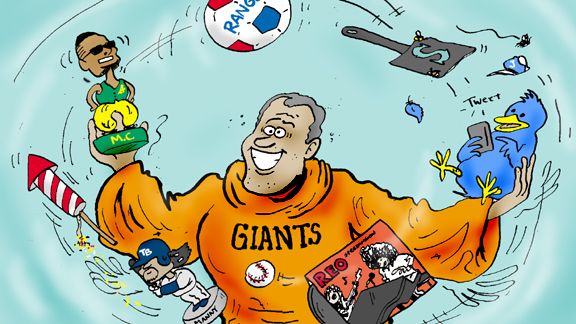 Kurt Snibbe/ESPN.comIf you play your cards right, there's plenty of free stuff at the ballpark this season.
Our national pastime is back. Yes, it's time to get free stuff again at major league baseball games.
Here are the best and worst promotions and giveaways on the 2011 MLB calendar.
WORST 2011 MLB PROMOTIONS
Roy Halladay Cy Young Award Baseball & Collectible Tin (Phillies, April 2)
Maybe sometimes Philadelphia fans get a bad rap. But let's not tempt fate. It's completely irresponsible to just hand them all a projectile and a piece of metal.
Dodgers Sleeved Blanket (Dodgers, April 3)
"Sleeved blanket"? Oh, good try, Dodgers. But you're not fooling anyone. You're giving away a Snuggie. (And don't try to make fun of them, Giants fans. On May 20th your team is giving away an "Orange Wearable Blanket" -- aka also a Snuggie.)
Tweeting Tuesdays (Blue Jays, April 5)
Every Tuesday home game during the season the Blue Jays have scheduled Tweeting Tuesdays in which "fans and @bluejays followers will have the opportunity to interact and communicate with the Blue Jays and other Blue Jays fans while watching the game."
Interacting and communicating with the Blue Jays during games sounds like an ambitious and creative idea. And also a terrible idea. Does this mean fans can really contact the players during a game? I can't even imagine what players might get tweeted at them after a strikeout if Tweeting Tuesdays existed in New York or Philadelphia. Maybe the Blue Jays just think Canadians are too polite. Let's hope they're right.
"@JoseBautista Good try on those three swings. You did your best and I will continue to support you!"
"@EdwinEncarnacion Bummer on that E5! I WISH my arm was strong enough to throw it 6 rows into the stands! Would be neat if you reached me in the upper deck!"
Mystery Ball (Diamondbacks, April 16)
I think this is better than a Mystery Meat giveaway. I think.
Rays Arm Sleeve (Rays, April 17)
What is an arm sleeve? Apparently this. I am familiar with regular sleeves; they come as part of whole shirts. Considering the history of the Rays organization, there is a good chance they were unwilling to pay for the whole shirt.
Angels Wrestling Mask (Angels, May 10)
The promotional write-up says: "Show your Angel pride with this original mask." Also, show local law enforcement that they should keep an eye on you because you are clearly disturbed.
Kids Mark Ellis Bat Day (A's, May 14)
Ellis is a 33-year-old second baseman with a .268 career batting average. Luckily for the A's, most kids are too dumb to know that a Mark Ellis bat is a terrible giveaway item.
Raymond Pillowcase (Rays, May 15)
It's a pillowcase with a big picture on it of the head of the Rays' freakish mascot, Raymond: The thing is terrifying. That's why I'm listing it among the worst giveaways. But if you feel nightmares build character in children, then by all means move it to the best category.
Franklin Gutierrez Fly Swatter Night (Mariners, May 19)
Nothing lets a player know that management respects him more than letting 20,000 people smash bug guts on his likeness.
Mariners "Go Green" Train Night (Mariners, June 3)
Nothing says "Go Green" like giving away cheap, plastic crap to 20,000 fans. All fans who bring in a receipt from their local BP station receive half-off admission! (Not really.) (I hope.)
Reds Military Style Cap (Reds, June 4)
What the? A military style cap … given away by a team called the REDS? Looks like Glenn Beck just got a whole week of programming for early June.
Fireworks Set to Bubblegum Pop (White Sox, June 10)
Bubblegum pop? Ugh. That stuff is terrible. Wait a minute … what day of the week is June 10? Oh, no. No no no no no. Why would the White Sox do this to their fans? Promotions are supposed to be fun fun fun fun.
B.J. Upton Bobblehead (Rays, June 19)
Everyone loves bobbleheads. But don't be surprised if the Upton bobblehead refuses to bobble. You might have to get Evan Longoria to yell at it to make it do what it's supposed to do.
Pyrotechnics Night (Mets, July 15)
Don't expect much. The Mets have no money. They'll probably just try to burn the National League East standings with Carlos Beltran and Jason Bay's heating pads.
Back-to-School Backpack (Diamondbacks, July 17)
Arizona takes this year's award for Unnecessarily Early Back-To-School Giveaway. What kind of sicko enjoys telling kids that school is coming soon in mid-July?
Michael Young T-Shirt (Rangers, July 25)
A Michael Young giveaway? In late July? Hmm. Poor scheduling. If general managers from other major league teams attend this game, they might be able to take home Young himself.
Sonics Celebration Night (Mariners, July 29)
Want to further depress fans of a team that is expected to bring up the rear in the American League West? Let's all remember the team that was stolen from us! YAY!
Miller Lite Beer Vendor Bobblehead (Brewers, July 30)
I've seen beer vendors. You've seen beer vendors. I don't see the public demand to have them in bobble form. Most them are naturally somewhat bobbley anyway.
Adam Wainwright Photo Baseball (Cardinals, Aug. 9)
Well here's a bummer of a giveaway. But I always try to look on the bright side of things: Wainwright is guaranteed to be undefeated on the night of his promotion.
---
BEST 2011 MLB PROMOTIONS
Jose Bautista Bobblehead (Blue Jays, April 3)
Absolutely no one expects Bautista to hit 54 home runs again. Especially, it seems, the Blue Jays' promotions department. That's why they're cashing in on his 2010 season during the first series of the season. Well played.
Pittsburgh Pirates T-Shirt presented by Waste Management (Pirates, April 22)
The Pittsburgh Pirates and Waste Management. Never before in the history of marketing has there been such a perfect partnership.
Cubs Notebook (Cubs, April 23)
"Note to self: If/when I get drunk at this game and forget where I live, take the Red Line train to the Lake station stop. You will probably remember from there."
John Axford Bobblehead (Brewers, April 24)
Who is John Axford, you ask? He's a former 42nd-round draft pick from Canada who had 24 saves for Milwaukee last year as a 27-year-old rookie. Not impressed? Fine. But check out this fine bobblehead mustache. Axford is definitely worthy of a bobblehead.
Rickey Henderson Bobblehead (A's, April 30)
The bobblehead is appropriately labeled "Rickey Henderson." It's almost like he's speaking in the third person right to you!
White Sox Welcome Mat (White Sox, May 21)
A great dual-use giveaway. White Sox fans can enjoy it because it has their favorite team's logo on it. And Cubs fans can stop by to get one to wipe their feet all over the White Sox logo.
Manny Ramirez Bobblehead (Rays, May 29)
Smart move by the Rays to have this promotion early in the season because by midseason Ramirez's behavior could make him unpopular with the fans. Although I suppose they could just rename it Manny Ramirez Voodoo Doll Night and sell just as many tickets.
Jorge Posada Figurine Night (Yankees, June 10)
You can't beat a free figurine of a Yankees legend. Plus, it moves just as well as the real Jorge Posada!
Fireworks and Huey Lewis and the News (Pirates, June 11)
If you like dated musical acts, then Major League Baseball has you covered this season. In cities around the country you can see The B-52s, REO Speedwagon, Goo Goo Dolls and more like them in postgame concerts. But no other old group speaks more to the modern hitter, so dominated by pitching in the post-steroids era, than Huey Lewis and the News singing "I Want a New Drug."
Steve Blass/Manny Sanguillen 1971 Championship Canvas Photo Wrap (Pirates, June 20)
With the Orioles in town for an interleague game, the Pirates are giving away a picture of Blass and Sanguillen celebrating Pittsburgh's victory over the Orioles in the '71 World Series. Oooh! Forty-years-ago burn!
The Orioles would totally come back with: "Oh, yeah? Well, at least we've won something recently!" If only they could.
MC Hammer Bobblehead (A's, July 17)
MC Hammer was an A's batboy in the late '70s. He hoped for a baseball career of his own, but his trademark pants made him a terrible baserunner.
Brandon Phillips Kids Nightlight (Reds, July 24)
It's lit by a little, low-wattage bulb. But good Reds-loving parents will convince their children that it's lit by Phillips' burning hatred of the Cardinals.
Skateboard Deck (Indians, July 24)
The Indians are among a handful of teams who are giving away team logo skateboard decks this year in what I can only assume is an attempt to sell baseball to the younger, X Games-loving demographic. Is this the first step toward a Major League Baseball of the future that, in order to stay relevant, melds with skateboarding and gives us outfielders jumping off ramps to snag home run balls, teams earning extra runs by doing skateboard tricks and all Cy Young winners looking like Tim Lincecum?
Of course not. But it's a fun tale to tell your grandfather. Hating the present and the future is what gets him up in the morning.
Beerfest (A's, July 30)
Beer goggles make an unattractive person look good. They can also make an ugly stadium look good. Great idea, A's!
Scott Rolen Mesh Jersey (Reds, July 30)
A free jersey is never a bad thing. And if the historically frail Rolen goes down to injury by July 30, the Reds can just rename it Scott Rolen Gauze Jersey Night.
Ichiro Designed T-Shirt Night (Mariners, Aug. 12)
Cool idea. The shirt actually isn't much to look at, but it's pretty impressive that a major leaguer designed a T-shirt and it didn't come out looking exactly like an Ed Hardy shirt.
Rangers Football (Rangers, Aug. 28)
The Rangers went to the World Series last year. They could go again this year. And next year. And for all eternity. And Texas would remain football country. No point in fighting it.
Calculator Day (Yankees, Sept. 4)
Generations of fathers have taken their sons to Yankees games and taught them about the sport of baseball and the history of the championship franchise.
Son: "Pop, what makes the Yankees so great?"
Father: "Well, son, see that calculator there?"
Son: "Yes."
Father: "The Yankees have more money than every other team and they add up all their money on a calculator like that and then buy all of the best players."
Son: "It's a grand sport, pop."
Father: "It sure is, son."
Johnny Bench Night (Reds, Sept. 17)
Have you seen Johnny Bench lately? This is like a scheduled car crash. Not to be missed.
DJ Gallo is the founder of SportsPickle.com. His first book, "The View from the Upper Deck," is available from only the finest bargain-book retailers. His next book project will be released soon. You can follow him on Twitter at @DJGalloESPN.