Commentary
Grading baseball teams' slogans
Originally Published:
April 13, 2011
By
DJ Gallo
| Page 2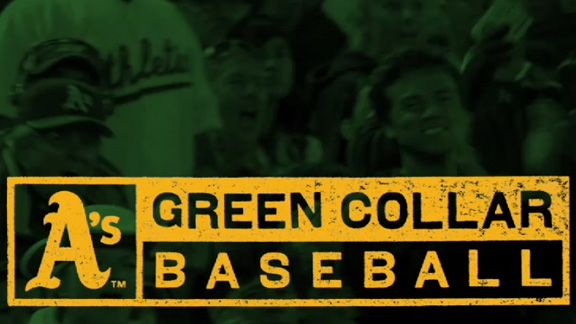 Oakland A'sWe can't decide if Oakland's team slogan for this season is good or bad.
The baseball season is still young. Franchises are still trying to sell their teams to their cities. Most teams have official team slogans they put on their websites as a marketing aid.
Most teams do. But 14 of the 30 major league teams do not have slogans. Some, like the Mets, probably couldn't afford one; others, like the Indians, likely couldn't think of a good, baseball-related anti-LeBron line. So we are left to develop a perception of those teams on our own -- based off, I don't know, how good they are at baseball or something. Weird.
As for the 16 MLB teams that did make the effort to come up with a slogan for 2011? Here are the best and worst:
Grade: F

Minnesota Twins -- This Is Twins Territory
In case you logged on to MinnesotaTwins.com and were worried you were actually on another site, or perhaps went to Target Field for a game and panicked upon seeing half the players on the field in non-Twins apparel ... do not fear! You are indeed in Twins territory!
Chances are MLB gives each team the option of going with a slogan or without, and if a team chooses "with" they are automatically assigned a vanilla default slogan they are supposed to improve like "This Is Twins Territory" or ...

Cincinnati Reds -- This Is Reds Country
Yes, this is Reds country. It's definitely not Twins territory. That's an entirely different boring place.
Grade: D

Baltimore Orioles -- This Is Birdland
"This Is Birdland" is slightly better than what the Twins and Reds have going. Baltimore took the standard default option -- something like: "This Is Where The Baltimore Orioles Play Baseball" -- and spiced it up a little bit by giving the finger to the St. Louis Cardinals. "Hey, we might not be too great or excited about our prospects this season, but screw the Redbirds, am I right? This is Birdland."

Houston Astros -- We Are Your Astros
Simple and honest. But also incredibly depressing. "Remember when we had Bagwell, Biggio, Berkman and Oswalt? Well, those guys are long gone. Now we are your Astros." Instead of a trumpet playing "Charge!" at home games, it's very likely the Astros employ a sad trombone player.

Detroit Tigers -- Who's Your Tiger?
Perhaps this is a spin on some cool phrase the kids are saying? If so, I apologize for not staying up on the hip lingo. I am aware of "Who's your Daddy?" but that's pretty dated. Again, I'm not up on the latest rad sayings. But I can see this catchphrase becoming popular in Detroit: "Who is the Tigers' marketing director? Do they have one? I seriously doubt it."

Oakland A's -- Green Collar Baseball
It's not white collar baseball, it's not blue collar baseball ... it's Green Collar Baseball! See what they did there? It's actually kind of clever. Really. Unfortunately, no one knows if this green collar baseball is good or bad. For now we can just assume it includes the A's and maybe poor hygiene and infrequent laundering. So until the A's turn the corner, it's probably best to just pass.
Grade: C

Pittsburgh Pirates -- Pride. Passion. Pittsburgh Pirates.
Now here is a slogan that seems like someone with a legitimate marketing and branding background had a role in creating. It's alliterative, it provides a sense of emotion and, best of all, it doesn't make any promises of success -- an important element for a team with 18 consecutive losing seasons.
Unfortunately, it's also the same exact slogan from last year when the Pirates lost 105 games. Maybe reusing a solid slogan is better than changing it to something like "Same Old Bucs" just for the sake of change.

Toronto Blue Jays -- Hustle + Heart 2.0
Toronto went 85-77 last year. So the team had a much better season than the Pirates did. But the Jays still finished fourth in the AL East. What's their plan to get over the hump in 2011? Nothing. Just a reboot of what they did last year. It's a mediocre song REMIX!

Chicago White Sox -- All In.
Chances are GM Kenny Williams came up with this slogan last year when he traded for Alex Rios and Jake Peavy. And if the White Sox do well this year, make the playoffs and make a run at the World Series, "All In" is a perfect slogan. If not, expect their 2012 slogan to be something like Houston's 2011 mantra: "Our Apologies, But These Are Your White Sox."

Texas Rangers -- My Texas. My Rangers.
This is the only team slogan that makes me somewhat scared. It has a certain "From my cold, dead hands!" feel to it. But I prefer this slogan to a possible more literal version: "Texas Rangers: Beware! Our Fans Are Packing."
Grade: B

Los Angeles Dodgers -- It's Time For Dodgers Baseball.
It's a fairly boring line up there with "This Is Twins Territory" and "This Is Reds Country." But the Dodgers are in a different situation than the Twins and Reds. Their fans have been subjected to non-stop divorce stories. So anything that is related to actual baseball is a winner. I would have gone with "Dodgers Baseball: Mommy And Daddy Still Love You." But what they picked works, too.

Boston Red Sox -- We Won't Rest
A solid, level-headed team slogan about motivation and not giving up. It was a good motto before the season started. It's even better now. Because if the Red Sox had to come up with a 2011 slogan after their 2-9 start, I'm not sure "AAAAAAHHHHHH AAAHHHH!" or "This Is Panic Button Territory" would serve them too well.

Kansas City Royals -- Major League Moments
A realistic yet hopeful team slogan. There will, indeed, be major league moments at Royals games this season. A cleanly fielded ground ball here, a nice hit-and-run there. And as the team continues to make progress, in future years there may be entire major league-quality games.

San Francisco Giants -- Together We're Giant
Solid slogan. It tells the fans that they are needed and appreciated. If only it wasn't the same line BALCO used on its athlete brochures in the '90s.
Grade: A

Chicago Cubs -- It's A Way Of Life
It's A Way Of Life. Five short words, yet they perfectly capture being a Cubs fan. Why continue to root for a big budget team that fails year after year -- almost century after century? It's a way of life. (I imagine the official delivery of the line has a sigh after it.)

Florida Marlins -- Catch Our Moves!
Catch Our Moves?! Many sports have moves. You can put a move on a defender in basketball, hockey and football. Wrestling is all about moves. Baseball? No moves.
So maybe the Marlins were implying they're going to be dumping all of their good players again? No. Too depressing.
Dancing? Will there be dancing? Perhaps Marlins players have been instructed to dance on the field between innings this year. No. That's ridiculous.
I have no idea. But it's a terrible, terrible, terrible slogan. Just terrible. And that's why it's great. It's so bad it's good. The Florida Marlins ... A Winner Is You!
DJ Gallo is the founder of SportsPickle.com. His first book, "The View from the Upper Deck," is available from only the finest bargain-book retailers. His next book project will be released soon. You can follow him on Twitter at @DJGalloESPN.