Commentary
Tales from the rookie symposium
Originally Published:
May 26, 2011
By
DJ Gallo
| Page 2
We have the first official casualty of the NFL lockout: the NFL Rookie Symposium, which was scheduled for June 26 in Canton, Ohio. This doesn't impact fans in any way, but it was an important program for rookies that helped them transition into the NFL.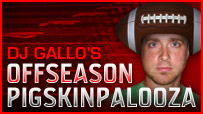 Started in 1997, the symposium educates incoming NFL players on the many challenges they'll face as professional athletes, from interacting with media and the fans to dealing with women and finances.
Here's what this year's program may have looked like:
Media Relations -- 9 to 9:30 a.m.
Former No. 2 overall draft pick Ryan Leaf will hold a discussion on the do's and don't of speaking to the media. His presentation includes a viewing of his short, instructional film: "Don't Talk To Me, All Right? Knock It Off!." Following the film, there will be a Q&A segment in which rookies can ask Mr. Leaf questions ... if they dare. (Note: NFL Security will be on hand with Tasers.)
Twitter -- 9:30 to 10 a.m.
Cincinnati Bengals wide receiver Chad Ochocinco will discuss how players in today's NFL can bypass the media completely and get their own message out via Twitter and other social media. Mr. Ochocinco will not be speaking live; you can follow him at @ochocinco and from 9:30 to 10 a.m. he will be tweeting about this issue and probably also about some other random stuff, like pregnant pigeons or something.
Pregnancy and Women -- 10 a.m. to 10:30 a.m.
Everyone has a different level of knowledge when it comes to sex and the human body. So we will start by focusing on the very basics with a presentation by former child actor Miko Hughes titled "Boys Have a Penis and Girls Have a Vagina."

After all of your questions about that are answered -- the day's schedule is flexible, so we can bump other presentations if the penis/vagina Q&A needs to go longer -- the clip from HBO's "Hard Knocks" will be aired in which New York Jets defensive back Antonio Cromartie struggles to remember the names of all of his children.
Stunned Silence and Quiet Reflection -- 10:30 to 10:45 a.m.
Players will be granted 15 minutes to digest the Cromartie clip.
Groupies -- 10:45 to 11 a.m.
Players will be dismissed briefly to use the bathroom or get a snack but must try to navigate the hotel lobby by avoiding the many groupies who are waiting there. Yes, there are groupies at the NFL Rookie Symposium. You will soon find that there are groupies everywhere. Even the crowd at your games -- a good 70 percent of the fans would be willing to have sex with you. Most of them might deny it initially, but after a few beers? It actually might be 75 or 80 percent.
Crime -- 11 a.m. to noon
NFL star Ray Lewis will talk about evil, which we call crime. He will discuss the many responsibilities that NFL players have. To be good players, role models, fathers, sons, brothers and husbands. But the biggest role of an NFL player is to fight crime. For without the NFL, evil -- which, again, we call crime -- will skyrocket throughout our land. Local law enforcement, state police, the FBI, homeland security and the justice system all play important roles, but none are as important as our nation's true superhero crimefighters, which we call NFL players.
Ray will also teach you how to dance after making, or even being near, a tackle.
Lunch -- Noon to 12:30 p.m.
There is a buffet-style lunch in the adjoining conference room. This is your longest free period of the day. Try not to commit any crimes. Ray Lewis is skeptical that you can do it.
Nutrition -- 12:30 to 1 p.m.
Top sports nutritionists will be on hand to speak about the importance of eating well. In college you may have been able to eat anything, but soon your metabolism will begin to slow and you will need to eat like an elite athlete if you want to perform like an elite athlete. Food is the fuel of your engine.
Each rookie will be asked to share what he just ate at lunch. For example, did you just have three pieces of ham, a salad covered in bacon bits and dressing, a plate full of fries, a soda and cookies? You can't keep eating like that in the NFL. Unless you are a lineman. If you are a lineman, that stuff should have just been your appetizer. Your diet must be tailored for your specific needs and designed for exactly how freakishly large for a human you are expected to be.
Training and Steroids -- 1 to 2 p.m.
Weight training is, of course, part of the job description of an NFL player (kickers and punters excluded). However, the league has a drug program that bans the use of performance enhancers. However, there is a gray area.
Houston Texans linebacker Brian Cushing will talk about how "over-training" can lead to a positive test. Really. You won't want to miss this. It should be interesting. Very interesting. Make sure to ask him a lot of specific questions. He even says there is something called OAS: Overtrained Athlete Syndrome. We're not making this up. His presentation is definitely going to be the most entertaining one of the day.
Finances -- 2 p.m. to end-of-day
Many rookies think that they are set for life financially once they are drafted into the league. That can be true for the top few picks -- but sometimes even they can blow through their money. (See: Russell, JaMarcus.)
NFL agent Drew Rosenhaus will talk about how little money players actually get from their contracts. For example, with a $1 million annual salary, after property, local, state and federal taxes, agent fees, and basic life expenditures -- such as mortgage, car payments, insurance, family expenses, food and clothing -- the average player is left with only about $200,000 out of his initial $1 million.
Note: This presentation is scheduled to go until 3 p.m., but it will likely go much later as Roger Goodell will keep trying to grab the microphone away or interject that the NFL owners have it much harder.
DJ Gallo is the founder of SportsPickle.com. His first book, "The View from the Upper Deck," is available from only the finest bargain-book retailers. His next book project will be released soon. You can follow him on Twitter at @DJGalloESPN.