Commentary
A day in the life of NASCAR at Pocono
Originally Published:
June 14, 2011
By
DJ Gallo
| Page 2
Auto racing is one of America's most popular sports. But I had never been to a race. So Sunday I decided to head to Pocono Raceway for the 5-Hour Energy 500 and check a NASCAR race off of my sports to-do list.
Upon arriving at Pocono Raceway, what you notice first are the twin spires. It looks a bit like Churchill Downs. Except instead of horses, here they race stock cars. And instead of mint juleps, here they drink Yuengling, Coors Light and Budweiser. And instead of elaborate, multicolored hats, here they ... well, they have those here, too.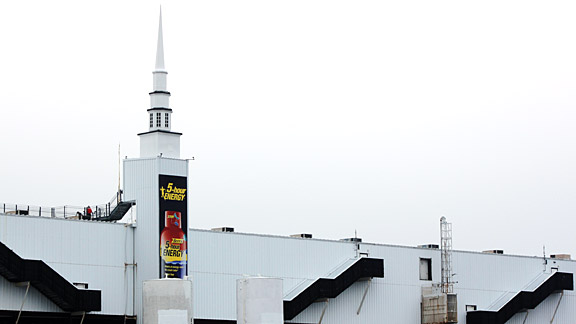 The tailgating scene wasn't much different than what you might see at any other sporting event. The percentage of pickup trucks was probably higher than the average football or baseball game. There were a bunch of rigs mixed in with the rest of the cars in the parking lot. Oh, and this. That's right -- who needs to wait in line for a port-a-potty when you can make your own? The engineering in a stock car is impressive, but not as impressive as the engineering that went into the creation of that parking-lot hole of human waste.
Outside of improvised sewage systems, the real action before the race is at the Fan Fair. It had live music, activities, contests and giveaways -- but mostly truck after truck after truck hocking NASCAR apparel and merchandise. If you wanted to plow through a few hundred dollars on T-shirts, hats, die-cast cars and collectibles, this is where you git-r-done.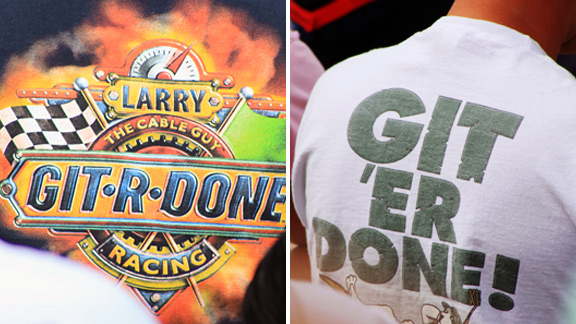 Take a look at the below picture. Here we have thousands of people ... of different races ... some of whom are carrying coolers of beer ... all of whom are casually dressed ... at a car race ... buying stuff they don't need ... under a giant American flag. There have been few photos ever taken that are more American than this one.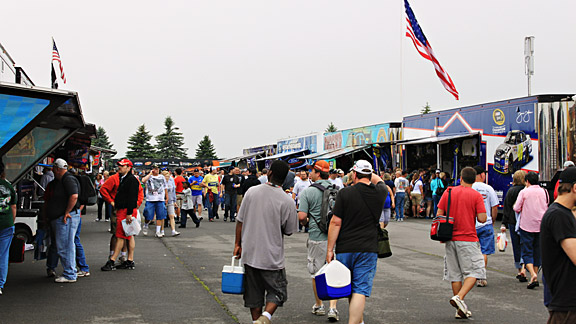 But we can talk about my inevitable photo-journalism award another time. Back to Fan Fest. Two of the longest lines were at the trucks selling Dale Earnhardt Jr. and Danica Patrick stuff.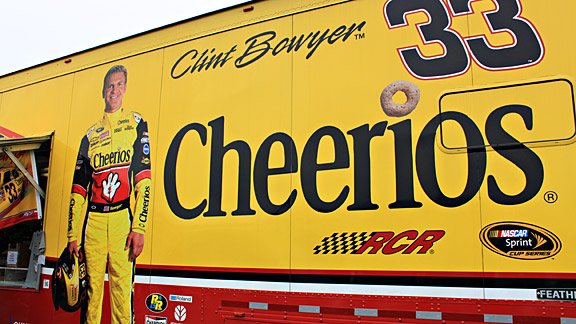 Which I suppose proves that winning races has absolutely nothing to do with being marketable.
There were fewer people shopping at Clint Bowyer's truck. That could be because he has actually won in the last year. Or it could be because it was close to lunch and the thought of Cheerios mixed with Hamburger Helper is pretty much the most disgusting thing ever. And let's not even get into where that gloved hand just came from and why it's smiling.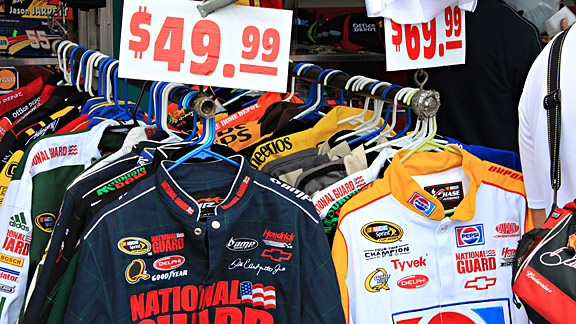 I didn't buy anything. Although I considered purchasing one of these replica racing jumpsuit jackets. But then I looked at the label and it said nothing about being fire retardant. If I'm going to plunk down that kind of money for a jacket covered in advertising, I want to be able to catch on fire.
About an hour before the race was about to start, I decided to head inside. Along the entire outside perimeter of the stadium concourse is this: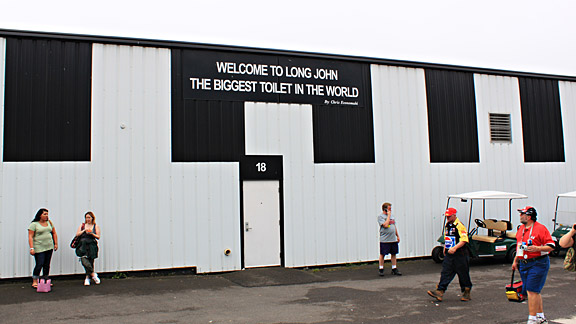 Yes, the "Biggest Toilet in the World." I apologize, but I don't have any pictures from inside the bathroom. Because taking pictures inside a bathroom is a good way to get punched in the head at a NASCAR event. Or really at any event.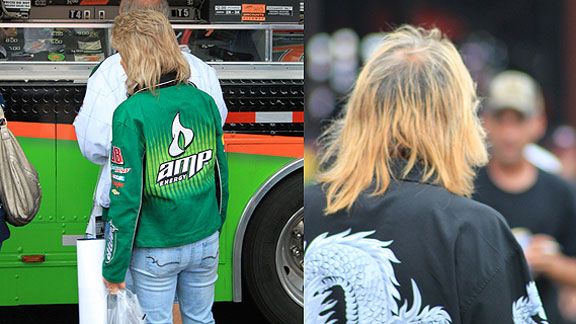 There are certain things you expect -- and want -- to see at a NASCAR race. Like mullets, for example.
And mustaches. And homemade Dale Earnhardt Sr. tribute T-shirts.
Then there were things you're just happy to see anywhere. Like a guy wearing nothing but denim overalls. Or completely random NFL jerseys. Or adorable babies. Or easy jokes about Anthony Weiner's future employer. Or things that can blow stuff up. Or NBA superstar Dirk Nowitzki.
There were also some negatives. A guy wearing a homophobic Jeff Gordon T-shirt, for example. And confederate flags. In Pennsylvania. And it wasn't "Gettysburg Reenactment Day" at the track.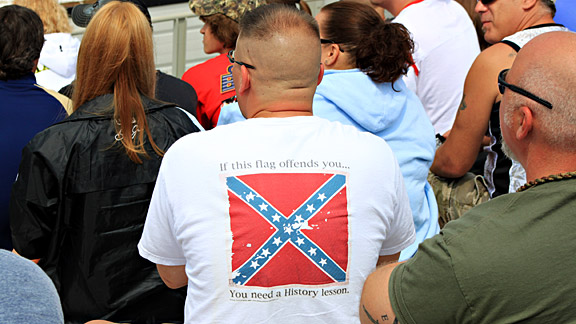 But it's not as though you can't find someone in a homophobic T-shirt at a baseball game or college football game. Compared to most NFL games I've been to, there were fewer visibly intoxicated people and much less cursing, too. Although, who knows. Someone could have been yelling expletives in my ear all day and I wouldn't have heard it.
NASCAR races are rather loud.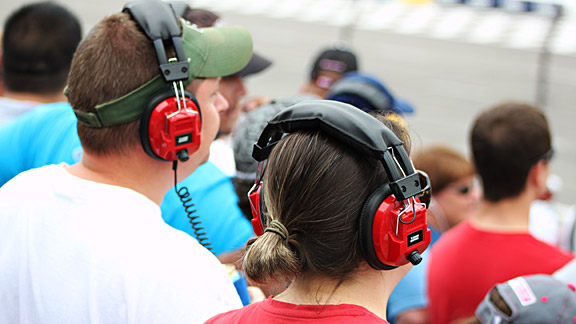 When the cars go by you can't even hear yourself think.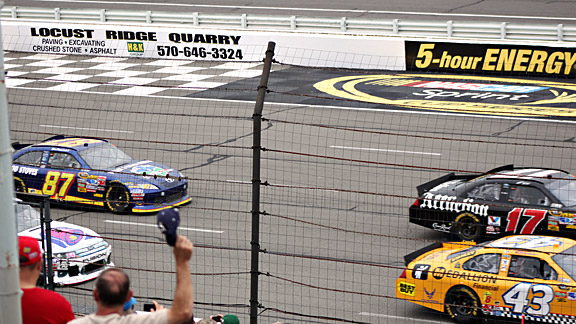 Which is probably a good thing, because if you could hear yourself think, you might hear yourself saying: "I better enjoy these few moments that the cars are whizzing past me in a blur at 150 mph, because I won't be seeing them again for about 40 seconds." And then you might convince yourself that you're bored.
Lucky for me, I didn't get bored. My seat was right near the pit for Juan Pablo Montoya in the No. 42 Target car. I often buy my socks at Target, so that was pretty exciting.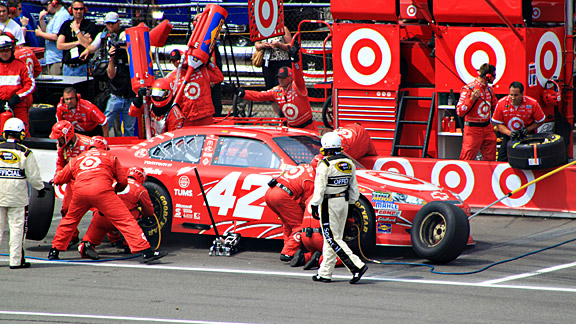 I did, admittedly, leave the race a few laps before the finish. Jeff Gordon won. Here he is getting introduced before the race to a mix of cheers and boos.
I honestly did want to see the end of the race, but after watching cars speed for more than three hours, the absolute last thing in the world I wanted to do was sit in traffic for twice that much time. So I sped out of there in time for the Mavericks-Heat game. As I'm sure Dirk Nowitzki must have done, too.
DJ Gallo is the founder of SportsPickle.com. His first book, "The View from the Upper Deck," is available from only the finest bargain-book retailers. His next book project will be released soon. You can follow him on Twitter at @DJGalloESPN.