ESPN.com illustration
Being a sports fan back in 1994 was like living in Mayberry. At least that's how I remember it.
You'd wake up in the morning and head out to get the paper. … Whoo hooo, whoo hooo hooo hooo … whoo hooo hooo hooo … hooo hooo whoo hooo hooo. Open it up: "Let's see if my team won last night. Well, golly. They lost. But at least the fellas tried hard." … Whoo hooo, whoo hooo hooo hooo … whoo hooo hooo hooo … hooo hooo hooo hooo. Then you'd go about your day. Maybe catch some sports news on the radio … Whee heee heee heee … and then again at night on the 11 o'clock news (or on "SportsCenter," if you had it) … Whee heee heee heee hooo hooo hooo hooo whoo … and that was it.
1994 HIGHLIGHTS
Cowboys hand Bills their fourth straight Super Bowl loss. … Tonya Harding versus Nancy Kerrigan (but Oksana Baiul wins Olympic gold). … After previous Olympic disasters, Dan Jansen finally wins gold. … Arkansas beats Duke 76-72 in NCAA title game. … Three-time F1 champ Ayrton Senna dies in crash. … Denver upsets Seattle in NBA playoffs, first No. 8 seed to beat a No. 1. … Michael Jordan plays minor league baseball. … In Eastern Conference finals against New Jersey, Rangers trail 3 games to 2 when Mark Messier guarantees Game 6 victory; his third-period hat trick rallies Rangers from two-goal deficit. … Rangers go on to win first Stanley Cup in 54 years, beating Vancouver in seven games. … John Starks goes 2-for-18 as Knicks lose to Rockets in Game 7 of NBA Finals. … U.S. hosts World Cup, Brazil beats Italy in shootout in championship. … Matt Williams and Ken Griffey Jr. chasing Roger Maris' record and Tony Gwynn hitting .394 when strike hits. … 45-year-old George Foreman knocks out Michael Moorer to become heavyweight champ. … Nebraska rolls to 12-0 regular season, averaging 38.2 points per game. … Penn State rolls to 11-0 regular season, averaging 47.8 points per game. … Steve Young has 112.8 passer rating, throws 35 TD passes and runs for seven more. … Barry Sanders rushes for 1,883 yards, 5.7 per carry.
Then 1995 came, major sports Web sites went online and sports forever went into the digital age. Whoo hoo hoo hoo … boo-hoo.
Now we can't escape sports even if we want to. "What's that, grandma? You've fallen. OK. Just sit tight for a minute. I need to refresh my cell phone to see if the Royals scored in the bottom of the fourth."
I have multiple fantasy rosters to manage. Dozens of constantly updating Web sites to refresh. News and score alerts arriving ceaselessly on my cell phone. Multiple HD flat screens scrolling and flashing nonstop news and scores at me.
If I didn't love sports so much I would hate this.
Sometimes I pine for the old days. Sometimes I wish I learned something new in the morning paper. Sometimes I wish I didn't have a way to see if the Royals scored in the bottom of the fourth. Sometimes I wish I didn't know Matt Leinart's preferred alcohol delivery method for young, bikini-clad women.
Sometimes I wish it was 1994 again.
1994 gave us a baseball strike and a canceled World Series. Maybe not a positive memory, sure. But imagine how much worse it would have been with the faces of Donald Fehr and Bud Selig staring out at you 24/7 from every laptop, cell phone and flat screen.
Tonya Harding and Nancy Kerrigan happened in 1994. Today the story would be sullied by sarcastic and mean-spirited bloggers. But in 1994 it was pure and innocent smut. We relied on established supermarket tabloids for baseless rumors and looked to the big three news anchors for a reasoned and subtle approach to painting Tonya Harding as white trash. It was a grand last stand by old media.
Dan Jansen finally won an Olympic medal. Gold, too! And we all watched and reveled in its tape-delayed glory from Lillehammer, blissfully ignorant, the moment unspoiled by learning about the result earlier in the afternoon on the Internet.
Arkansas beat Duke 76-72 in a memorable NCAA Tournament championship game. Office pool brackets weren't filled out online or printed off the Internet, they were Xeroxed out of a newspaper. And it was the last chance to hate Duke in analog.
Penn State and Nebraska dominated their opponents on the way to undefeated seasons in football. It was such an amazing year that still today Joe Paterno seems content to stay frozen in that long-ago time.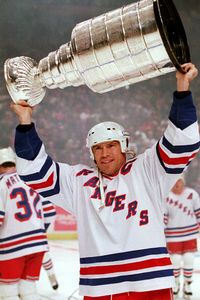 AP Photo/Kevin Larkin
New York hockey fans won't soon forget 1994.
The NHL had one of its best seasons of all time, capped by the big-market Rangers winning their first Stanley Cup in 54 years. The soccer World Cup was hosted here in the United States for the first time. Hockey and soccer die-hards could get their fill, but with limited media the haters could still happily pretend neither sport existed.
Jerry Rice set the career touchdowns record. Michael Jordan was such an amazing athlete he decided to give pro baseball a try. Forty-five-year-old George Foreman knocked out 26-year-old Michael Moorer to win the heavyweight championship. It was a final blow for the old against the new. Before long that trio would be dancing, playing for the Wizards and selling grills, (dis)respectively.
It was all about to go to hell in a handbasket.
So was 1994 the best sports year ever?
Probably not.
But was it a good year? Definitely. And it was more than good enough that I can someday tell my children and grandchildren about how it was the last great year in the "good old days" of sports fandom. Back before things got all newfangled. Back when I had to trudge uphill both ways to retrieve news, scores and statistics that were printed and sent to me in something called a "newspaper." Back when I had to wait patiently for several minutes, sometimes through an entire commercial break, to see a single score scroll across the bottom of the nearest analog television set. And sometimes that score got cut off by another commercial break and I'd have to wait several more minutes! But those hardships built character, I'll tell them.
Not that they'll pay me any mind. You know how kids are in the future, always preoccupied with the constant flow of data being wirelessly downloaded onto their cerebral hard drive and such. They don't listen.
Page 2's Most Memorable Sports Years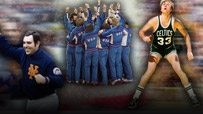 With 2008 already full of amazing moments, Page 2 is looking back at the greatest years in sports history.
THE YEARS
•
Jonah Keri on 1961: The year of the dynasty
•
Jim Caple on 1968: A year of unrest
•
Jim Baker on 1969: New York, New York
•
David Schoenfield on 1972: AL in trouble
•
Eric Neel on 1978: Greatest duel ever
•
Mary Buckheit on 1980: A miracle
•
Mike Philbrick on 1984: Bridging the gap
•
Paul Lukas on 1986: Three great weeks
•
DJ Gallo on 1994: The good old days
•
Scoop Jackson on 1998: Still resonates
•
Kieran Darcy on 2001: Darkness, and light
•
Patrick Hruby on 2004: End of exuberance
VOTE
•
PollCenter: Best year ever -- '80, '86, '98, '01 or '08?
ESPN Top Headlines