Page 2's 2004 MLB predictions
Tired of baseball already? Hey, we understand. It's a long season.
We're here to help. To save you the blood, sweat and tears of keeping up with Major League Baseball every live-long day from now until October, we've scoped out all the headlines.
So here it is, baseball's 2004 calendar. Start with April, and then click through for the rest of the long, hot summer and fall. You'll know the news before it happens.
April 5 -- Pete Rose loses all of the profits from "My Prison Without Bars," his best-selling book, when he wagers nearly $2 million on the Reds to beat the Cubs on Opening Day. Cincinnati loses 11-2.
April 6 -- The Tigers' Ugueth Urbina tallies his first save in a 7-4 win over the Blue Jays. To comply with new federal decency standards, broadcasters for both teams cut away from the action as Urbina and catcher Pudge Rodriguez approach one another to celebrate.
April 7 -- The MLB office announces it just realized it forgot to include the Brewers on the 2004 schedule, but that it will try to fit them in "here and there" when other teams have days off.
April 8 -- The Padres' new Petco Park opens with numerous amenities and fantastic site lines. However, exit interviews show that most fans think the stadium has the aroma odor of dog food and kitty litter.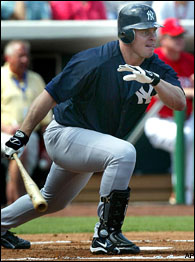 Jason Giambi hustles out of the box to beat out another bunt single.
April 9 -- At 180 pounds, Jason Giambi, still denying he has ever used steroids, goes 4-for-4 with four infield singles to lead the Yankees past the White Sox, 3-2.
April 10 -- After four straight wins to open the season, the Pirates lose for the first time and fall one game behind the 5-0 Cubs in the NL Central. Following the loss, Pittsburgh management announces that the team is obviously not capable of a playoff drive, and that it will accept any and all trade offers for veterans Jason Kendall, Kris Benson, Randall Simon, Kip Wells and Raul Mondesi.
April 11 -- Seeking a way to block non-paying fans from watching games from nearby rooftops, the Cubs sign Mo Vaughn and place him atop their outfield bleachers, completely obstructing the view of the field for those across Waveland Avenue, as well as nearby aircraft.
April 12 -- When longtime Phillie Mike Lieberthal blows out his knee in the first game at the team's new stadium, thousands of Philadelphia fans boo him as he writhes in pain on the Citizens Bank Park field. Lieberthal claims his knee was not prepared for the plush, forgiving, non-painted-concrete surface of the new stadium.
April 13 -- Disney Studios officials blame Richard Hidalgo's dismal start at the plate (5-for-27, one RBI) for the poor box-office showings of the movie bearing his name.
April 14 -- Mets outfielder Karim Garcia is arrested after he scuffles with two 5-year old boys who ask him for an autograph.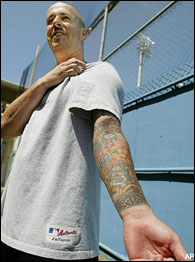 Steroids are OK, but please cover those tattoos!
April 15 -- Blue Jays reliever Justin Miller, already required to cover the tattoos on his arms when pitching, gets a facial tattoo similar to Mike Tyson's. The league office rules Miller must wear a burka on the mound for the remainder of the season.
April 16 -- The earth stops spinning on its axis for three hours during the first Yankees-Red Sox matchup of the season, won in the ninth inning by the Red Sox when a routine groundball goes directly between Derek Jeter's legs and allows the winning run to score.
April 17 -- Alex Rodriguez's record-setting five home runs are not enough for the Yankees to beat the Red Sox, as Derek Jeter makes nine errors in a 15-12 loss.
April 18 -- During a game against the Marlins, Braves pitching coach Leo Mazzone decides he can't take it anymore, stops rocking and goes to a clubhouse urinal to relieve the pressure on his bladder that he's been resisting for all these years.
April 19 -- The Yankees win the final game of the season's first series with the Red Sox, as Alex Rodriguez moves directly in front of Derek Jeter before each pitch and fields both shortstop and third base flawlessly.
April 20 -- To much fanfare, Coors Light debuts its latest "And Twins" commercial. To viewers' disappointment, the "Twins" featured are not buxom young blondes, but Joe Mauer and Torii Hunter.
April 21 -- The Phillies up their record to 11-3 with a 9-2 win over the Marlins, sending manager Larry Bowa into a violent postgame tirade "just because."
April 22 -- Ken Griffey Jr. and J.D. Drew, both off to blistering starts, are injured in a freak collision during batting practice before the Reds-Braves series finale, knocking each player out for the season.
April 23 -- Chipper Jones turns 32 years old and declares he is sticking with "Chipper" as his name even though he should have grown out of it about 25 years ago.
April 24 -- An Osama bin Laden tape surfaces in which he denounces the Yankees' acquisition of A-Rod. It is broadcast on Al-Jazeera, proving the al-Qaeda leader is still alive.
April 25 -- Eminem leads Cubs' fans in an expletive-laced rendition of "Take Me Out To The Ballgame" in which he also threatens bodily harm to the opposing team's starting pitcher, the Mets' Al Leiter.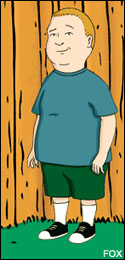 If you want to play in the majors, you have to wear the right uniform.
April 26 -- Off to a 5-14 start, Tigers' manager Alan Trammell warns his players not to peak too early and to pace themselves for the long season.
April 27 -- Pirates second baseman Bobby Hill is suspended for 10 games for his continued insistence on wearing short pants despite league uniform specifications prohibiting it.
April 28 -- "So Taguchi" becomes a cool catch-phrase meaning "very clutch" in St. Louis, after Cardinals outfielder So Taguchi records his eighth game-winning RBI of the young season in a 6-5 win over the Phillies. Hip St. Louisians begin saying things like: "Dude, you were so taguchi yesterday in finishing up that presentation," and "I needed a babysitter at the last minute and my neighbor came through for me. She is so taguchi!"
April 29 -- Rangers second baseman Alfonso Soriano comes clean about his age again, admitting he is 34, not 28.
April 30 -- Canadian Dodgers closer Eric Gagne records a save against hometown team -- the San Juan Expos.
Click here to go on to May's predictions
D.J. Gallo is a regular contributor to ESPN the Magazine, as well as the founder and sole writer of the award-winning sports satire site SportsPickle.com.