By D.J. Gallo
cartoon by Kurt Snibbe
Special to Page 2
August 1
-- Randy Johnson refuses to report to the Red Sox and announces he is retiring from baseball to accept a Nike sponsorship on the Professional Bowlers Association tour.
August 2 -- The Red Sox contact Andre Agassi about playing second base.
August 3 -- Cubs assistant GM Grady Little tells team officials he has worked out a deal for the Rockies' Todd Helton, only to be told that the trade deadline passed three days earlier.
August 4 -- Marlins owner Jeffrey Loria offers Dan Marino an executive position with the team, and takes umbrage with a reporter who suggests it is only a "figurehead position." Marino accepts.
August 5 -- Pirates manager Lloyd McClendon announces he is taking a sabbatical to coach the Irish national team in the Olympics.
August 6 -- Dan Marino resigns from his position with the Marlins, citing family issues, a desire to play golf, an upcoming shoot of a new Isotoner commercial, and the fact that he knows absolutely nothing about baseball.
August 7 -- Jason Giambi's weight falls below the 100-pound level. He still claims to have never taken steroids and has only lost "maybe 10 or 11 pounds -- tops."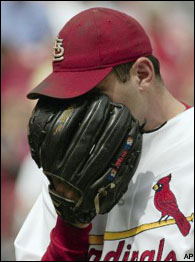 Kline is a little ashamed about the creatures living in his soiled hat.
August 8 -- A family of rats and dozens of cockroaches are found living in the hat of Cardinals reliever Steve Kline.
August 9 -- Fueled by the warm weather and active lifestyle of San Diego, David Wells drops 60 pounds and lands on the cover of "GQ."
August 10 -- Steve Bartman is pictured in the local papers sitting in Wrigley's left field bleachers with popular high school student Ferris Bueller during a game against the Padres.
August 11 -- Barry Bonds hits his 700th home run and steals his 510th base in a win over the Pirates, becoming the first member of the exclusive 700-510 club.
August 12 -- Barry Bonds hits his 701st home run in a loss to the Pirates, becoming the first member of the exclusive 701-510 club.
August 13 -- Barry Bonds hits steals his 511th base in a win over the Phillies, becoming the first member of the exclusive 701-511 club.
August 14 -- A Russian cosmonaut contacts mission control to say that he can see the New York Mets' orange alternate home jerseys from outer space.
August 15 -- Alfonso Soriano admits he died of old age in 1974 and is neither alive nor 43 years old.
August 16 -- Inspired by Soriano's honesty, Bartolo Colon, Rafael Furcal, Neifi Perez and dozens of other Latin players admit they are in their mid-60s or older.
August 17 -- Campaigning in the battleground state of Florida, President Bush takes in a Devil Rays game. The biggest news, though, comes not from Bush's appearance, but when an enraged Lou Piniella, arguing balls and strikes in the sixth inning, tears up the first base bag and reveals a stockpile of WMDs.
August 18 -- Leading the majors with a .364 average, Cleveland's Coco Crisp is placed on the front of the Wheaties box.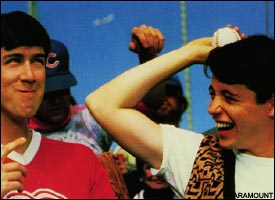 Maybe hanging with Ferris will get Bartman back in the good graces of Cubs fans.
August 19 -- The Braves issue a statement to dispel rumors that pitching coach Leo Mazzone is just a life-size bobblehead doll and not an actual person.
August 20 -- During a visit as part of the team's community outreach program, Montreal Expos outfielder Carl Everett baffles a class of fifth-grade students when he shares with them his belief that dinosaurs never existed.
August 21 -- Looking for more protection, Barry Bonds duct-tapes a 1976 Volvo to his arm to replace his plastic guard.
August 22 -- David Wells wears his authentic Babe Ruth hat in an outing against the Marlins.
August 23 -- The Braves' Julio Franco plays in his 100th game of the season and earns a $1 million incentive bonus. In addition to the contract windfall, Franco turns 65 and begins collecting Social Security.
August 24 -- A poll conducted by a New York radio station finds that Derek Jeter is regarded as the city's fifth-best shortstop behind Alex Rodriguez, Kaz Matsui, Jose Reyes and a freshman player for St. John's.
August 25 -- Tired of public address announcers messing up his last name all of the time, Twins first baseman Doug Mientkiewicz changes it to something more easily pronounceable and well-known: "Krzyzewski."
August 26 -- John Kerry pulls ahead in the polls by highlighting the fact that, when President Bush was an owner of the Rangers, he approved the trade of Sammy Sosa.
August 27 -- President Bush pulls back even in the polls by highlighting the fact that, as a fan of the Red Sox, John Kerry is a loser.
August 28 -- Tom Glavine blames QuesTec after he forgets to call his mother on her birthday.
August 29 -- The Angels' Vladimir Guerrero is placed on the disabled list after being bitten by the Rally Monkey and testing positive for rabies.
August 30 -- Despite fielding a roster of composed entirely of local semi-pro players since early May, the Pirates pull to within five games of the division lead with a win over the Brewers. Citing budget constraints, however, team officials forfeit the remainder of the schedule.
August 31 -- Yankees' starter Kevin Brown, realizing it's nearly September and he hasn't been injured yet, goes into shock and is placed on the 15-day disabled list.