By D.J. Gallo
cartoon by Kurt Snibbe
Special to Page 2
July 1 -- Pudge Rodriguez and Ugueth Urbina lock lips when the Comerica Park "Kiss Kam" pictures the two sitting side-by-side in the dugout.
July 2 -- The Diamondbacks' Luis Gonzalez and six other players start the "Stuff Chewed by Major Leaguers Charity," in which things that have been in baseball players' mouths are auctioned off for the needy. In its first day, the organization raises more than $100,000 by selling used gum, sunflower seed shells, tobacco juice and saliva.
July 3 -- Forced by league rules to add a Milwaukee Brewer to the NL All-Star roster, manager Jack McKeon instead resigns his post, saying he can't in good conscience call a current member of the Brewers an "All-Star."
July 4 -- Still seeking to rehabilitate her image, Janet Jackson sings the national anthem at Shea Stadium. As her rendition ends, Mr. Met tears off part of her shirt to reveal a red, white and blue nipple shield.
July 5 -- Seeking to better Jackson at her own game, The Famous Chicken exposes two breasts at a Padres home game.
July 6 -- Despite being named to their respective All-Star teams, Derek Jeter, Alex Rodriguez and Josh Beckett announce they will skip the game and instead play Wiffle ball in Jeter's living room while they watch a tape of the Super Bowl.
July 7 -- Thinking he was giving his assistant GM his lunch request for a local takeout, Cardinals GM Walt Jocketty accidentally acquires Hee Seop Choi from the Marlins.
July 8 -- His weight down to 104 pounds, Jason Giambi is put on the disabled list after he breaks his wrist when a light breeze knocks him to the ground during warmups before a game against the Tigers.
July 9 -- Alan Trammell's career record as a manager falls to 57-190 after a 10-run loss to the Twins. In his postgame media wrap-up, Trammell admits that he has a better shot at the Hall of Fame as a player than as a manager.
July 10 -- The league office tells Barry Bonds that, as a way to speed up play, he should report directly to first base each time his turn is up in the order unless the opposing team lets him know first that it will actually try to pitch to him.
July 11 -- After acquiring several high-salaried players to plug their remaining holes, the Yankees' payroll officially exceeds the GDP of Luxembourg.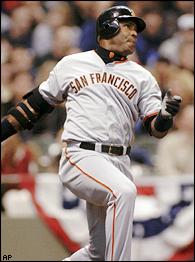 Not surprisingly, Bonds hits the winning homer during the All-Star Home Run Derby
July 12 -- On the contest's last pitch, Barry Bonds legs out an inside-the-park home run to give the National League a 1-0 victory in the All-Star Home Run Derby.
July 13 -- American League All-Star manager Joe Torre leaves starting pitcher Curt Schilling of the Red Sox in for the entire game. The National League wins 3-2 in 11 innings.
July 14 -- After he buys the DVD of the first season of "Queer Eye for the Straight Guy," Yankees owner George Steinbrenner amends the team's policy that prohibits facial hair to include back hair.
July 15 -- Referencing the "Bush 1" jersey they gave him on their visit to the White House to celebrate their World Series win, President Bush orders the Marlins to insert him into their starting lineup as they begin a road trip into the swing states of Pennsylvania and New York.
July 16 -- Testifying in front of a Congressional committee investigating baseball's antitrust exemption, Bud Selig admits that he and Janet Reno are the same person.
July 17 -- Outfielder Milton Bradley has his lifelong dream of owning a board game company dashed when an existing corporation sues his fledgling startup for trademark violations.
July 18 -- Despite low home run totals league-wide, Coors Field continues to produce offense, as Rockies pitcher Jason Jennings launches an upper deck shot while attempting a sacrifice bunt.
July 19 -- Failing to hit a ball out of the infield yet again in his third failed major-league tryout since Opening Day, Jose Canseco reiterates his claim that he is being blackballed.
July 20 -- The Brewers are forced to trade pitcher Brooks Kieschnick to the Mariners and outfielder Brooks Kieschnick to the Rangers to satisfy a frequent-flyer mileague clause in Kieschnick's contract.
July 21 -- The Yankees switch from polyester to cotton uniforms at the suggestion of a short, bald guy with glasses who works in the general manager's office.
July 22 -- A New York tabloid writes that Mike Piazza "might be gay" after a reporter spots the slugger coming out of the supply closet in the team's equipment room.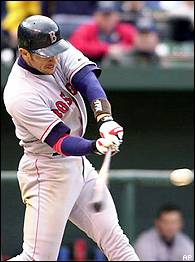 AP
Nomar to the Rockies for Royce Clayton? Make sure the math is right.
July 23 -- Red Sox GM Theo Epstein trades Nomar Garciaparra to the Rockies for Royce Clayton after advisor Bill James shows him a mathematical formula that ranks Clayton as the superior player.
July 24 -- Not wanting to let Barry Bonds beat him with another home run, Cardinals' manager Tony La Russa orders an intentional walk to the slugger with the bases loaded in the bottom of the ninth of a 3-3 game.
July 25 -- Pete Rose steals the limelight from Dennis Eckersley and Paul Molitor on HOF induction day when he holds a press conference across the street from the Hall and announces the release of his new book, "My Prison Still Doesn't Have Any Bars: Come On, People, I Admitted to Gambling Months Ago. Now Let Me in the Hall of Fame!"
July 26 -- Bill James sheepishly explains to Theo Epstein that he forgot to carry the two and it turns out Royce Clayton is not better than Nomar Garciaparra. The Rockies refuse to reverse the trade.
July 27 -- The Yankees switch back to polyester after their cotton uniforms shrink in the wash, greatly prohibiting the players' mobility and leading to a six-game losing streak.
July 28 -- Struggling at 6-9 with a 4.94 ERA, Roger Clemens quits the Astros and joins the Greek Olympic team to fulfill his dream of pitching in the Games. He is eligible because his wife's cousin's friend's favorite restaurant is Greek.
July 29 -- Thirty-six-year-old rookie -- and former Little League star -- Danny Almonte pitches a scoreless inning of relief for the hometown Mets in his major-league debut.
July 30 -- Just more than a year after he hit a sausage mascot with a bat, Pirates first baseman Randall Simon attacks a hot dog vendor working the third-base line during a game at Miller Park.
July 31 -- Seeking to add another power arm to their rotation, the Red Sox deal for Diamondbacks ace Randy Johnson minutes before the trading deadline.