By D.J. Gallo
cartoon by Kurt Snibbe
Special to Page 2
June 1 -- Albert Pujols is named NL Player of the Month for May after batting .385 with seven home runs and 23 RBI.
June 2 -- To honor the accomplishment, the Cardinals announce that, henceforth, any fan who giggles when Pujols name is announced during the team's upcoming homestand will be thrown out of the stadium.
June 3 -- His batting average hovering near .100, Rocco Baldelli pays a Tampa-area cover band to record a version of Simon and Garfunkel's "Mrs. Robinson" that includes the lyrics, "Where have you gone, Rocco Baldelli?"
June 4 -- Nearly a year to the date after the 2003 corking incident, Sammy Sosa is caught using an aluminum bat when he hits a pinging 683-foot home run home run in a win over the Pirates.
June 5 -- Jason Giambi, his weight down to 111 pounds, is pulled from the Yankees starting lineup because he no longer has the strength to hold his bat. Giambi denies ever using steroids.
June 6 -- Barry Bonds debuts a new "forearm guard" -- an authentic medieval suit of armor weighing nearly 125 pounds -- and stands directly on top of home plate to take his HBPs in a 5-1 win over the Rockies.
June 7 -- The National Association of Brewers sues the Milwaukee Brewers for defamation of character.
June 8 -- The Montreal Expos travel to Kansas City for a much-anticipated interleague series against the Royals, their longtime bitter rivals.
June 9 -- The Orioles honor first baseman Rafael Palmeiro with a Viagra Giveaway Night promotion. The stadium is packed during the early innings, but most fans have cleared out to go home or check into nearby hotels about an hour into the game.
June 10 -- The Cardinals' Jim Edmonds secures the final out against the Diamondbacks with an amazing, diving, circus catch in a 4-3 win. Later, Edmonds denies that he purposely ran several steps in the wrong direction as soon as the routine flyball left the bat so the catch would look more impressive.
June 11 -- Bud Selig announces he will not reinstate "Shoeless" Joe Jackson into baseball. The decision, he says, has nothing to do with Jackson's role in the Black Sox scandal and everything to do with Jackson's "brazen, career-long defiance of the league uniform code by playing without recommended footwear."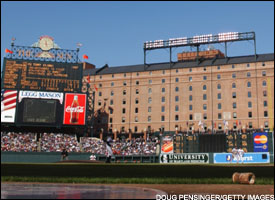 Camden was nice in its heyday, but it may be time for a new ballpark.
June 12 -- The A's sell out a Tuesday night game against the Reds when rookie shortstop Bobby Crosby sings the national anthem with Stills and Nash.
June 13 -- Saying the team's stadium is outdated and no longer offers competitive revenue streams, Orioles owner Peter Angelos announces the team will seek public financing to build a replacement for Camden Yards in time for the 2006 season.
June 14 -- Alfonso Soriano comes clean yet again, telling reporters he is 43 years old, not 34 as he claimed earlier in the season.
June 15 -- In a surreal moment for Red Sox fans, Mookie Wilson's son, Preston Wilson, hits a weak groundball through the legs of first baseman Kevin Millar in the bottom of the 10th inning of an interleague game, plating the winning run in a 6-5 Boston loss.
June 16 -- Seeking to rid himself of the hassle of always having to remember to wear a batting helmet, the Mariners John Olerud undergoes a medical procedure that coats his cranium with two inches of Kevlar.
June 17 -- The Brewers, for sale since mid-January, are purchased for $8.25 by a nine-year-old suburban Milwaukee girl at a yard sale near her house.
June 18 -- Jeff Weaver pitches a perfect game and drives in six runs for the Dodgers, as the Yankees lose the first game of an interleague series in Los Angeles.
June 19 -- The Astros lose Jeff Bagwell, Lance Berkman and Craig Biggio for the season when the trio is attacked and stung repeatedly by a swarm of killer bees.
June 20 -- The Cardinals and Reds play the majors' first-ever game using both throwback jerseys and throwback players. The game is marred, however, in the eighth inning when Stan Musial fractures a hip trying to stretch a single into a double.
June 21 -- A stunning scientific breakthrough allows Ted Williams' cryogenically frozen body to be brought back to life.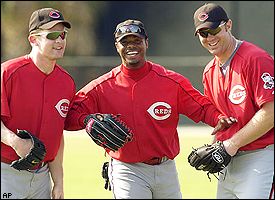 At least Junior was able to laugh about being replaced on the All-Century Team.
June 22 -- Seeing that game-time temperature has exceeded 80 degrees for a game in St. Louis and looking for any advantage in the crucial divisional battle, Dusty Baker quickly changes his lineup card so that his starters are all black. Asked for an explanation, Baker says, "because they can take the heat better."
June 23 -- The league office announces it is officially removing Ken Griffey Jr. from the All-Century Team.
June 24 -- The Yankees sign Ted Williams to a contract and place his brain inside the head of a 24-year old outfield prospect.
June 25 -- MLB Advanced Media webcasts its first game in Japanimation as Hideki Matsui and Kaz Matsui each collect three hits in a 6-4 Yankees interleague win over the Mets.
June 26 -- The Reds cut ticket prices to a league-low average of $8, but raise parking to $25, hot dogs to $10.25 and beer to $35 a cup.
June 27 -- The Mets, mired in last place in the NL East, announce the signing of Sidd Finch, a bare-foot, flame-throwing phenom from Tibet.
June 28 -- Former major-league pitcher Tommy John performs his 2,000th famed surgical procedure and immediately announces he is leaving his medical practice.
June 29 -- Ted Williams goes 3-for-4 and knocks in the game-winning run as the Yankees down the Red Sox 6-4.
June 30 -- Thanks to online write-in support from overseas, Houston Rockets center Yao Ming is selected as the National League's starting shortstop for the All-Star Game.