By D.J. Gallo
cartoon by Kurt Snibbe
Special to Page 2
May 1 -- The New York Mets wear their bright orange jerseys while the Padres take the field in their camouflage uniforms. The game is called after the fifth inning so the teams can go on hunting trip.
May 2 -- Jason Giambi, now down to 147 pounds and with two home runs on the season, taps back to the pitcher with the bases loaded and two outs in the ninth inning of a loss to the Royals. Giambi claims he swung as hard as he could and made good contact, but adds, "I just don't seem to be hitting with much power this season."
May 3 -- Kaz Matsui of the Mets holds a press conference to remind everyone that the rumors about a prominent New York Met player being gay started long before he arrived in town.
May 4 -- Clowning around before a game with the Giants, Mets mascot Mr. Met attempts to place his size 74-1/8 hat atop the head of Barry Bonds, only to find it is too small.
May 5 -- Despite having traded Jason Kendall and Kris Benson for minor leaguers and equipment, the Pirates still stand only two games back of the Cubs and Astros in the National League Central after a 10-3 win over Houston.
May 6 -- The Pirates lose in extra innings to the Astros to fall three games behind. Team management claims "all hope is lost" and releases its full 40-man roster to begin a new rebuilding phase.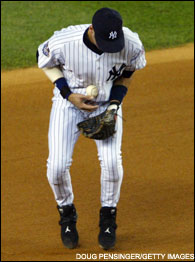 Jeter's continued problems in the field earn him a trip to the DH slot in the lineup.
May 7 -- Despite Alex Rodriguez's continued help in fielding the shortstop position, Derek Jeter makes his 45th, 46th and 47th errors of the season and the Yankees lose to the Mariners. The Yankees trade for Kaz Matsui and move Jeter to DH, allowing Joe Torre to assure his captain that he didn't lose his position to A-Rod.
May 8 -- "Jet" magazine contacts Padres rookie phenom Khalil Greene about doing a cover story on him. The story is killed when the magazine's reporter discovers Greene is a white guy from rural Pennsylvania.
May 9 -- Fred McGriff, released by the Devil Rays and unable to find another team, agrees to film his first Tom Emansky commercial in more 20 years.
May 10 -- With whereabouts of the Phillie Phanatic in question for more than a month, the team confirms that the mascot was buried in the rubble during the implosion of Veterans Stadium. Unknown to the demolition crew, the Phanatic had sneaked into the stadium to retrieve its four-wheeler minutes before the venue was razed.
May 11 -- In an effort to jumpstart the team the same way it did in 2003, management of the World Champion Marlins, sporting a disappointing 13-18 record, fire manager Jack McKeon to "find someone a little bit older."
May 12 -- Finding that there is no one older, the Marlins re-hire McKeon.
May 13 -- Nomar Garciaparra sets a personal best with 38 adjustments to his batting gloves before a single pitch. Commenting after the game, he says, "I am as amazed as ever at the magical qualities of Velcro."
May 14 -- Mike Piazza starts his first game ever as a pitcher and gives up 29 runs in a blowout loss to the Astros. However, he hits opposing starter Roger Clemens four times in the head with pitches, and beans him repeatedly with pickoff attempts to first base.
May 15 -- The home plate umpire calling the Padres-Cubs game receives a complaint that David Wells' gold chain and huge, disgusting body is a distraction in the batters box.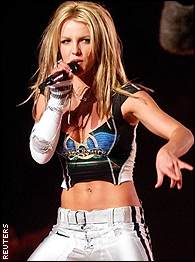 Listening to Britney sing is enough to send any hitter into a slump.
May 16 -- Mired in a 1-for-56 slump, Tampa Bay's Rocco Baldelli marries Britney Spears, hoping the move will spark new comparisons between him and Joe DiMaggio.
May 17 -- Nomar Garciaparra plays in a celebrity pro-am golf tournament and is paired with Sergio Garcia. Between Garcia's pre-shot waggling and Nomar's continued readjustments of his golf glove, the pair completes their round in just under 11 hours.
May 18 -- Pete Rose issues a statement reminding everybody that he "did admit to gambling, you know," and doesn't want to be forgotten, and "would still like to get into the Hall of Fame and everything -- just a friendly reminder. OK, thanks."
May 19 -- In a promotional move, the Devil Rays invite fans to come out to the stadium early to watch Red Sox pitcher Pedro Martinez and team consultant Don Zimmer box three rounds at home plate before the game.
May 20 -- The Yankees beat the Angels, reducing their magic number to 119.
May 21 -- The Associated Press reports that thousands of baseball card collectors have begun using their Ken Griffey Jr. rookie cards as coasters.
May 22 -- The owners and players agree to a tougher steroids policy that requires players to take steroids in front of an independent third party. If they refuse to take steroids, they will be required to cork their bat.
May 23 -- In honor of Bartolo Colon's birthday on the 24th, the Angels offer a free "Colon-Oscopy" to the first 10,000 fans in attendance for their game against the Orioles. Only three people show up, setting the mark for the lowest single-game attendance in league history.
May 24 -- In a televised address from the Oval Office, President Bush implores U.S. workers to limit their time spent tweaking their fantasy baseball team while at work until the economy has recovered completely.
May 25 -- Tom Glavine blames QuesTec after he locks his keys in his car.
May 26 -- Red Sox outfielder Johnny Damon is tabbed to star in a Broadway version of "The Passion of the Christ."
May 27 -- A Tigers game comes to a screeching halt in the third inning when a Detroit Red Wings fan, who'd been given upper-deck tickets to the game by a friend, hurls a large octopus that lands on home-plate umpire Hunter Wendelstedt's back.
May 28 -- The FCC fines MLB and its broadcast partners $4 million after announcers repeatedly mispronounce the last name of Pittsburgh third-base coach Rusty Kuntz during a broadcast of a Pirates-Cubs game.
May 29 -- Bored due to the lack of game action they get because of the team's overpowering starting rotation, Chicago Cubs relievers install a leather sofa and 56-inch plasma TV screen in the bullpen.
May 30 -- Astros rookie Jason Lane is injured when Jeff Kent makes him wash his truck.
May 31 -- Mariano Rivera is fined $10,000 by the players union for refusing to wear a goatee, the long-required facial hair for a major-league closer.