By D.J. Gallo
cartoon by Kurt Snibbe
Special to Page 2
Sept. 1
-- MLB rosters are increased from 25 to 40 players, and the Reds recall pitching prospect Jung Bong.
Sept. 2 -- The Reds are fined $50,000 by the league for having a Bong in plain view in their locker room.
Sept. 3 -- The Cardinals call up Rick Ankiel and give him a start with a strict 75-pitch pitch count. Despite the pitch count, Ankiel only is able to make it through two-thirds of an inning, as he gives up 13 runs on eight hits, 10 walks, nine hit batters, and seven wild pitches. In addition, he beans several fans sitting in the stands behind home plate.
Sept. 4 -- A New York Mets beat writer is fired after it is found he has been fabricating stories all year, such as a recent piece in which he wrote that the Mets had clinched the division despite the team actually being 19 games out of first place.
Sept. 5 -- On the eve of Labor Day, President Bush asks the nation to be especially reflective on past baseball player union representatives who worked so tirelessly to give today's players their much-deserved multi-million dollar contracts.
Sept. 6 -- Orioles' utility man Melvin Mora and his wife celebrate Labor Day by giving birth to another set of sextuplets.
Sept. 7 -- Jason Giambi retires, admitting he has been on the Atkins Diet and that he may have a tapeworm. Giambi says he will write a book, "if I can muster the strength," on how sticking to a simple diet enabled him to change from a muscled 235-pound professional athlete to a svelte 180-pound (actually 94) mortal.
Sept. 8 -- In honor of Alex Rodriguez and Jorge Posada, the Yankees offer all fans with enormous ears a half-price ticket to that night's game against the Devil Rays.
Sept. 9 -- The YES Network buys the broadcast rights to Red Sox games and refuses to air them in New England.
Sept. 10 -- BALCO founder Victor Conte is convicted of distributing steroids and is immediately named the cleanup hitter on his prison baseball team.
Sept. 11 -- Sammy Sosa makes a cameo appearance in the new movie "Corky Romano 2."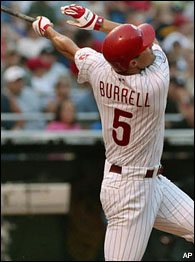 Hey, some slumps last a couple years.
Sept. 12 -- Phillies outfielder Pat Burrell goes 1-for-5 in a win over the Pirates and raises his batting average to .074, prompting him to claim: "I feel like I'm starting to come out of my slump."
Sept. 13 -- In his first prison game, Victor Conte hits a game-wining, 530-foot home run in the bottom of the ninth inning.
Sept. 14 -- Jose Canseco announces that his book will be delayed until he learns how to read and write.
Sept. 15 -- The Giants complete a deadline deal with the Mariners, declaring the trade's player to be named later shall be named "Gary."
Sept. 16 -- The Brewers announce that they still have season-ticket packages available.
Sept. 17 -- The Phillies begin a 16-game losing streak that will see them miss the playoffs after Eagles quarterback Donovan McNabb throws out the first pitch in a game against the Expos.
Sept. 18 -- The league conducts its first Rule 1 draft, which is said to be similar to the Rule 5 draft. However, as the first rule of the Rule 1 draft is "you don't talk about the Rule 1 draft," no one outside of the league office really has any idea of what it is.
Sept. 19 -- Boston's Kevin Millar is suspended for five games for gouging Yankees catcher Jorge Posada with his spurs when he slides into home plate with the winning run in a 7-6 Boston victory.
Sept. 20 -- On a campaign stop in his home state, John Kerry throws out the first pitch at a Red Sox game, but misses the strike zone well left of the catcher's glove.
Sept. 21 -- The Bush campaign immediately pounces on Kerry's errant throw and inserts the clip into Bush '04 commercials, saying it is further proof of Kerry's leftist leanings.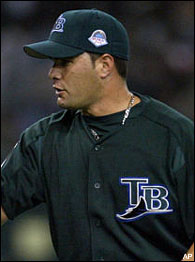 This will be the only Devil Rays photo you see on Page 2 this season.
Sept. 22 -- Devil Rays "closer" Danys Baez finally gets an opportunity to save his first game of the season as Tampa Bay actually holds a late-inning lead. But he blows it and they go on to lose by three.
Sept. 23 -- The White Sox pull a prank on visiting Royals' first-base coach Tom Gamboa, hiring two shirtless men two jump onto the field and chase him around while Gamboa receives absolutely no assistance from Comiskey security personnel.
Sept. 24 -- The league office announces the Expos will play one-third of their 2005 games in Montreal, one-third in Puerto Rico and one-third at an undisclosed location with Dick Cheney.
Sept. 25 -- As the one-year anniversary of its steroids report fast approaches, MLB admits that while only 5 to 7 percent of its players tested positive, the league only tested 5 to 7 percent of its players.
Sept. 26 -- In the last Yankees-Red Sox tilt of the regular season, Manny Ramirez and Enrique Wilson decide to skip the game and go out for a cup of coffee.
Sept. 27 -- The league office changes its mind on the Expos 2005 schedule, announcing instead that the team will play its games in Indonesia to save on labor costs.
Sept. 28 -- With temperatures in the low 40s in Chicago, Dusty Baker fields an all-white lineup for a game against the Reds.
Sept. 29 -- The Angels clinch the AL West, prompting the team's radio play-by-play announcer to unveil his new catch-phrase as the final out is recorded: "Is that a thunderstick in your pocket or are you just happy to be an Angels fan?"
Sept. 30 -- With the A's nine games out of the wild-card hunt, Oakland GM Billy Beane announces he has no plans to publish another book for a while.
Oct. 1 -- Tigers' starter Mike Maroth loses just his 20th game of the year, positioning himself as the odds-on favorite for the Comeback Player of the Year award.
Oct. 2 -- On his way to Wrigley Field to watch the Cubs take on the Braves with a playoff berth at stake, Steve Bartman hits Mark Prior with his car, breaking the ace's leg.
Oct. 3 -- Cubs fans explode Steve Bartman at Harry Caray's Restaurant.
D.J. Gallo is a regular contributor to ESPN the Magazine, as well as the founder and sole writer of the award-winning sports satire site SportsPickle.com.