Commentary
Who wears the NFL's smarty pants?
Originally Published:
February 26, 2010
By
Matthew Glenesk
| Special to Page 2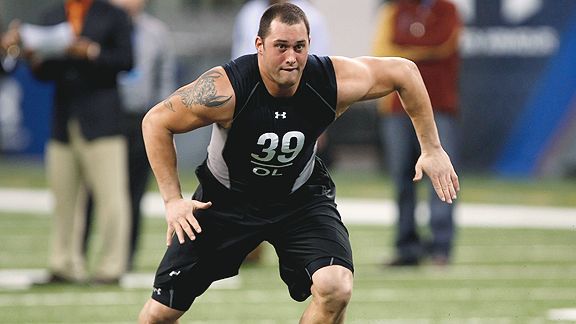 Scott Boehm/Getty ImagesOffensive linemen such as Lydon Murtha reputedly fare much better than average on the Wonderlic.
INDIANAPOLIS -- They're usually the biggest guys on the field, but are offensive linemen the smartest?
If the Wonderlic test is an indicator of intelligence, the answer is yes.
Annually, offensive linemen average a higher score on the 12-minute, 50-question quiz administered at the NFL scouting combine than players at other positions do.
Longtime NFL scribe Paul Zimmerman figured out the averages per position, and offensive tackles lead the way with a median score of 26. Centers are a close second at 25.
At last year's combine, the overall average for all positions was 21.
"There's not a lot of unintelligent guys on the offensive line," said Illinois guard Jon Asamoah, an Academic All-Big Ten honoree.
There are, of course, exceptions to the rule. We all remember Andre Smith's unwise decision to run the 40-yard dash shirtless a year ago at Alabama's pro day.
Said Virginia Tech tackle Ed Wang: "I'll be keeping my shirt on."
"I feel like offensive tackles should be smarter than that," joked Texas tackle Adam Ulatoski, who boasts a 3.89 GPA two-thirds of the way through his master's degree in advertising.
(And in case you were wondering, Smith reportedly scored a 17 on the Wonderlic a year ago.)
So most offensive linemen are clever enough to understand the laws of gravity and excess jiggle, but are they really the smartest bunch?
"The numbers speak for themselves," said Utah tackle Zane Beadles.
Beadles earned a degree in mechanical engineering with a 3.57 GPA. During his three-minute media session Thursday, he used variations of the word "intelligence" 13 times to describe his style of play. Shrewd use of talking points; in case scouts hadn't heard yet, he's intelligent.
And his Wonderlic will most likely reiterate that. Beadles, who says he'd like to design weapons if not for football, took the Wonderlic a year ago and scored a 36. He's taken a few practice tests leading up to the combine and his highest score is 37.
Missouri guard Kurtis Gregory finished his undergrad work in three years and already has a master's in animal science. Stuffed into his pants pocket was a paperback book ("Delta Force" by Col. Charlie Beckwith) as he broke down farming and commodity prices to unsuspecting media members.
Gregory, who started 41 straight games at Missouri, took a practice Wonderlic a year ago. He liked it so much, it inspired him.
"I went out and bought 'Brain Age' for Nintendo DS, and I play that every now and then," he said.
Will it help?
"We'll find out later this week," Gregory said. "But I'm not too worried."
Gil Brandt, who was Dallas' vice president of player personnel from 1960-89, said he used the Wonderlic mostly as a tool to break ties between two similar prospects. But he liked to see his offensive linemen smart, fondly reminiscing about former Cowboys and Stanford alum, left tackle Pat Donovan (1975-83).
"One of the smartest guys I've ever been around, and he definitely would have gotten higher than the average score today of 26," Brandt said.
"I think to play offensive line in the NFL today is very hard. They have to adjust to so many different fronts. They have to understand blitz concepts. You've got to comprehend and be able to learn or else you're going to have a hard time."
Kansas City Chiefs general manager Scott Pioli isn't quite sold on the idea that offensive linemen score the highest on the Wonderlic, offering quarterbacks as potential candidates (they average a respectable 24), even though he's been schooled otherwise.
"Bill Belichick used to always tell me the dumbest group is the defensive linemen, and centers are the smartest," Pioli said.
Does he believe his former boss?
"Not really. I played defensive line," Pioli said with a grin.
So if offensive linemen test better than their defensive counterparts, do they think they're smarter?
At Thursday's combine, most offensive linemen preferred to take the "no comment" route for fear of angering their defensive adversaries.
"Playing football, you don't ever think about the intelligence level of the person you're playing against," said Vanderbilt tackle Thomas Welch, an economics major. "You just want to go out there and beat the guy in front of you. I never really think about being smarter than the defense."
Even if you are?
"That may be true, but I wouldn't tell them that," Welch said.
Perhaps further proof of offensive linemen's intelligence.
Matthew Glenesk is a freelance writer based in Indianapolis.