By LZ Granderson
Special to Page 2
I am not a Danny Fortson fan.
I don't know him personally, but just from watching his style of play, I don't like him. So when Fortson came under fire earlier this season for saying, when asked about the possibility of having a gay teammate, "I wouldn't want to be on that team," I thought he got what he deserved for his homophobic comments. Not for expressing his opinion, but for having a dumb one.
So it's a tad baffling to me that while Fortson, Paul Pierce, Allen Iverson and Jason Williams have been publicly berated by pundits and chastised by the NBA for making anti-gay remarks, Utah Jazz owner Larry H. Miller has gone relatively untouched after his recent act of blatant discrimination.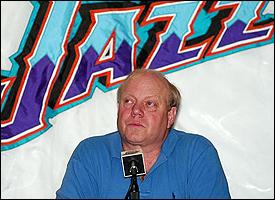 AP
Shouldn't Jazz owner Larry H. Miller be taking some heat?
You see, in addition to the Jazz, Miller owns Megaplex 17, a movie theater in Sandy, Utah. Two Fridays ago it was scheduled to begin showing "Brokeback Mountain." The film, starring Heath Ledger and Jake Gyllenhaal, has already won a slew of awards, is up for seven Golden Globes and is expected to make a big Oscar splash. It chronicles the 20-year love affair between two cowboys. Two male cowboys.
According to the Salt Lake City Tribune, Miller didn't know the subject matter until a radio interviewer asked him about it the day it was supposed to open. Less than two hours after the interview, "Brokeback" was pulled from the theater, with a typewritten note stuck to the ticket window that read: "There has been a change in booking and we will not be showing 'Brokeback Mountain.' We apologize for any inconvenience."
Inconvenience? An inconvenience is running into your ex with your current significant other next to you. What Miller did was more akin to, "I wouldn't want to be on that team."
Now, we could assume that just because he doesn't want a film about gay people to play at his movie theater, that doesn't necessarily mean he's intolerant. He could, for instance, just be making a business decision, worried about a backlash from the good people of Sandy. That would make him a coward, not a bigot. No different than all those companies that are afraid to buy time during NBC's "Book of Daniel" because the American Family Association doesn't approve of the main character's family.
But perhaps the greater injustice is that few, including the NBA, have taken Miller to task for it. After all, if he opted to pull "Glory Road" because he found out the black team won, I'm sure Jesse Jackson and Nancy Grace would be on the first flight to Utah.
Maybe Miller is getting a pass because we're all still a bit squeamish about the whole gay thing -- either because we don't agree with it or because we're afraid of being considered one of them. Maybe he's getting a pass because it's his candy store and he can do whatever he wants with it. I don't know. I've called the Jazz front office to ask, but Miller, who's known for talking, ain't. I've called some NBA types too, but they're not feeling chatty about the subject either.
Earlier this season, when commissioner David Stern was asked about having a gay player in the NBA, he said his only concern would be, "How many points? How many rebounds? I think that it's a nonissue." Now that one of his owners has made it clear that it is an issue, the question is: Will Stern do anything about it?
I just wonder why the free pass given to Miller was not granted to the Danny Fortsons of the world. After all, if the guy who does the hiring openly discriminates, why should the employees be expected to be socially responsible? If you're going to jump on a young guy for being hostile about showering next to a gay guy, then jump on the old guy for creating the atmosphere where that hostility is acceptable. There is a chance that Miller nixed the movie because he hates Heath Ledger and, in fact, his franchise would warmly welcome an openly gay player or coach or concession stand worker. But personally, I think his 19-17 Jazz have a better chance of winning the NBA championship. That's just me.
LZ Granderson is an editor at ESPN The Magazine.