Third and a mile: the struggle for black quarterbacks.
When you are a black columnist who touches on the subject of race, you inevitably will receive an e-mail from someone that reads something like this:
Why do you keep writing about race?
I usually respond with this answer: Because race still matters.
Recently I've been hit with a new question: Why is the media making such a big deal about the first black coaches in the Super Bowl?
Because it's a new question, I've struggled a bit finding an equally fast response. Then I met the men featured in William Rhoden's new oral history book, "Third and a Mile: The Trials and Triumphs of the Black Quarterback" (now available from ESPN Books). That's when I found my quickie: the Importance of First.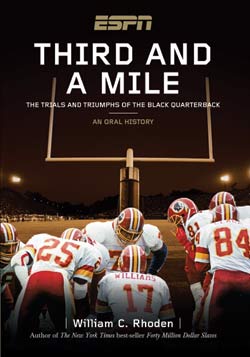 Click here to order William Rhoden's "Third and a Mile."
It wasn't too long ago black men did not have the opportunity to play quarterback in the NFL because we were not thought to be intelligent enough. We could have had the collegiate career of Peyton Manning but once drafted, we were asked to play a different position. Rhoden's book details the struggle of men like Marlin Briscoe, who in 1968 became the first black man to start a professional game at quarterback in the United States (with Denver in the AFL) and Doug Williams, the first black quarterback to lead his team to a Super Bowl win, in 1988.
See, recognizing first isn't just about celebrating those who crossed the finish line. It's about honoring the men and women who went out before us to make that road easier. As I sat and talked with men like Warren Moon and James Harris, I was reminded that in a lot of ways there would be no "Soul Bowl" if not for these men who disproved the racist system that gave the old-boys network permission to embrace our physical gifts while dismissing our minds. Why recognize first? Because it measures the progress we've made. It gives us a moment of reflection. In the case of Tony Dungy and Lovie Smith, it gives blacks and other disenfranchised groups a visual confirmation that if given the same opportunities, we, too, can achieve on the highest level.
Why make such a big deal over first? Ask an 18-year-old woman if it matters to her to have a woman president. Ask a parent what it means to see their baby's first step. Ask a young man about his first time.
Acknowledging the achievements of Dungy and Smith isn't perpetuating racism in this country. It perpetuates a dialogue we all still need to be involved in. The struggle of the black quarterback is not as difficult as it was during the time of the men of "Third and a Mile" but there is still work to be done. For everybody.
LZ Granderson is a senior writer for ESPN The Magazine and host of the ESPN360 talk show "Game Night." LZ can be reached at l_granderson@yahoo.com.