Rafael Nadal likes to talk in absolutes.
Sometimes it's because his English is limited. But most times it's on purpose, his tone laced with the kind of resolve which says that while the rest of us are wondering if he'll knock Roger Federer off his perch, he's planning the when.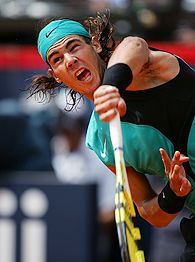 Stuart Franklin/Getty Images
Don't let Rafael Nadal's soft-spoken nature fool you. He's supremely confident in his ability.
Sure, Nadal might say the right things about his rival in interviews and postmatch press conferences, but after spending nearly two weeks trailing him in Europe, one thing is clear to me: Rafa's only pouring the Kool-Aid.
He ain't drinking it.
And therein lies the complex nature of the world's No. 2 player -- a mud-soaked field of contradictions in which humility and unwavering confidence play king of the hill in his brain.
He says he prefers the anonymity and quiet of his homeland of Mallorca, yet he can be seen on the tele in Europe endorsing everything from cola drinks to cars -- oiled up and shirtless in some commercials, closeups of his bum in others.
He defers to Federer as the great champion -- "I will never win as much as him," he once said to me -- and yet it is Nadal who owns the 7-4 series advantage, including 2-1 in Grand Slams. One minute he wants to win Wimbledon and become the world's top-ranked player, and the next he says he's pretty happy with his accomplishments.
Sometimes Nadal can be so soft-spoken you wonder whether he's been muted by self-doubt. Then he takes the court and rips out his opponent's jugular.
"I want to win, I want to be the best but if I don't, I think I'll be OK," the two-time French Open champion said. "I think."
He honestly doesn't know. As relentless and calculative he is in competition, he is just as laid-back and spontaneous away from it.
One day, as we were walking down the hall of the hotel we were staying at in Sweden, I noticed Nadal hopping around the marble floor, like he was playing hopscotch.
"What are you doing?" I asked.
"You know, what is that movie with Jack Nicholson?" Nadal asked. "The one where he's walking down the sidewalk and … "
"You mean 'As Good As It Gets'?"
"Yeah, yeah, that's it," and then he bursts out into laughter. "I love that movie."
"Why?"
"I don't know," he said. "Maybe I hate cracks too."
I briefly joined him in his adventure. I figured, what the hell, I love that movie as well.
Tomeu Antigues, who grew up playing against Nadal at the Club Tenis Manacor Center, a relatively small facility with four clay courts and a locker room the size of a walk-in closet, says Rafa's always been funny.
And driven.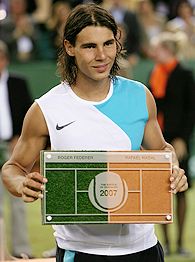 Clive Brunskill/Getty Images
Rafael Nadal is 7-4 against Roger Federer -- not including his exhibition victory in the Battle of Surfaces.
"He used to win everything," said Antigues, who now coaches a bunch of young boys -- all sporting Nadal's trademark pirate shorts and sleeveless-T look back at the center. "I played him over 40 times growing up, and I only won two matches … but Rafa never remembered the wins. Only the losses."
Toni Mesquida, Nadal's youth soccer coach back home, said something similar.
"First year of competition we had a tournament between the Balearic Islands and we lost our game 4-0," Mesquida recalled. "After the loss, [Nadal] was sure they were going to win the next round. But they lost that one, too. They lost every game. But that didn't bother his winning attitude. The next year they won the tournament and he played great."
Nadal's father, Sebastian, owns a successful glass and window manufacturing company, so his family is pretty well off. They own two homes, one that sits in the hills of Manacor and a summer home much closer to the beach. It is there where Nadal grew up rising with the sun to go fishing with friends, swim in the warm Mediterranean water or just sit in his boat and stare out into the stillness of the sea.
Despite career earnings of more than $10 million, Nadal prefers to stay home with his family as opposed to living on his own. If you asked if he would ever consider leaving Mallorca, he first stares at you as if you had tennis rackets growing out of your head and then replies, "Why would I ever want to do that?"
"All of my family and friends are there and it's the most beautiful place in the world," he says. "I will never leave."
There he goes again.
Talking in absolutes. But if you ever visit Mallorca, you can forgive him for this one.
The island has the kind of beauty that makes God pat himself on the back. Nestled between the Balearic and Mediterranean seas, just off the coast of Spain, the island is rimmed by immaculate beaches and blessed with 300 days of sunshine per year.
I spent my first two hours there looking for Tattoo.
"My teachers were always very tough," said Rafa, who went to a private, religious school taught by monks. "They didn't accept poor work, especially if they knew you were capable of better. They always pushed you to work harder, be better. Be a better student, be a better person."
To not pursue both would go against the way he was raised.
"If he ever acted out on the court, I would be very upset with him and very embarrassed," says his uncle and coach, Toni Nadal. "Sometimes things will go your way, and sometimes they won't. But you cannot lose your dignity.
"But he is a good boy. He is kind, and he really cares about people."
It's a sentiment shared by those who know him on tour as well.
"I look up to him," said fellow Spaniard Feliciano Lopez, who's ranked No. 72 in the world. "The way he practices, the way he plays. He never walks onto the court with doubt. He always feels like he can win. Always. And then away from the court he is a really great guy. The best."
Even after all of the success, Mesquida says Nadal hasn't changed.
"He still comes by the store to say hello and see how I am doing," said Mesquida, who owns a sporting goods store in downtown Manacor. "When he's home you can always see him just walking around like a regular person."
And yet, for the rest of the world at least, he's far from it.
During the Stockholm Open last October, Nadal happened to be staying at the same hotel as Brazil's national soccer team, which was on tour. Eardrums began to bleed as throngs of teenage girls started screaming at the sight of Ronaldinho making his way through the lobby one night. Just as it was beginning to die down, Nadal emerged from the elevator. And suddenly Ronaldinho was relegated to an opening act. It took 10 minutes for Nadal to make it out the front door and into the car waiting for him.
"When I am in Mallorca everyone treats me the same," Nadal said. "No special treatment or anything. They know what I have done in tennis and they are proud of me but they don't treat me any different. It's peaceful."
And that's when you realize why Nadal, like so many young people his age, speaks in absolutes. He is too old not to have answers and too young to know there aren't any.
How to be humble and yet confident?
How to be quiet and still be heard?
Even, How to find God when there's so much pain in the world?
"I would like to believe there is a God, but I think it is better to say I'm not sure there is a God and live your life with kindness and respect for people than to say I know there is a God and then do bad things," he said.
You know, come to think of it, he might have that God thing down. I wonder what's next on the list?
How to destroy Roger Federer and take over the world?
LZ Granderson is a senior writer for ESPN The Magazine and host of the ESPN360 talk show "Game Night." You can reach him here.