I was walking down a busy Manhattan street the other day when I came across a large window display that caused me to do a double take.
It featured a dark-skinned brother promoting a new shoe for which a portion of its proceeds went to Project Red.
I paused because I thought the guy was Michael Jordan.
It wasn't.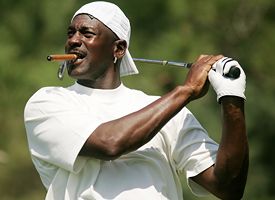 Scott Halleran/Getty Images
For the most part, Michael Jordan has stood on the sideline when it comes to speaking out about social issues.
The shoe was Converse, not Nike. But more importantly -- and more sadly -- I remembered that lending his face to something like Project Red, which addresses the AIDS epidemic in Africa, is not something Jordan is likely to do.
His Airness has always held a precarious place in my heart. My admiration for his passionate play is constantly at battle with my frustration for his apparent lack of passion for anything that doesn't benefit him.
When I think of the large cultural space he occupies -- even in retirement -- and the fact "Republicans buy sneakers too" remains his most memorable contribution to the political landscape, I am truly baffled that he can rest peacefully at night. I don't care if he's a Republican, Democrat or Libertarian. But while his iconic Nike labelmate, Lance Armstrong, has become synonymous with yellow wristbands and the cancer fight, MJ, who is far more influential, continues to steadfastly sidestep using his image for social change, even as it relates to issues of the global black community.
Silence about AIDS in Africa.
Silence during the Hurricane Katrina aftermath.
Silence in the fight against, well, just about anything.
Except slumping shoe sales.
Now some of you are thinking, "Haven't I read this criticism of Jordan before?" to which I say, "Yes, you probably have." Others are wondering, "Why does he have to do anything?" Let me answer that one too: He doesn't.
Nevertheless I bring this challenge up today because, one, the NBA is welcoming a new collection of young men with the potential to do great things, and two, I feel the black community needs a powerful voice such as Michael Jordan's now more than ever.
The U.S. Justice Department estimated six years ago that one in six black men were either in prison or ex-cons. Today the trend is approaching one in three. There are more black men in prison than there are in college, and those who are not in prison are having a significantly more difficult time finding employment than their white and Latino counterparts.
Growing up, people wanted to be like Mike, especially young black men. We shaved our heads, stuck our tongues out on the court and supported his apparel unconditionally. That's why three years into retirement he's still able to sell $250 shoes. Now that he's done playing, how about using those large hands to reach back as opposed to climbing up? How about some comparable reciprocity? I'm not suggesting coming out against the war in Iraq. But something as Q-rating safe as aggressively addressing the woes of inner-city education could go a long way to help the people who never hesitated to be there for him.
Before going any further, I would be remiss if I didn't acknowledge that Jordan has done, and continues to do, a great deal of philanthropic work. I know that his mother, Deloris, is a tireless worker who has taken up such causes as helping to build a Boys and Girls Club in Chicago and providing aid to villages in Africa. I know these things because I looked it up. Of course finding the Jumpman logo took a lot less effort.
And that's why my love for Jordan is at odds with my disappointment. Hell, as far as I know, he might have been instrumental in getting Chuck Taylors involved with Project Red behind closed doors, seeing how Nike owns Converse. But the black community persevered through years of oppression by relying on the sacrifices of the nameless and the talents and resources of our mythical figures. We may not be facing the same civil rights obstacles that prompted Muhammad Ali and Harry Belafonte to speak out, but the community is in no less need of a visible rallying voice.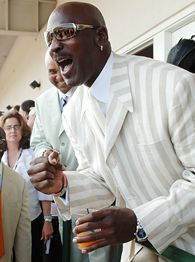 Jeff Gentner/Getty Images
Jordan still wields tremendous influence. Why not use it for the common good?
One with enough clout and respect that he could call up a Pacman Jones or Tank Johnson and tell him to stop acting like a fool. And maybe he has. I don't know. But what I do know is that 20 years ago we were not afraid to look after each other's children, share food, or, if need be, check each other for the sake of the community. But now that the fire hoses have been turned off, we've grown content to look after self. And that's what MJ appears to be doing -- looking after self. I don't know if he shares my political views, but black-on-black crime isn't just action. Sometimes it's inaction, and to paraphrase Dr. King, one day we're going to have to repent for it.
And I'm just as guilty as anyone else. Sometimes I feel so overwhelmed by the ills that plague our society in general, and my community specifically, I become paralyzed by the enormity of it all -- opting to send a faceless check to some organization rather than roll my sleeves up to fight a war that I'm not sure can be won.
Maybe that's why MJ, the man who hates to lose, is unwilling to get his name more involved. He knows "Jordan" can sell shoes. He's not sure "Jordan" can save the world. Or maybe Jordan just doesn't care as much as I, or perhaps many of you, had hoped. A disappointing possibility, for sure. It would be as if Superman spent his time pushing T-shirts with an "S" on them instead of saving lives.
When I spoke with a number of black athletes about philanthropy and the black community, they were reluctant to call MJ out. And really I wasn't looking for them to do so. The fact that no one could tell me anything about him that didn't have to do with Nike or basketball said it all.
"Jordan's still the most influential athlete in the world in my opinion, so yeah, whatever he does is going to draw a lot of attention," says New York Jets linebacker Jonathan Vilma. "I'm not disappointed he's not more visible in terms of causes and things like that because everybody has to decide what's best for them. I just try to focus on doing everything I feel I can do to help those less fortunate."
Josh Childress of the Atlanta Hawks agreed.
"True, he doesn't use his celebrity as much as he could but maybe he just wants to stay under the radar, who knows?" says Childress, who routinely works with underprivileged children. "Growing up, people did strive to be like Jordan, and yeah, if he did something really big to fight prostate cancer or something like that, a lot of guys would support him just because it's Mike."
Warrick Dunn, whose Home for the Holidays program is one of the most inspirational projects spearheaded by any athlete, says he finds being in a position to use his name to give back is an honor.
"Michael is the greatest athlete of our generation," says Dunn, the Atlanta Falcons running back. "I'm sure he's done a lot, and he could probably do more with his fame. But at the same time he's just one man and you have to ask, 'How much can one man do?' I mean, every professional athlete can do something to make the world better."
Like Tiki Barber, who one day strolled into the office of Newark Mayor Cory Booker and asked what he could do to help. It's that kind of gesture Booker says he focuses on, more than what others are not doing.
"I've always tried to live my life by the basic principle my parents taught me from the Bible," Booker says. "To he much is given, much is required.
"I cannot discount the inspirational power of just seeing Michael Jordan or Tiger Woods achieve athletic greatness and the positive effect it has on the black community. But while it's true we live in a free democracy, we have to understand this democracy was born out of incredible self-sacrifice. It wasn't even a generation ago that you saw the extreme sacrifices made by people whose names we don't even know. Now we're in a state of crisis, and black athletes can help change that. The call is out there, but I can't be frustrated by those who don't answer the call."
But I can.
In 2005, we cheered Kanye West for saying George Bush didn't care about black people after he bungled Katrina relief efforts. Yet less than two years later we're wondering whether New Orleans is going to have enough police to contain all the violence and ghettofabulousness for next year's NBA All-Star Game. With disconnects like that, who needs the KKK? We're eliminating ourselves from the equation, and it seems as if our elite are too busy to care. I now understand what Marvin Gaye meant when he said "It makes me wanna holler and throw up both my hands."
I wonder if Jordan is ready to holler yet.
And if so, why can't we hear him?
LZ Granderson is a senior writer for ESPN The Magazine and host of the ESPN360 talk show "Game Night." He can be reached at l_granderson@yahoo.com.