On Nov. 17, 2007, Ann Arbor, Mich., will once again be the center of the college football universe.
Eleven weeks after Michigan became a punch line for losing to arguably the best team in Division I-AA, the Appalachian State Mountaineers, it will return to the spotlight for defeating arguably the team in Division I-A -- the Ohio State Buckeyes.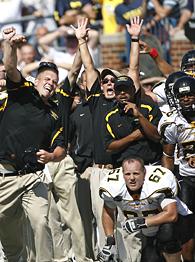 Leon Halip/Getty Images
Appalachian State proved it can hang with the big boys in September, but it won't get a chance in January.
For purposes of common sense, I'm going to refer to Division I-A and I-AA rather than the bowl subdivision and championship subdivision.
I don't want to see this happen for redemption for the Wolverines, or dislike for the Buckeyes.
I want to see it happen because I want the evil empire to fall.
On Oct. 6, USC lost to a Stanford program that was 1-3 at the time, finished 1-11 last season and hasn't won a bowl game since 1996. By contrast, Appalachian State has not had a losing season since 1993, is 31-5 over the past 2 ½ seasons and won the last two I-AA national championships. That 34-32 game wasn't about an inferior team getting lucky. It was a classic battle between two very good programs that went down to the last play. But Michigan got dropped out of the top 25 after its loss, and USC remained in the Top 10.
Why?
Elitism.
The Cardinal is Division I-A, and the Mountaineers are I-AA.
I'm not trying to dump on Jim Harbaugh and Stanford. Nor am I saying a top-10 team should need a last-second field goal to win a home game against an unranked opponent in the first place. But it seems some coaches in the voting ranks are too bullheaded to admit they were wrong.
Not about Michigan -- whose only other loss this season was against No. 7 Oregon -- but about Appalachian State.
How else can you explain five straight wins -- including one against then-No. 10 Penn State -- and the Wolverines still being left out of the coaches' USA Today Top 25? The AP has them ranked No. 24. The BCS computers have them above three other ranked teams and No. 25 overall. I know, I know, the coaches have Michigan ranked No. 26, but that's still on the outside looking in. I believe the Wolverines are being left out not because coaches believe they are a bad team, but because some on that 60-member Division I-A voting committee doesn't want Appalachian State to be a good team. At least not good enough to compete and win against schools with bigger budgets, more scholarships and from a supposedly superior level of football. Normally a school that beats a top-5 opponent gets some respect nationally
-- not just attention, but respect. Not so here. Appalachian got a few votes in the AP poll, after its rules were adjusted to allow voting for I-AA teams. True, Division I-A coaches are not allowed to vote for I-AA schools, but you can surmise how they feel about Appalachian State as an opponent by the way they are treating Michigan.
"Why, these sublevel Mountaineers didn't beat a top-ranked Division I-A school," the coaches' poll says. "No, quite the contrary, these Wolverines are simply not among our best."
It's the same brand of delusion that prevents some of us from recognizing that the U.S. is not No. 1 in basketball anymore.
"We didn't send our best!"
As if LeBron James, Carmelo Anthony and Dwyane Wade are not among our best.
The Mountaineers are more deserving of national television exposure than the atrocious 1-6 Notre Dame squad that Michigan stomped 38-0 on Sept. 15. But to open the door to that kind of talk -- like this and other Division I-AA schools can now defeat a lot of Division I-A teams easily -- undermines the hierarchy that's in place. If the powers that be won't allow a major college football playoff system, they certainly won't grant many opportunities for a Division I-AA program like Appalachian State to eat at the table. There's too much television money at stake, for one. And then recruiting would be become much more competitive.
"If you go to that school, you'll have to sit for two years, but if you come to us, you'll play right away," a recruiter can say. "And did I mention we just beat the No. 5 team in the country on national telelvision?"
The system that once allowed big name schools such as Miami and Florida State to horde regional talent will continue to corrode, as long as athletes have other options to gain national recognition. This only will benefit the South Floridas and Appalachian States of the world, who already are making significant headway with players the larger programs didn't want. For some, it's a welcome change. For others, it's an unwanted challenge. Well guess what? Michigan still could end up winning a BCS bowl game whether it beats Ohio State or not. Is it a flaw in the system? Perhaps. Or maybe it's just another nail being driven in the coffin of "the way we've always done it," courtesy of "the way things are now."
The person I feel most sorry for in all of this political posturing is Michigan tailback Mike Hart, whose name fell out of the Heisman conversation as soon as that field-goal attempt was blocked by Appalachian State. This despite Hart rushing for 188 yards and three touchdowns in that game; this despite Hart guaranteeing a win against Notre Dame and then running for 187 yards and two scores to make sure it happened; this despite Hart leading the nation in rushing yards and attempts while carrying the offense for a team that shares the conference lead with the No. 1 team in the country.
Hart is being punished because the Heisman winner cannot play for a team that lost to Appalachian State. That thinking robs Hart and diminishes the excellence of a 5-1 Mountaineers program that also happens to sport the nation's longest Division I home winning streak at 30. USC had the honors before losing to a program that hasn't had a winning season since 2001. But Stanford is Division I-A, so that makes it all right.
This is why I am looking forward to Nov. 17, 2007. That will be the day when the Goliath that lost to David will become the David that beats Goliath, the evil empire crumbles, and the South Florida Bulls collect the spoils of the land.
LZ Granderson is a senior writer for ESPN The Magazine and a regular contributor to Page 2. He can be reached at l_granderson@yahoo.com.