How do you deal with death?
Do you fear it?
Does it paralyze you?
Motivate?
As Roger Federer begins pursuit of a third consecutive Australian Open title, pundits will be consumed with debate over his place in history. Fans will talk about the future, trying to determine when he will surpass Pete Sampras on the all-time Grand Slam wins list. As for Federer, he won't be caught up in any of that; not about the past or the future. He'll be too busy dealing with the here and now.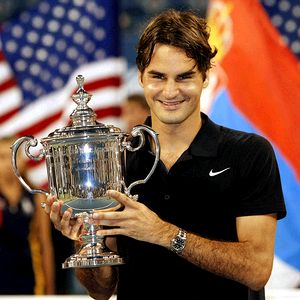 Timothy Clary/Getty Images
Roger Federer claimed his 12th grand slam title at the 2007 U.S. Open, moving within two of tying Pete Sampras' career record.
The one opponent across the net -- today.
The point being played right now.
You see, this is how Roger Federer has learned to deal with death -- by living in the moment.
"Early in my career, I used to get really upset over a bad shot or something like that and I couldn't get it out of my head and it would cost me matches sometimes," the 26-year-old said. "Now, I've learned to forget about it, stay calm and focus on what I'm doing now. Since Peter's death, I try to think about what I'm doing right now … and enjoy life."
The "Peter" he's referring to is Peter Carter, the man often credited with not only laying down the foundation for Federer the tennis player, but Federer the man. The two met when Federer was 10, and even after he ceased being his coach, Carter never stopped being his mentor and close friend. Over the years, Federer would reach out to Carter for pointers and support during his early struggles on tour. Later Carter was named captain of the Swiss Davis Cup team.
In the fall of 2002, Carter died in a car accident while vacationing in South Africa. Federer was playing in Toronto at the time.
Before going on, you have to understand the Federer we see today was not the Federer on tour while Carter was alive. The earlier Federer was talented enough to end Sampras' 31-match win streak at Wimbledon, but inconsistent enough to then lose to Nicholas Massu (and if you just said, "who?", that's my point). The later version, the one poised to win his ninth Slam in 11 major appearances, may not be here had it not been for that tragedy.
"The way he died … it was so unexpected," Federer said. "I learned that tomorrow isn't promised to anyone."
The year after Carter's death Federer -- who had been dogged by labels like "underachiever" and "hot head" -- focused and won his first Slam, Wimbledon. He's won every Wimbledon since and is now in position to supplant Sampras, who interestingly enough, began his own attack on history in similar fashion.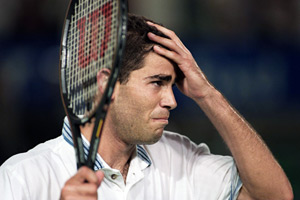 Gary Prior/Getty Images
Sampras found new strength -- coming back from a two-set deficit versus Jim Courier at the '95 Aussie Open.
In January 1995, Sampras' coach and close friend Tim Gullickson was diagnosed with brain cancer and passed away the following year. From the time he learned of Gullickson's illness to his retirement in 2002, Sampras won nine Grand Slams.
"It is a sad coincidence with the loss of our coaches," the notoriously private Sampras said.
Perhaps, but can you totally disregard the effects a loved one's death has on your heart?
Or your mental toughness?
If you find yourself playing for the honor of someone you care about, wouldn't that somehow fuel you to reach greater heights? Particularly in an individual sport such as tennis, in which after three hours of play in the scorching sun, the match becomes as much as a game of will as physical ability, talent and skill?
Even in a team sport, the death of someone close has indirectly propelled certain players to incredible performances. Michael Jordan's return to basketball after his father's death was highlighted by the best record in NBA history. I remember Joe Dumars winning MVP of the Finals after his father died during the playoffs. More recently, Brett Favre put on a show for the ages after the passing of his father. And who can forget the image of Tiger Woods breaking down after winning the British Open in near record-breaking fashion after his father died?
Death is an unavoidable part of life and it affects each person differently. Some are shackled by their mourning. Others deal with it and move on. And then there's Federer and, perhaps, Sampras -- who appears to have found a way to use the passing of loved ones to rewrite tennis' record books.
Maybe these two men would have won whether their coaches were alive or not. However, with five majors before the unfortunate deaths and 21 titles afterwards, I wonder if "sad coincidence" is really all that it is, as Sampras suggests.
And think about this -- Rafael Nadal, who, with three Slams at 21, is quietly on a pace faster than Sampras' or Federer's, told me the death of a childhood friend taught him the importance of now.
Maybe five years down the road, his loss will be the tennis world's gain. Maybe. One thing's for sure, Nadal's not thinking about it.
Like Federer and Sampras, he understands all any of us have is today.
LZ Granderson is a senior writer for ESPN The Magazine and a regular contributor to Page 2. He can be reached at l_granderson@yahoo.com.
2008 AUSTRALIAN OPEN
2008 ChampionsWomen's singles:
Maria Sharapova
Men's singles:
Novak Djokovic
Men's doubles:
Jonathan Erlich and Andy Ram, Israel
Women's doubles:
Alona and Kataryna Bondarenko, Ukraine
Mixed doubles:
Sun Tiantian, China, and Nenad Zimonjic, Serbia
Official scoreboard:
Real-time scores
---
Day 14
•
Djokovic wins Aussie men's title
•
Ford: Concentration, patience key for Djokovic
•
Report: Women's final likely moving to night
Video

•
Record Aussie Open turnout cracks 600,000
•
Djokovic wins first Slam
•
Return of serve helps Djoker
•
Dick Enberg's tribute
Day 13
•
Sharapova wins Aussie women's crown
•
Ford: Life lessons provoke Sharapova to win
Video

•
Sharapova wins title
•
Men's final preview
Day 12
•
Men
•
Ford: Djokovic ends significant run by Federer
•
McEnroe: Djokovic just too strong for Federer
•
Ford: Tennis in need of a competitive final
•
Ubha: Rivalries that could come to fruition
•
Bodo: Dreamy tennis from Sharapova
Video

•
Federer loses
•
Djokovic looks for first Slam
•
Federer talks about loss
•
Women's final preview
Day 11
•
Men
|
Women
•
Ford: Djokovic confident versus Federer
•
Ford: Tsonga shrink's Nadal down to normal size
•
McEnroe: Tsonga a player who's here to stay
•
Tennis.com: Djokovic's golden opportunity
•
Notebook: Aussie teenager turning heads
Video

•
Sharapova defeats Jankovic
•
Ivanovic downs Hantuchova
•
Tsonga stuns Nadal
Day 10
•
Men
|
Women
•
Ford: Hantuchova, Ivanovic have come along
•
Wilansky: Jankovic could be in for a long day
Video

•
Federer defeats Blake
•
Ivanovic down Venus
•
Djokovic cruises past Ferrer
Day 9
•
Men
|
Women
•
Ford: Blake, Federer two of the classiest players
•
Ford: Jankovic defies odds in defeating Williams
•
Notebook: Is Blake's maturation enough?
Video

•
Serena falls to Jankovic
•
What happened to Serena?
•
Nadal headed to semifinals
Day 8
•
Men
|
Women
•
Ford: Sharapova ready to tackle Henin
•
Notebook: Two surprising quarterfinalists
Video

•
Federer defeats Berdych
•
Nadal advances
•
Blake happy with win and Giants' victory
•
Advantage Luke Jensen
Week 1
•
Photo Gallery: Best of Week 1 from Down Under
Day 7
•
Men
|
Women
•
Notebook: Oh, what a night of tennis
Video

•
Weekend madness
•
Henin ready for Sharapova
Day 6
•
Men
|
Women
•
Ford: Stealth Serb pushes Federer to the limit
•
Jensen: Federer's great physical condition
Video

•
Federer defeats Tipsarevic
•
Federer reflects
Day 5
•
Men
|
Women
•
Ford: Mirza's off-court battles
•
Wilansky: Early exit for Roddick
•
Notebook: Henin more confident
Video

•
15 aces for Serena
•
Roddick falls to Kohlschreiber in five sets
Day 4
•
Men
|
Women
•
Ford: Just like home for Americans Down Under
•
Spadea wins and raps

•
Notebook: Top-ranked Huber not on Fed Cup
Video

•
Day 4 highlights
•
Vince Spadea's chicken dance
Day 3
•
Men
|
Women
Video

•
Day 3 highlights
Day 2
•
Men
|
Women
•
Ford: Santoro continues to slice and dice
Day 1
•
Men
|
Women
Video

•
Day 1 highlights
•
2008 Australian Open preview
ESPN Top Headlines