White men can't jump.
You remember the movie, right? It came out in 1992 and starred Woody Harrelson and Wesley Snipes as a pair of hustling basketball junkies.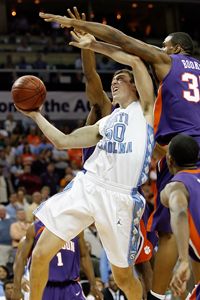 Streeter Lecka/Getty Images
Anyone who thinks white men can't jump hasn't watched Tyler Hansbrough in action.
I loved the flick so much I went out and bought the sound track, and used to dance to the title track in the club back in college.
And if you say it louder
Then you might make me prouder
Don't you know that white men can't jump?
White men can't jump
I was 30 before I realized just how racist it all was.
Could you imagine what would happen if Hollywood released a comedy about football entitled "Black Men Can't Throw"? Rush Limbaugh would be sitting in the theater chuckling with a box of Ho Hos in his lap as movie execs tried to explain to Jesse Jackson and/or Al Sharpton why he/they should not be offended. Yet men and women of both races who are otherwise intelligent not only embrace the notion inherent to "White Men Can't Jump," but it is spoken about as if it's scientific fact.
This is true in the barbershop.
This is true at the local Y.
Apparently it's true on national television as well.
Just last week I watched a pair of journalists dismiss the pro potential of both Tyler Hansbrough and Kevin Love for no other reason than their skin color.
"The last time a big white guy from college especially went from a big-time star to a big-time star in the NBA, I think there were still laces on the ball," one of them said.
For many, Hansbrough evokes memories of Christian Laettner, even though his game resembles Marcus Fizer. Love gets Eric Montross comparisons despite having far more in common with a young Tim Duncan. Perpetually grounded Michigan State guard Drew Neitzel, a preseason All-American, is compared not to fellow low-fliers such as former Spartan Shawn Respert or NC State's Rodney Monroe -- both duds in the pros -- but to J.J. Redick, who probably has the best hops of the four.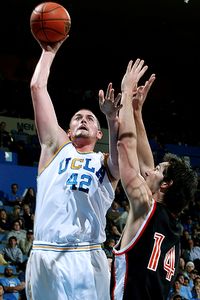 Stephen Dunn/Getty Images
No offense, but Kevin Love has a lot more aspects to his game than Eric Montross did.
Alas, only white players can be compared to white players and blacks to black. If we started comparing athletes based on quaint little qualities such as talent and skill level instead of incidental ones like skin color and ethnicity, then we might actually be forced to stop and think.
Some black folks love this white-men-can't-jump rhetoric because it appears to give us an aura of superiority over a collective that for so long did everything in its power to keep us down and out. Some whites enjoy this conversation because it covertly grants some of our less evolved brethren permission to allow other sweeping generalizations about race to factor into their decision-making. These sweeping generalizations might not be privy to the general public but they affect things like, I don't know, hiring a black person to coach Division I football.
If I've said it once, I've said it a thousand times, racial reconciliation is a two-way street. You can't say Hansbrough won't make a good NBA player because he's white unless you are prepared to also say Oregon's Dennis Dixon won't make a good NFL quarterback because he's black. For every Larry Bird there is a Doug Williams. For every Big Country there is a Stanley Roberts. You'd think we'd figure that out by now, but apparently not.
This is the stalemate Barack Obama spoke about two weeks ago in his address about race -- a nation unable to fulfill its potential because it has yet to figure out that together we are more than the sum of our parts. Only in this case, the ones who really suffer are kids like Hansbrough, Love and Dixon -- young men who worked countless hours to become among the best in their sports only to be blindsided by an antiquated belief system.
As the father of a young boy who likes to dream, it's really sad for me to know that in 2008 a 19-year-old kid could be so comfortably judged on his ability to do a job based solely on his race.
But what's even sadder is knowing there are some folks out there -- both white and black -- who will read this column and still not have a problem with it.
LZ Granderson is a Page 2 columnist and a senior writer with ESPN The Magazine, as well as a regular on ESPN's "First Take." He's also host of the Page 2 video series, "LZ's Cafe." He can be reached at l_granderson@yahoo.com.