LZ's Cafe with the young Lakers
Do you remember what your life was like at the age of 17?
Were you a know-it-all? A rebel who didn't listen to your parents, or was too insecure to ask any of your many questions?
What about at 18 or 19?
Some of the biggest mistakes all of us have made happened during our late teens, as we wrestled with who we wanted to be, who we were expected to be, and who we actually were. And, thankfully, most of us spent that trial-and-error period in obscurity.
Andrew Bynum had no such good fortune.
He has gone through this error-prone maturation process in the public eye, while also juggling media scrutiny and the unrealistic expectations of fans. Although Bynum says it's unlikely he'll return from his knee injury any sooner than the Western Conference finals -- assuming his team is still playing -- this has been, without question, the year he finally silenced his critics. Not an easy feat when you consider that, less than a year ago, he had to endure the frenzy surrounding a proposed Jason Kidd trade and the subsequent remarks made about him by someone I'm sure he thought he could trust.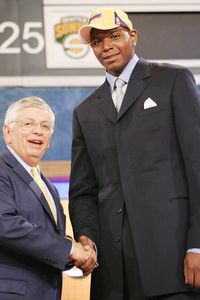 AP Photo/Kathy Willens
Remember, back in '05, Andrew Bynum was the youngest player ever drafted into the NBA.
"Andrew Bynum? What the f---?" Kobe Bryant reportedly said on tape last spring. "Are you kidding me? Andrew Bynum? F------ ship his ass out."
The kid was 19.
True, it was Bynum's choice to enter the NBA. So, no, he should not be coddled.
True, he's a millionaire now, and appears headed toward a much bigger payday in the not-too-distant future.
And true, no one's ever died from being publicly criticized.
But as I sat with Bynum -- and teammates Jordan Farmar, Ronny Turiaf and Sasha Vujacic -- recently, I couldn't help but feel a little sorry for him. Fame and fortune can buy you fancy cars, and get you seated quickly in a city's hot restaurant, but they cannot buy back the one thing we all take for granted -- youth. You get only one crack at it, and for the most part, Bynum traded the latter part of his to be a Laker.
On the outside looking in, it seems like a no-brainer swap. Hell, on the inside looking out I'm sure that swap is still pretty sweet. But as the soft-spoken Bynum reminded me, that decision comes with a fairly heavy price.
"I was so young when I came into the league I didn't really have a chance to do any of that stuff," he said. "And so it's tough, especially dating, because I am famous now, so it's hard to tell if a girl likes you for you or because you're a basketball player."
With everything else going on with you emotionally, could you imagine going through your late teens having no idea whom you can trust with so much at stake? When all you want to do is go out and meet a girl or a guy and just hang out, without worrying if all the person sees is what you can do for them?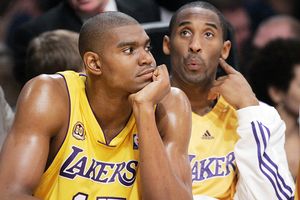 AP Photo/Mark J. Terrill
Those words from Kobe had to sting the young center.
When you throw a talented kid into the very adult world of professional sports, there is a certain amount of arrested development. Some teenage athletes have the skill set to be successful at the game they are being paid to play, but not the wherewithal to comprehend the other games that life offers. Something as simple as who pays for dinner can be interpreted in a multitude of ways, and yet neither scenario offers very much insight into whether or not what the other person is saying to you is actually the truth. It's as if your life is being directed by M. Night Shyamalan, and you constantly have to have your guard up, looking for the twist at the end.
Sometimes these kids turn out OK, like Kevin Garnett. Sometimes they have to go through a rough patch before getting it together, like Jennifer Capriati. And then there are those who just never should have been put in that situation in the first place, like Eddie Griffin.
The thing is, you never really know who can carry what until they pick up the load and start their journey. If they're blessed like Bynum, they have a strong family structure that can help them along the way. But not even the love and support of the world's greatest mom -- and it's my understanding Bynum's mother is in the running for that award -- can make up for the kind of lessons that can be taught only by life.
As the other men spoke of dating, and college, and going out, the 20-year-old Bynum sat quietly, wide-eyed, hearing about a world he knows nothing about and never will.
That is a burden Bynum has to carry publicly.
That is a burden he has to carry alone.
LZ Granderson is a Page 2 columnist and a senior writer with ESPN The Magazine, as well as a regular on ESPN's "First Take." He's also host of the Page 2 video series, "LZ's Cafe." He can be reached at l_granderson@yahoo.com.