Kimbo Slice gets his stupid ass kicked.
That's the title of a YouTube clip that captures Slice, an MMA sensation, getting beaten down.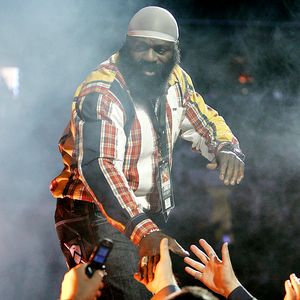 AP Photo/Jeff Chiu
Kimbo Slice has the right to clown for dollars, but he could do the African-American community a service by holding himself to a higher standard.
I don't know if he's necessarily stupid, because I've never met the man, but he certainly seems to be misguided. Why else would Slice disregard all sense of honor, pride and history to project an image that can best be described as a cross between Lil' Wayne and Kunta Kinte -- a runaway slave with a mouth full of gold teeth playing up every single stereotype of an African-American male in exchange for short-lived adoration from a soulless media with ADD.
In a recent photo shoot with ESPN The Magazine, a shirtless Slice makes a variety of menacing/coonish facial expressions that are uncomfortably close to those of a caged animal, which he is routinely referred to online. Fortunately, the Mag opted not to run most of the shots, but there are still various clips on the Internet that refer to Slice being from the wild jungle, including photos of a gorilla instead of his headshot. And the YouTube clip mentioned earlier is pretty close to a lynch mob environment. All of which he seems to be playing up as part of his act.
While LeBron James unintentionally striking a King Kong-like pose for Vogue is disappointing, I find what Slice is consciously doing downright disgusting.
And unquestionably profitable.
Slice is the headliner for a May 31 card in New Jersey. The fight is set to be televised on CBS, the first time an MMA event will be broadcast on a major U.S. network. Judging from the high level of interest his underground street fights generate online, the contest will undoubtedly be a hit for the Florida native and spawn more major broadcasts. Slice and his Gus from "Birth of a Nation" persona are headed toward stardom.
And I thought Flavor Flav getting his own show was a low point for black Americana.
Of course, the pain of it all is somewhat dulled by the fact that none of this is really new. Ever since the first House Negro spied on the Field Negroes in exchange for a clean pair of pants, it seems the jealousy and selfishness within my community has always played a key role in hindering its progress.
If you speak with good diction, you're not black enough.
If you agree with white people, you're an Uncle Tom.
If you stop hanging around bad influences, you're a sellout.
We never deal in nuances, only absolutes, all the while shifting from an ideology of "we shall overcome" to "you better get yours cuz I'm getting mine." From Slice to the cast of "I Love New York" to the Rev. Jeremiah Wright (who recently re-emerged in the public eye to spew his nonsensical rhetoric, injecting Barack Obama's campaign with more controversy in the process), whatever remaining ties that bonded the black community during the civil rights movement are being shredded, repackaged and sold to the highest bidder. In a world where anyone and everyone can be a 15-minute star, dignity is freely being exchanged for a book deal, a hit record or a reality show.
I understand this "clowning for dollars" mentality is not unique to black men. But since we make up 41 percent of the country's inmates (according to the U.S. Department of Justice), the last thing we need is folks conjuring up images of Amos 'n' Andy. My desire is not to see only blacks do well. I wish every person of every race and creed nothing but happiness. But while we are all Americans, we are not all from the same American experience. Each minority subculture has its own unique set of circumstances which members of that subculture should consider with regard to the public eye.
Notice I said "should," not "have to."
Yes, I do wish black men like Slice, Josh Howard and Detroit mayor Kwame Kilpatrick would take time to think (or care) about how their actions reflect on the few and/or influence the many. But as much as it hurts my soul, I have to accept the fact that no one in the public eye -- regardless of color, gender, sexual orientation, religion, etc. -- is obligated to serve anyone other than themselves. If people want to coon for the camera under the guise of artistic expression or freedom of speech, that is indeed their right. However, I do find it interesting that unlike, say, the right to a proper education, housing or to vote, the right to embarrass ourselves is something the government has never kept from us. But I guess some of us are too busy in marketing meetings to care.
So for those who want to accuse the white mainstream media of blaxploitation 2008, keep in mind that ultimately the onus is on those individuals who choose to present themselves in offensive, over-the-top fashion in order to generate buzz and create a "brand."
Strange. Branding once was something slave owners used to punish my ancestors. Now it's being used by the descendents of slaves to punish their memory.
LZ Granderson is a Page 2 columnist and a senior writer with ESPN The Magazine, as well as a regular on ESPN's "First Take." He's also host of the Page 2 video series, "LZ's Cafe." He can be reached at l_granderson@yahoo.com.