LOS ANGELES -- Beauty is more than skin-deep -- a lesson taught to us as small, open-minded children, then quickly tested once we're teased for wearing the wrong jeans or carrying the wrong cell phone.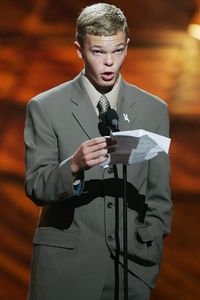 AP Photo/Chris Carlson
Who could ever forget Jason McElwain's remarkable performance a couple of years ago that garnered him an ESPY award.
The concept of inner beauty seems particularly foreign in a city like L.A., where glitter and gold have replaced bricks and mortar, and nip/tucks seem as common as grabbing a latte.
But every now and then, real beauty -- the kind we were taught to look for as kids -- makes an unexpected appearance and reminds us of the power of love, hope and the human spirit.
I was reminded of this as I watched former Buffalo Bills tight end Kevin Everett -- a man who was told he would never walk again -- defy the odds and walk out on stage to accept the Jimmy V ESPY for Perseverance on Wednesday.
I was reminded of this during the acceptance speeches of John Carlos and Tommie Smith, who received the Arthur Ashe Courage Award.
And I was especially reminded of this during a recent conversation with another ESPY winner, Jason McElwain.
You probably know him better as J-Mac.
Two years ago, then-18-year-old Jason -- an autistic high school student from Rochester, N.Y. -- became a national sensation when video clips circulated of him scoring 20 points in the final four minutes of his first and only varsity basketball game. His story brought tears to the eyes of millions and the topic of autism -- a developmental disorder that impairs communication and social interaction -- to the fore.
Jason took home the ESPY for Best Sports Moment in 2006, beating out Kobe Bryant's 81-point game and George Mason's run to the Final Four. He has been on Oprah, met President George W. Bush and become buddies with Peyton Manning, and Magic Johnson is making a movie based on his life.
Today, Jason travels the country to help raise funds to battle autism. The importance of his work cannot be overestimated.
The Autism Society of America estimates that the lifetime cost of caring for a person with autism is between $3.5 million and $5 million, and the United States accumulates nearly $90 billion in autism-related expenditures annually. When you know that 47 million Americans are without health insurance and that 41 percent of uninsured people don't go to the doctor because of the cost, Jason using his celebrity status to address this need is not a quaint, happy ending to a heartwarming story. He's addressing an ongoing need. And although his mother, Debbie, admits it can be tiresome at times, she also recognizes the importance of the work.
"We didn't ask for any of this," she says. "We were just trying to be good parents and do what's best for all of our children. His brother got him into basketball, and years later, something very special happened because of it. If other parents like us can find some hope from this, then we want to be there for them."
This week, Jason is back in L.A. because he's receiving an award from the HollyRod Foundation, the brainchild of former NFL quarterback Rodney Peete and his wife, actress Holly Robinson Peete. The couple started the organization in 1997 to raise funds for research and care for those afflicted with Parkinson's disease, to which Holly's father succumbed in 2002. When their son, Rodney Peete Jr., was diagnosed with autism, the cause quickly came under their philanthropic umbrella.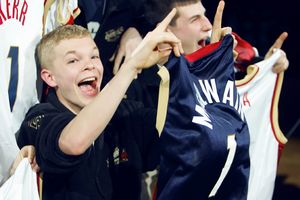 AP Photo/Mark Duncan
McElwain continues to live life to the fullest, and is trying to help others along the way.
"It means a lot to me to be able to go out and help people see you can live a regular life," says Jason, who takes distance-learning courses, volunteers at the Indianapolis Colts' training camp and is the student assistant coach for his former school's junior varsity team. His goal is to be a varsity basketball coach one day. "Having autism doesn't mean you can't live your dreams," he says.
That's a message the Peetes say their 10-year-old son readily embraces.
"When we got the diagnosis, we were told a lot of nevers," Holly says. "They said he would never spontaneously say, 'What's up, Dad?' or 'I love you.' That's really hard for a parent to hear, and we were sitting in that doctor's office wondering what we were going to do. We had no sense of hope.
"If there was a magazine story we could've read while sitting there, that would have helped me so much. That's why we talk about our experiences as parents … to try to help others. And I know for a fact that Jason's story continues to help a lot of parents who are just now learning their child is autistic. He's helped us."
Holly says her son looks up to Jason and is helping present him with the award. "He says, 'I have autism -- autism doesn't have me,'" she says.
With all this chatter about Brett Favre and cheating refs and cheating baseball players and pop singers, it's good to know sports -- at its core -- still can bring out the best in us. When you know that Jason didn't start speaking until he was 5 years old or that in four years as team manager he missed only one game or that when the student body learned Jason might play in that final game, kids printed up pictures of him and held them up as they cheered, you can't help but draw upon the strength.
The spirit.
The beauty.
The kind of beauty we were taught as kids.
The kind that, thankfully, never fades.
LZ Granderson is a senior writer for ESPN The Magazine and a regular contributor to Page 2. He can be reached at l_granderson@yahoo.com.