LZ's Cafe with Terrell Owens and Al Horford
When I lived in Atlanta six years ago, I frequented two gyms to play hoops: Run N Shoot, a 24-hour joint that featured some of the best players in the area, and Crunch Fitness in Buckhead, Ga., which featured some of the best talkers.
At Crunch, there were guys who would start yapping in the parking lot on their way in and wouldn't stop until they got back in their cars hours later. A dude could trip, kick the ball in the air and bank in a half-court shot and you'd think he meant to do that by the way he'd start talking junk afterward.
It was the kind of gym that'd be perfect for a selfish egotistical maniac to let his voice be heard. So imagine my surprise when I was in the gym for about an hour one day before someone told me Terrell Owens had been on the opposite court the entire time.
Quietly playing.
Quietly winning.
An outstanding basketball player, Owens was easily one of the best guys playing that day. And yet, in a facility where smack talk is more important than actual skill, Owens was as quiet as a Ralph Nader for President rally.
Before that day I thought I had a pretty good understanding of who T.O. was.
But that afternoon I met Terrell Owens.
Fast-forward to 2008. I see that the gap between Owens' public persona and his private one is widening. It's evident by his lack of a shoe contract. Evident by a recent poll of NFL GMs that listed him as the last player they'd want on their team, even though he was in the top five in receiving yards and receiving touchdowns last season, and even though he has lost a fumble once -- just once -- in the past seven seasons. And evident by many of the responses I've read in cyberspace the past few days regarding his helping a friend of mine, Sam Alipour, after he was hit by a car following an ESPYS party.
"Sam getting hit by a car and T.O. helping him out, all i got to say is ANYTHING IS POSSIBLEEEEEEEEEEEEE !!! lol," posted one person.
"It's pretty fascinating to hear a story that actually paints T.O. in a positive light," wrote another.
It's all a bit irritating to me. Because for all the press this guy has received during the past four years or so, the words "arrested," "domestic violence," "rape," "assault," "DUI," "steroids" or "phone calls to the Minnesota Vikings using a Green Bay Packers telephone" have never been attached to him.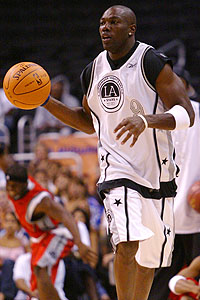 Robert C. Mora/WireImage.com
One thing you might not know about Terrell Owens? He's an excellent basketball player.
What I do know is that Owens has been an advocate in the fight against Alzheimer's disease, volunteered in New Orleans after Hurricane Katrina without any Manning-like fanfare, donated a game check to the Sri Lanka tsunami relief fund, signed a waiver saying that the Philadelphia Eagles would not be financially responsible if he got hurt playing in the Super Bowl against doctor's orders, and opened his offseason home in suburban Atlanta on Saturday mornings to the guys at Crunch who could play with their mouths shut.
This is the real Terrell Owens -- kind, giving, warm, funny. Of course he helped Alipour after witnessing him in a car accident. In fact, when I ran into Owens that night, it was he who told me what happened and walked me over to the scene of the accident. This isn't anything out of the ordinary for any decent human being to do -- especially someone as genuinely nice as Owens.
"I didn't know who that was that got hit by a car until afterwards," Owens said. "I was just concerned for another human being. But for a lot of people it's a shock that I would care like that, and that's disappointing. Even a couple of articles I've read had all of this sarcasm to it, like they were making fun of me. I try not to let it bother me, but I am human."
The problem is that T.O. fella.
That dude tends to rub people the wrong way -- doing shirtless crunches in his driveway, throwing Donovan McNabb under the proverbial bus, signing a football during the game.
T.O. -- the guy in front of the camera -- occasionally can be a pain in the you-know-what.
Terrell Owens? He's a really good dude.
I just wish he'd get out of his own way and show you.
But apparently something happens when the lights come on that neither I nor he can fully explain. I've asked him about it. He's not sure why T.O. and Terrell Owens are worlds apart in people's eyes. He blames it all on the media. And yeah, we're responsible for a lot of his image trouble.
But not all of it.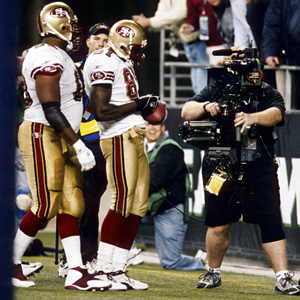 Tami Tomsic/NFL
When most people think of T.O., they think about things like the Sharpie incident.
He's still the guy dogging Jeff Garcia and doing the crunches. I believe that because football is such a macho sport, any sign of weakness could be used against him. And because greeting the world with a hug and a smile isn't readily associated with masculinity and strength in this country, he occasionally has to act out to protect himself. Owens doesn't fully agree with that, but that's my theory, and I'm sticking to it.
"Everybody makes mistakes," he said. "I have made mistakes, but who hasn't done things wrong? The only thing is, I'm in the limelight.
"I've read what people had to say about me when the story about Sam came out and how people are so surprised. I can't say it doesn't bother me, but I have to remember who I am and what's in my heart. I know my grandmother and mother raised me to be a good man, and I try every day to honor them. T.O. is a name that was given to me by John Madden. A lot of people hear it and think of this arrogant, cocky kind of person. But those who know Terrell know I'm relaxed and laid-back. That's the difference. I'm Terrell all of the time, but the media only shows this T.O. image."
The cynics who are reading this think I'm either a jock-sniffing columnist or just plain naive. I can tell you I'm neither. I'm just a guy who has gotten to know someone and has grown a little tired of the rampant misrepresentation of that person. Again, he's responsible for a lot of the criticism that's directed his way, but there are cats with DUIs and steroid suspensions who receive much more love. Is it really all about his constantly putting his foot in his mouth, or are some of us just shooting at an easy target? And, in either case, when do we cut the guy some slack?
"I do a lot of stuff like signing the football because it's fun," he says. "I'm not trying to disrespect the game. I love this game and God's blessed me to be able to play it. I just want to lighten things up."
Maybe some of us should follow suit.
LZ Granderson is a senior writer for ESPN The Magazine and a regular contributor to Page 2. He can be reached at l_granderson@yahoo.com.