Nate Thurmond didn't know he was making history 35 years ago.
But he did know he was "really, really busy."
"After the game was over, I knew I was involved in a lot of activity but I had no idea how many assists I had or anything like that," Thurmond said. "I didn't know about what happened until about two weeks later. Back then, we didn't really keep up with stuff like that, so that's why I didn't know about it sooner."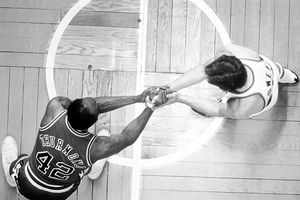 Neil Leifer/NBAE/Getty Images
Nate Thurmond shakes hands with the Celtics' Dave Cowens before a game at Boston Garden in 1973.
The "it" Thurmond refers to is the NBA's first official quadruple-double, a quirky accomplishment that was ushered into the fray when the league began keeping track of steals and blocks at the start of the 1973-74 season.
In his first game with the Chicago Bulls, on Oct. 18, 1974, Thurmond amassed 22 points, 14 rebounds, 13 assists and 12 blocked shots in a 120-115 overtime win against Atlanta. It was the kind of performance the Bulls had hoped for when they acquired 33-year-old Thurmond from Golden State.
More than 11 years would pass before Alvin Robertson would join Thurmond in the quadruple-double club. Hakeem Olajuwon followed in 1990, and David Robinson accomplished the feat in 1994.
The milestone hasn't been reached since.
Quadruple-double history rundown
The four official NBA quadruple-doubles:



NATE THURMOND
Oct. 18, 1974, at Chicago Stadium
Bulls 120, Hawks 115 (OT)
22 pts, 14 rebs, 13 asts, 12 blks
Thurmond helped the Bulls overcome 25 turnovers and 38 fouls to win on Opening Night. John Drew had 32 points and 12 rebounds for Atlanta.

ALVIN ROBERTSON

Feb. 18, 1986, at HemisFair Arena
Spurs 120, Suns 114
20 pts, 11 rebs, 10 asts, 10 steals
The Spurs led the entire game despite nearly blowing an 18-point lead at home. Robertson got his 10th assist with 35 seconds left.



HAKEEM OLAJUWON
March 29, 1990, at The Summit
Rockets 120, Bucks 94
18 pts, 16 rebs, 11 blks, 10 asts
Robertson, author of a quad four years earlier, had 18 points and eight assists for the Bucks, but the Rockets breezed at home. "Most of the time, I see 10 turnovers. So it feels good to get 10 assists," Olajuwon told the Houston Chronicle afterward.

DAVID ROBINSON

Feb. 17, 1994, at the Alamodome
Spurs 115, Pistons 96
34 pts, 10 rebs, 10 asts, 10 blks
Robinson got his 10th block with 2:15 left to join the quad club, as the Spurs won an 11th consecutive game. "I've been close a number of times," Robinson told the Detroit Free Press. "So this is something I wanted to do. I'm excited about tonight. That's one thing you never know you're going to get."
--Thomas Neumann
"The reason why it is such a hard thing to accomplish is because it requires a player to be completely dominant on both ends of the court without being too selfish -- so he can get the assists -- and without fouling out trying to block every shot or grab every rebound," said Thurmond, who operates a popular restaurant, Big Nate's Barbecue, in San Francisco these days. "A lot of guys can get the points, rebounds and assists, but it's the defensive stuff that messes everybody up. You have to love defense to get a quadruple-double. There's no way around it."
Three of the four players to achieve a quadruple-double were named NBA Defensive Player of the Year at least once. Although Thurmond was retired by the time the award was established in 1982-83, he was the anchor of a Bulls team that touted the league's best defense in 1974-75.
But is it fair to credit Thurmond with the first quadruple-double when all-time greats such as Wilt Chamberlain, Bill Russell or Oscar Robertson presumably reached the milestone numerous times before the league began tracking blocks and steals? Robertson famously averaged a triple-double in 1961-62, and Chamberlain led the league in assists in 1967-68. Even Thurmond jokes about getting double figures in four major categories in a game long before joining the Bulls.
Nevertheless, how does one explain the number of other all-time great stat-stuffers -- such as Michael Jordan, Magic Johnson, Larry Bird, Shaquille O'Neal, Charles Barkley, Kobe Bryant et al -- who never recorded a quadruple-double? Obviously, we can't assume great career numbers will translate into a quadruple-double because it has happened only four times in the past 35 seasons.
"It is the hardest thing for an individual player to accomplish," says Olajuwon, who ranks in the top 11 in career points, rebounds, steals and blocks. "When I was playing, it was expected that a good player, especially a big man, would get a double-double. Today, getting a double-double is considered special. When I was playing, getting a triple-double was special, and when you talk about a quadruple-double, it's unreal. I still cannot believe I accomplished it."
That's because to do so requires you to be almost as lucky as you are good.
In the past 25 years, both scoring and the number of possessions per game have declined dramatically in the NBA, meaning there are fewer opportunities to block shots and grab rebounds. Even Mike D'Antoni's fun-and-gun Suns never produced a quadruple-double. The Nuggets and Pistons -- two of the top three scoring teams in 1983-84 -- combined to score a record 370 points in a triple-overtime game and not a single player got near a triple-double, let alone a quad. More than 250 field goals were attempted in that game. How many possessions do you need to grab 10 boards? Thurmond got the quad playing for a Bulls team that ranked dead last in scoring in 1974-75. Conversely, Jordan's 72-win Bulls were No. 1 in offense in 1995-96, yet His Airness -- arguably the game's greatest player -- never pulled it off.
There's more to getting the quadruple-double than being a multidimensional talent. There has to be arguably the most perfect storm possible in any sport to reach this achievement. Do you realize how difficult it is to record an unassisted triple play in baseball? There have been six in the past 17 seasons in the major leagues … yet only four quadruple-doubles in the past 35 NBA seasons. To record the elusive quad, you need teammates to hit shots off of your passes and need rebounds to come your way. You have to stay out of foul trouble, and you have to corral the ball to record a steal -- deflections aren't good enough. Everything has to go right for you.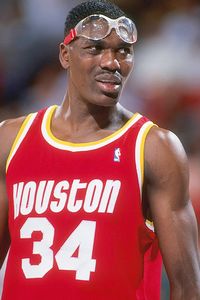 Getty Images
A statistical revision denied Hakeem Olajuwon a quad-double on March 3, 1990, but he wound up getting one just 26 days later.
"It did not seem like David [Robinson] was having a historical game," said Pistons president Joe Dumars, who was on the floor when Robinson went for 34 points, 10 rebounds, 10 assists and 10 blocks against Detroit on Feb. 17, 1994. "It just seemed like another, typical dominant game he was having."
Chris Paul narrowly missed recording quadruple-doubles in January victories over the Mavericks and the 76ers, finishing three steals shy each time. Said Paul, "I knew I was close to it, but at the same time it didn't take me away from the game. The important thing is that we won the two games I was close in."
Same goes for Olajuwon, who is visiting family in Africa and still plays pickup ball in Houston to stay in shape. However, he admits being motivated after being denied a quadruple-double he initially was credited with on March 3, 1990, after the NBA reviewed game tape and took away an assist. Three weeks later, he achieved his goal.
"You look at the stats after the game; you don't think about them while you're playing," said Olajuwon, who kept the ball from his quad-double, along with the two from the clinching NBA title games and the one when he broke the career record for blocked shots. "I have huge respect for the men who did it."
Looking ahead: the candidates
What current player is most likely
to record a quadruple-double?


KOBE BRYANT

Pro: The reigning MVP is still the most complete player in the game.
Con: With an improved Lakers roster, he isn't asked to do as much in the regular season.


DWIGHT HOWARD

Pro: As he continues to develop offensively, defenses will have no choice but to double- and triple-team him, making it easier to rack up assists.
Con: He's a horrible passer out of the double-team. This year, he's averaging three turnovers and barely one assist per game.


LEBRON JAMES

Pro: Newfound dedication to defense makes it feasible he could reach double digits in elusive fourth category.
Con: Small forwards generally don't spend a lot of time in the paint or passing lanes, reducing opportunity for blocks and steals.


ANDREI KIRILENKO

Pro: He once had eight steals in a game, the only one of the five major categories in which he hasn't reached double digits.
Con: Injuries and shaken confidence have turned AK-47 into a BB gun. If he does it, it won't be as a member of the Jazz.

CHRIS PAUL

Pro: He has come close twice this season -- against aging point guards, but still.
Con: Only 11 players in the past 25 years have recorded at least 10 steals in a game. He's not one of them.
-- LZ Granderson
Bringing us to the question at hand: Which active player is most likely to join the quad club? Three of the four current members are centers, but Thurmond doesn't think that's a prerequisite.
"Dirk's not going to do it. Shaq is past his time for that … Tyson Chandler, maybe, because he can get the blocks," Thurmond said. "Andrei Kirilenko looked like he was going to do it, but he's cooled off. He's not the same player he was three years ago.
"Kobe has an outside chance of doing it, but I'm going to have to go with LeBron. He's going to have to do it with steals, though, because it's very difficult for a 6-8 guy to come up with 10 blocks."
Indeed it is, but consider this: Since the NBA started keeping track, a player has recorded at least 10 blocks in a game 132 times. In the same span, a player has recorded 10 steals in a game only 19 times, and four of those were by Alvin Robertson, the only player to reach the quad with steals. As a rookie, James blocked a career-best five shots on March 16, 2004. In his second pro season, he established a career high with seven steals on Dec. 13, 2004.
"Chris Paul would be the guy that I think can get a quadruple-double," said Dumars, a one-time teammate of Robertson's. "Playing with Alvin, you knew he was capable of getting at least 10 steals in any game. Chris is the same way."
Not surprisingly, Olajuwon thinks a dominant center is the best candidate to end the quad drought.
"Dwight Howard has the talent to do it," Olajuwon said. "He can rebound, block shots and he has the shooters around him to get the assists."
The problem is Superman 2.0 isn't a great passer. His season high in assists is four, and his career high of six was reached nearly three years ago.
The only candidate with a career high of almost 10 in a fourth major category is Paul, who snatched nine steals last season against the Mavs.
"Getting a quadruple-double is a rare thing to do," Paul said.
You think?
LZ Granderson is a senior writer for ESPN The Magazine and a regular contributor to Page 2. He can be reached at l_granderson@yahoo.com.