Commentary
The fear of telling the mental truth
Back in 2001, U2 released a song that, for a while, became a theme song of mine: "Stuck in a Moment You Can't Get Out Of."
In one of the two videos shot for it, an NFL-like kicker blows his chance to win the big game and we see reactions to that miss from a variety of perspectives, particularly his.
It's both a humorous and painfully honest commentary on life, with the song ending with the poignant line, "It's just a moment, this time will pass."
If I had Vince Young's e-mail, I would send him the video.
[+] Enlarge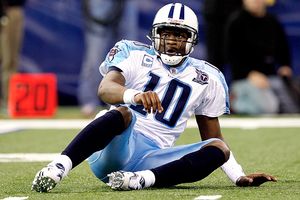 Jamie Squire/Getty ImagesGrab your leg Vince ... you certainly can't tell anyone if it's your feelings that are hurting.
Call me a big softy or a feeler or whatever, but I truly feel sorry for him. Here is a man who not long ago seemed to have the world in his hands, and then in a matter of a year he lost his confidence, lost his job and, according to his therapist and police reports filed back in September, almost lost his life ... all of which played out in front of a live studio audience -- us. And now, instead of stepping away from the game -- and the pressure -- for a moment to really work on the issues that, by all credible accounts, led to him to a state of mental duress, Young is back in front of the cameras making ludicrous play me-or-trade me demands with about as much conviction as a Keanu Reeves monologue.
But, I guess, what else is he supposed to do? If he had torn his Achilles he would have been allotted the proper time to recuperate until he was healthy enough to play again. But that's physical health. Mental health is a whole other discussion. Men, especially athletes, are not suppose to admit to feeling pressure or insecurities or, worse yet, depression. In fact, I am convinced GPS was invented so that none of us would have to endure the "embarrassment" of pulling over and asking for directions in a place we've never been to before. This is the irrational standard we, unfortunately, have set for ourselves. This is the standard times 10 we expect from professional athletes.
Get whatever is the psychological equivalent of a cortisone shot and get your butt back in the game.
So Vince Young cannot say he needs to take time away from the public eye to work on whatever it is that's troubling him. He can't do it because while his mechanics as a quarterback may be seen as something that can be worked on (and they truly can be improved), in the eyes of many fans and players, perceived mental frailty in a leader is a lost cause. And in some circles, a punch line. It's ironic how we can embrace the notion of franchises spending millions of dollars on the latest technology to give their players everything they need to be successful, but we behave like complete Neanderthals when it comes to something as basic as mental health.
This is one of the reasons why Terry Bradshaw opted to keep his bout with depression and postgame anxiety a secret until long after his playing days were over. Maybe if he felt comfortable enough to deal with it when he was younger, he could've avoided a lot of the pain later, such as the three divorces.
This is the stuff about being famous that's not so cool -- publicly damned if you do something, privately damned if you don't. I don't care what the company line is, all that has happened suggests that Young isn't ready for the pressure right now: coach Jeff Fisher needing to convince him to go back onto the field after being booed, his therapists saying Young spoke of suicide, his mother saying "he's hurting inside and out," and even Young himself speaking of quitting the sport on more than one occasion. The dude is stuck right now, but the way he's dealing with it is not the best way to get out of it.
He should step away from the cameras, work on his mechanics and give Khalil Greene a call. Last month the Cardinals shortstop was placed on the 15-day disabled list with social anxiety disorder. Because he's not nearly as big a star as Young, Greene was able to do so relatively quietly. But the most important thing is that Greene understood the sport had to take a back seat for a while. As successful as Young has been in college and, yes, in the pros, it would be terrible to see him not live up to his potential as an athlete -- both on and away from the field.
LZ Granderson is a senior writer for ESPN The Magazine and a regular contributor to Page 2. He can be reached at l_granderson@yahoo.com.
Senior Writer, ESPN The Magazine
Edited NBA and tennis for ESPN The Magazine
Columnist at The Atlanta Journal Constitution
Fellow at Hechinger Institute, Columbia University