Commentary
Finding the beauty in ugly
There's one reason Britney Spears gets to call herself a singer and Robert Pattinson is an international sensation: Sex sells.
It always has, and as long as testosterone and estrogen flow through the human body, it always will. Every now and then, an ugly person, like a Steve Buscemi, can make a good living playing up his or her unattractiveness, but for the most part, being hot helps when it comes to film and television.
A lot.
So I'm not at all shocked Wimbledon organizers admitted "physical attractiveness is taken into consideration" when deciding who plays on Centre Court in the women's matches. Translation: They want hot chicks on display during prime time.
[+] Enlarge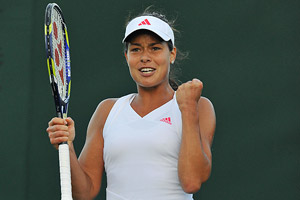 Carl De Souza/AFP/Getty ImagesAna Ivanovic has a much better chance of playing on Centre Court at Wimbledon than Steve Buscemi.
I get it.
You get it.
We all get it.
Organizers are trying to sell their sport and believe the casual, straight male fan is more apt to watch attractive women -- because if they had a love of the game, they wouldn't be casual fans, would they? In a sport in which Anna Kournikova, a player without a singles title, can become the most popular on tour, no one should be surprised by any of this.
Yes, it's sexist.
Not because beautiful women are on display for TV, but because the ugly men are allowed to play anytime, anywhere. It's like those ridiculous movies in which the hot girl can't keep her hands off some schmuck who looks like dried fruit. It's never the other way around. Anyway, if putting the athletic equivalent of Spears on TV can help draw in fans, increase ratings and thus make the Women's Tennis Association more money, by all means, go for it. Doing so might hurt some of the players' feelings, but it's not undermining the integrity of the sport. Court assignments don't affect the outcome of the match or tournament. Sure, a battle between two lesser-known beauties might not hold much gravitas for the purist, but seeing a top player crush an unranked opponent in less than an hour doesn't make for a great match, either. As long as the players themselves respect the game and carry themselves as professional athletes and not sex kittens, I don't see the harm. Some critics say it sends the wrong message to young girls -- namely, you have to be pretty to be noticed. I say it sends several messages to young girls -- one being that you don't have to be some man's trophy just because you're pretty. That you can be strong, smart, competitive and pretty. And by the way, you don't have to be pretty to be noticed, but as Spears and Pattinson have shown, it certainly doesn't hurt.
[+] Enlarge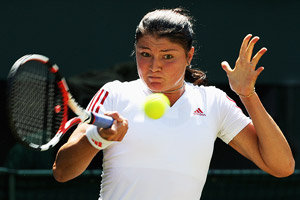 Hamish Blair/Getty ImagesDinara Safina might not get plum court assignments, but she has every opportunity to win tournaments.
Besides, at a time when corporate dollars and sponsorships aren't flowing as freely as they once were, it's vital that sporting events and venues show a quantitative return on a company's investment. One tried and true way to do that is through television ratings, and one tried and true way to have good television ratings is through showing attractive people. This is why Matthew McConaughey appears to be allergic to shirts. Shake your head disapprovingly all you want, but the real reason Susan Boyle's story was so inspirational was that millions of people were amazed someone who looked so bad could sound so good.
I actually find the Wimbledon officials' honesty quite refreshing, because maybe now a real conversation about women's sports can occur. That doesn't mean sexist and homophobic comments should be allowed to go unchecked, but perhaps it's time to admit there is a difference between men's and women's sports and that the interest level in each isn't based entirely in prejudice. "Transformers: Revenge of the Fallen" is breaking records at the box office, but I don't know anyone who thinks it is a good movie. By comparison, "Trouble the Water" hardly grossed a dime, yet I haven't seen anything more compelling. It's apples and oranges, and they both have their place.
PC talk usually doesn't translate into PC action without an HR department, and last I checked, gender equity in the workplace wasn't a beer on tap at the Kit Kat Club. Sometimes people like what they like, and accepting that also requires a certain degree of tolerance.
So I'm sorry if the Dinara Safina look works better for her brother, Marat Safin, than it does for her. But at least she can take solace in knowing this: Style might win out in the first week of a major, but substance -- and trophies -- win out in the second. After all, beauty is fleeting, but greatness lasts forever, and when it's all said and done, greatness is what receives the loudest ovation at Centre Court.
LZ Granderson is a senior writer for ESPN The Magazine and a regular contributor to Page 2. He can be reached at l_granderson@yahoo.com.
Senior Writer, ESPN The Magazine
Edited NBA and tennis for ESPN The Magazine
Columnist at The Atlanta Journal Constitution
Fellow at Hechinger Institute, Columbia University
2009 WIMBLEDON

2009 championsWomen's singles:
Serena Williams, United States
Men's singles:

Roger Federer, Switzerland
Men's doubles:
Daniel Nestor, Canada, and Nenad Zimonjic, Serbia
Women's doubles:
Venus and Serena Williams, United States
Mixed doubles:
Anna-Lena Groenefeld, Germany and Mark Knowles, Bahamas
Scoreboard
Follow us on Twitter
ESPN360.com
Slam Central
---
Day 13
Day 12
Day 11
Day 10
Day 9
Day 8
Day 7
Sunday
More