Commentary
Candace Parker should be an All-Star
I think WNBA action is FAN-tastic.
As a Detroiter, I am proud my defending champion Shock get to visit the White House next week. Cappie Pondexter and Seimone Augustus are my favorite players, and I plan on tuning in for this weekend's All-Star game -- despite the fact the league's most popular player has, incredibly, been left out of the contest.
Candace Parker, who last season became the first WNBA player to win Rookie of the Year and MVP in the same year, was not named a reserve, and quite honestly, my mouth is still hanging open. A struggling league in a rough economy gets a national stage to showcase its best, and Parker, one of the few players with a borderline household name, will not be on the court because she is still rusty after giving birth in May.
[+] Enlarge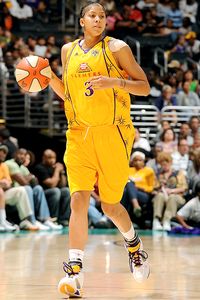 Noah Graham/NBAE/Getty ImagesCandace Parker is the WNBA's most marketable star. She should be in the league's All-Star Game.
Now in terms of basketball, no, she should not be an All-Star. She just started playing this month and is averaging 5.8 points per game on 37.5 percent shooting for the Los Angeles Sparks.
But her participation should not be about basketball.
It should be about business.
And when your business is fighting for attention, you don't leave your big guns at home.
I'm not saying CP can single-handedly rescue a league that averaged a lowly 413,000 viewers per game a year ago. But that number, as low as it is, represents an increase, and Parker is the only female baller routinely featured on magazine covers and commercials. Let's face it, when the Houston Comets, a franchise that had won four championships, see their attendance drop by more than 50 percent and eventually fold in less than 10 years, a television contract is hardly a sign the league is on solid ground. I reached out to the league for comment about CP's absence but didn't hear back. Maybe the powers that be are brainstorming ideas of how to correct this problem, but somehow I doubt it.
Now, I know what this sounds like, so let me be clear: Yes, I am suggesting preferential treatment for a star.
I have never been in charge of a professional league or tour of any sort, but there are three things of which I am sure. One, I would always have the Williams sisters on opposite sides of the draw. Two, the All-Star game would never determine home-field/court/ice advantage in the playoffs. And three, my best and most marketable player would be suited up for the All-Star game, especially given Parker's unique situation.
This isn't a case of offering a beloved aging star a final high-profile send-off at the expense of a more talented rising star. This isn't about getting the pretty heterosexual girl in front of cameras holding her newborn so suburbia can be comfortable with the product -- a criticism that saddled the WNBA in its infancy. This is about cutting arguably the best female basketball player on the planet some slack because she was pregnant during training camp and is just getting her legs back. Take a poll in any WNBA locker room and ask who the top five players are and see if her name doesn't come up. In just her fourth game back, she had a stat line many pro players -- male or female -- couldn't compile in a week: 10 points, 10 boards, six blocks and five assists. The league should make her an honorary All-Star just for suiting up after giving birth.
Heck, my ex-wife barely got out of bed for two weeks after giving birth.
CP was running suicides.
Yeah, some players might resent CP for getting special treatment but so what? Professional sports don't exist in a vacuum. Management in every business environment in this country has favorites to a degree, and as long as the checks cash, we all just learn to deal with it. Whether the tool of choice is a computer or a hockey puck, the principal still applies.
What's most perplexing to me is the league is already in a marketing pickle because its season begins after Mother's Day, a natural promotional opportunity, and during the NBA and NHL postseason. On top of that, it still hasn't figured out how to cultivate its large lesbian fan base without fearing the alienation of its straight fans. Now, it's shutting out the golden goose, CP, at the most inopportune time, in an attempt to not undermine the integrity of the game by playing favorites. I say compromising the integrity of the game would be making sure Parker's team won by ordering refs to blow the whistle her way.
Why is it insane to consider massaging the rules for an exemplary player who can help a sport's image? All-Star games are a talent exhibition, and having her on the court for 10 minutes is not going to hurt people's impression of the WNBA. But not having her out there robs the league of a great opportunity to generate additional buzz. Since it would be a struggle to find 10 people to name five All-Stars playing this weekend, the WNBA cannot afford to pass up buzz.
That's simply not good for business, and when it's all said and done, that is what the WNBA is -- a business.
LZ Granderson is a senior writer for ESPN The Magazine and a regular contributor to Page 2. He can be reached at l_granderson@yahoo.com.
Senior Writer, ESPN The Magazine
Edited NBA and tennis for ESPN The Magazine
Columnist at The Atlanta Journal Constitution
Fellow at Hechinger Institute, Columbia University
DIMINISHING RETURNS

Ten years after Brandi Chastain's signature moment at the Women's World Cup seemed to signal a turning point, ESPN.com examines the state of women's sports in the midst of the current economic crisis.


STORIES