Single page view
By Alan Grant
Special to Page 2
Fundamental beliefs are the connective tissue for the generations.
Malcolm X, who would have turned 80 this week, met Cassius Clay at a mosque in Detroit. A year later, he hung out with Clay at Clay's training camp in Miami. At the time, Malcolm X was serving a suspension from the Nation of Islam. He was being punished for espousing his own beliefs. This was also about the time he first got wind of threats against his life.
Like you and me, Malcolm X sought diversion in a sporting event. Malcolm X went to Miami, where he watched Cassius Clay defeat Sonny Liston for the heavyweight title. After the fight, Clay announced that he was a Muslim. He changed his name to Muhammad Ali.
Ali never claimed allegiance to the so-called Black Muslims, but instead professed a belief in the tenets of Islam, the religion practiced by 700 million people worldwide. At the time, Islam was a religious sect whose foundation was believed to cater to the "needs of black people." Ali's fundamental beliefs kept him from participating in the Vietnam War, and for that, he was forced to give up his title.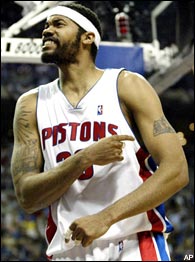 Rasheed Wallace is known for his anger ... perhaps he should be known for something else.
In the marriage of fundamental belief and sport, Muhammad Ali was the most socially conscious athlete of his generation. And that marriage didn't end after Malcolm X was assassinated.
Like Malcolm X and Muhammad Ali, the Detroit Pistons' Rasheed Wallace is a Muslim.
Basketball is a black man's game. No, I don't mean in terms of physical ability – as in, only black men can jump. I mean in a purely mathematical, opportunistic sense, it's a black man's game. Look at the numbers. Seventy-eight percent of the players in the NBA are black. Fourteen of the coaches are black. There's a powerful black presence in the front office. Whenever you or I (OK, mostly I) talk about a dearth of black coaches, we (OK, I) aren't talking about the NBA. When we talk about an American sport being wholly tethered to black culture, basketball is the game that comes to mind. And this time of year – playoff time – basketball is religion for some.
So back on that November night in Detroit, when basketball and the NBA collapsed on itself, we lost some of our religion. The Pacers and Pistons played a game, but when someone tossed a brew at Ron Artest, the game was briefly in peril. For about 20 minutes, basketball's heart stopped beating.
I noticed two things that night. Actually, I noticed two people. I noticed them because they weren't involved.
The first was Wallace. I'll go on record and say Wallace is my favorite modern athlete, and part of the reason I feel that way is what he did and did not do that night. As the building erupted in unspeakable violence, as players hit fans and fans spilled beer and threw chairs, 'Sheed was nowhere to be found. This is noteworthy because 'Sheed's reputation is one of volatile truculence, and his image is consistently enigmatic.
While he played for the Portland Trail Blazers, he was known more for his violent temper than his 16 points and six rebounds per game. Then last year, in a moment of unguarded honesty, he blurted out his feelings about this generation of athletes. He said, "I ain't no dumb-ass n----- out here'' who's just happy to be in the league.