There's a difference between pain and injury. Pain is fleeting. Even in various degrees of discomfort, it's possible to function at a very high level of competency. Any athlete knows this. But injury is lasting. Injury has the power to rob us of our dreams. Injury makes us mortal.
Boston College safety Ryan Glasper, who went undrafted this weekend, knows pain. It's the kind of pain that accompanies many citizens of New Britain, Conn., or "Hard-Hittin' New Britain," as it's called. The city of 70,000, once a thriving factory town, is now known for its housing projects. As a kid, Glasper was innately rambunctious, engaging in activities like jumping off the second floor of a house onto a mattress. His mother, Brenda, suggested football was a great way to deal with his reckless sensibility. This proved a great solution. He was a natural at running into things.
The family had what he calls financial difficulties.
"I didn't really know it at the time," he says. "I was a happy kid. But looking back on it in retrospect, I can see we had it hard."
When it became evident Brenda could no longer provide a home, Glasper's Pop Warner football coach contacted Jude Kelly, the football coach at Southington (Conn.) High School. He and Glasper's mother determined that the best thing for the young man was a change of address and a school district that offered him better opportunity for growth.
Glasper moved into the Kelly residence and once classes began, so did the pain. There were only about five black kids in the school. His wardrobe was typical inner-city: Roca Wear, worn in a baggy style.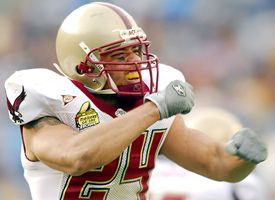 After playing through a hip injury as a senior, Glasper went undrafted.
"I wasn't wearing Abercrombie and Fitch," Glasper says. "I stood out, so they called me a thug."
In the first week, one white student called Glasper the n-word.
This led to a violent retort, the first of many. By the time that first semester ended, Glasper had been labeled a problem.
"Let's just say I was written up a few times," Glasper says.
He was something of a problem at home, too. Kelly was Catholic and attending mass was a regular habit for members of the Kelly household. But Glasper wanted no part of it, so he resisted the way any adolescent resists.
"I used to call him Pope Kelly because he went to church so much," Glasper says. "If communion started at 11:40, I would argue with him until 11:35."
But it takes just one call to Jude Kelly to understand why these arguments always concluded with Glasper's taking the wafer and drinking the grape juice. The message on Kelly's cell phone ends with his asking you to be patient, and that he'll make time to speak to you. Kelly's own patience allowed him to see beneath all of Glasper's posturing.
"He listens to you," Kelly says in a swarthy New England accent. "A lot of people, especially kids, don't always listen and take in what you're saying. But Ryan did. And he always had this charisma that draws you in. That's what makes you want to help him."
As a sophomore, Glasper started at running back. The next year he played receiver and corner. Then in his senior year he found his most natural position at safety. Whatever was asked of him he did with consistent excellence.
The schools came calling -- Connecticut, Syracuse, Rutgers and Boston College. Glasper liked Boston College coach Tom O'Brien. Before he moved to Chestnut Hill, some of Glasper's classmates at Southington gave him a less-than-favorable sendoff.
"They told me I would go to Boston College, but I would never graduate," Glasper says.
Eagles defensive back coach Kevin Lempa immediately liked what he saw. College coaches crave talent and desire. But when there's a hunger to learn that transcends rote memorization, there's the possibility for something special. Lempa says the best part of Glasper's game doesn't show up on tape.
"Ryan made himself into a player," Lempa says. "He studied so much tape he treated it like it was like another class."
But there was still a rather sizable chip on his shoulder. Glasper says in his freshman year he averaged a fight a day at practice. He says his motto was, "You don't have to like me, but you will respect me."
As a sophomore, Glasper got his first start against Notre Dame. In the first quarter, Irish quarterback Brady Quinn pitched the ball to running back Julius Jones. As he turned the corner, Glasper sized Jones up, fully aware this was the first hurdle of his career.
"Man, that dude looked like a monster," Glasper says. "But I hit him and hit him good. After that, I knew I could play."
After that, he took over the defense, often getting defensive linemen into their fronts and the defensive backs into their coverages. Lempa offers Glasper the highest praise any coach can offer a player, especially a young one: "I trust him."
The winter after his junior year, trust would become a major issue. One January afternoon, Glasper was doing drills with the other defensive backs when he heard a pop and felt a twinge in his left hip.
"I thought I had pulled something," Glasper says. But when he tried to run, he couldn't. Still, he doubted the severity of the injury.
"How's your hip?" O'Brien asked.


"It's coming along," Glasper replied.


"You'd better hurry your ass up," O'Brien said. "Because you only have eight games left in your college career."


"I'm redshirting," Glasper said.


"No, you've been cleared by the doctor to play," O'Brien said. "You're choosing not to play."
As February turned to March and there was no improvement, Glasper feared it was something else. The pain had begun to affect his non-football life. While seated in the classroom, Glasper felt a burning down the left side of his body, so intense he had to shift his weight to his right side. He finally made a doctor's appointment. On March 12, 2006, he had an MRI, which revealed a torn acetabular labrum, a ligament that surrounds the socket of the hip joint. On April 11, 2006, after orthopedic surgeon Dr. Mininder Kocher operated on him, he gave Glasper counsel.
"I think you have a big problem," he said. "It's a long-term problem. I suggest you sit out next year." After digesting these words, Glasper requested a medical redshirt. So he told the coaches and they agreed this was best. As they prepared to start the season, O'Brien told Glasper that at less than 100 percent, he was of no use to him. He told Glasper to go home, and told the media that Glasper would be out "indefinitely."
In its fourth game, Boston College played North Carolina State and gave up 320 yards to the Wolfpack. That was by no means an alarming amount, except 72 of those yards had come in the final 46 seconds. On the final play, North Carolina State quarterback Daniel Evans threw a dart to receiver John Dunlap for a 34-yard touchdown. It happened in the spot where Glasper would have been. The Eagles lost 17-15. All of this may have proven too much for O'Brien, because the following day, after the team had watched film of the debacle, O'Brien sought out Glasper.
"How's your hip?" he asked.
"It's coming along," Glasper replied.
"You'd better hurry your ass up," O'Brien said. "Because you only have eight games left in your college career."
The coach could have forgotten. Once the season starts, coaches are busy and distracted and often lose sight of details that don't pertain to next week's game. Maybe the coach needed to be reminded of the details. So the player reminded him.
"I'm redshirting," Glasper said.
"No, you've been cleared by the doctor to play," O'Brien said. "You're choosing not to play."
Glasper was shocked into silence. But O'Brien continued.
"I hold the keys to what you do," the coach said. "We don't have to grant you a fifth year. Besides, I can't count on you."
Glasper seethes at the retelling of the story.
"I respect all people and I've always been a team player," Glasper says. "But when he said all that, I just wanted to punch that dude."
Then there were the facts to consider: Dr. Kocher had performed the surgery, but a different physician, Dr. Diane English, one of the Boston College team doctors, was the one who had supposedly given clearance. And nothing regarding Glasper's redshirt had been authorized, signed or notarized. It was a gentlemen's agreement. But Glasper prepared to play against Maine. After Tuesday's practice, he was in so much pain he got Wednesday off. He practiced Thursday then played that Saturday.
"It felt like someone was stabbing me in the leg," Glasper says.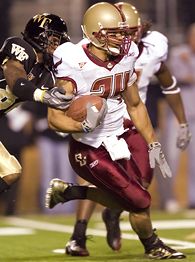 Glasper remained one of the leaders of the Boston College defense.
For the next few months, he compensated for his injury, his mental acuity for the game tilting the scale in his favor. Though Glasper lacked his normal explosiveness, his recognition of formations and tireless preparation gave him anticipation of things to come. So he still made plays. Finally healthy for the Meineke Car Care Bowl against Navy, he had 10 tackles. The stats won't tell the story, but in playing most of the season on one leg, Glasper displayed something former Oakland Raiders cornerback Lester Hayes once dubbed the "intestinal fortitude of a titan." Glasper received honorable mention on the All-ACC team.
In December, O'Brien left Boston College to take the job at ACC rival North Carolina State.
"Looking back I think he already knew he was going somewhere else," Glasper says. "So I guess he needed the defense to be intact that season. I won't dwell on it, but I trusted him. And he could have f----- up my career."
Coach O'Brien did not respond to an e-mail and phone call to the North Carolina State athletic department. But when asked about the decision not to redshirt Glasper, Lempa, now at Maryland, was silent for a few moments before stating, "That was the head coach's decision."
Once an NFL draft prospect, Glasper had to face the reality that to NFL types, he would be viewed as damaged goods. While it may be considered heroic to hobble around on injured limbs in college, the folks in the Sunday league don't write large checks based on one's courage. Able-bodied players make plays, not brave ones. Glasper knows this.
"A defensive back with a bad hip is like a sniper with a bad eye," he says.
Glasper needed to prove his health in the postseason all-star games, but he hadn't been invited to any. Enter agent John Pace. He called Glasper and was astonished at all he had experienced and how he handled himself.
"I hung up thinking I had just spoken to a 40-year-old man," Pace says.
Pace set about stalking the Hula Bowl committee. They finally agreed to allow Glasper entrance provided Pace foot the bill for room and board.
Pace put up $3,500 and Glasper went to Maui. He got there just two days before the game, just enough time to prove himself. In his only practice he had three picks. Glasper used that time to size up the competition.
"There wasn't a safety there as good as me," he says. "There might have been some who were better athletically and who ran faster and lifted more, but they weren't better football players."
After playing well in the game, Gasper says he got some recognition from Georgia coach Mark Richt, who pulled Glasper aside and told him, "I've never seen anyone play with as much heart as you do." The words were manna from heaven.
"Man, I can't tell you how good that made me feel," he says.
But Glasper was left off the invite list for the NFL combine. He would have to prove himself later. In March, at pro day on the Boston College campus, he ran a pedestrian 4.68 40-yard dash. But a few weeks later, Glasper got permission to run at Yale's pro day. That afternoon he clocked a 4.59.
It wasn't quite fast enough. The draft came and went. The phone never rang. So Glasper is on his way to Cleveland to work out for the Browns. From that he hopes to sign a free-agent contract. If not with Cleveland, then perhaps with another team that has shown interest: St. Louis, Chicago, Philadelphia or New England. But that's the future.
Today Glasper speaks in the learned tones of a young man who has taken all the obstacles tossed at him -- those natural, unnatural, or products of private agendas. He'll graduate from Boston College with a 3.0 GPA and a degree in arts and sciences. He was given the Paul Cavanagh Award, for off-the-field contributions in volunteerism, ethics and leadership, at the team's annual banquet. And he's armed with one all-encompassing mission for his life.
"This isn't about other people," he says. "I'm tired of proving myself to other people. From now on, I only have to prove things to myself."
Alan Grant is a contributor to ESPN.com and ESPN The Magazine. He is a former NFL defensive back who played college football at Stanford.