Commentary
One's man quest -- 250 movies in a year
Originally Published:
February 19, 2010
By
Jerry Greene
| Special to Page 2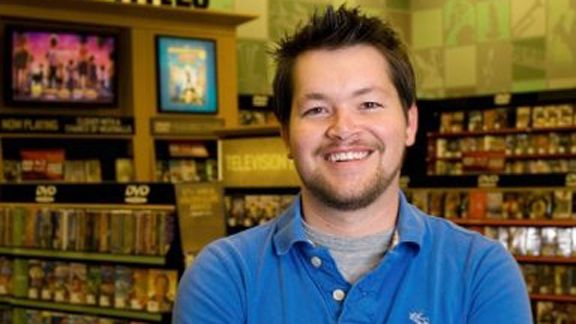 Courtesy Joey WrightCould you watch 250 movies in one year? That's what this man is attempting to do.
"One man. One year. 250 films."
That's how Joey Wright bills his quest for enlightenment -- or, if not that lofty, his quest to consume enormous quantities of Pibb Xtra and Red Vines licorice while watching the greatest 250 movies ever made.
And yes, he does have a girlfriend, and she does approve.
"I'm a bit of a dreamer and I'm still looking for something," said Wright, 26, who is a music department manager in an Orlando-area Barnes & Noble. "Movies are windows that go both ways so you learn about the outside world and learn about yourself."
Wright turned to the famous IMDb.com (Internet Movie Database) for its top 250 list, which is based on the votes of registered viewers. He has pledged to watch each movie -- starting with No. 250 ("Frankenstein," 1931) and working all the way up to No. 1 ("The Shawshank Redemption," 1994) before the calendar year ends.
He reviews each film immediately after watching it, and is keeping an account of his journey on his Web site for anyone who wants to go along for the ride.
Unfortunately, there are only a few sports films on the list, which puzzled Wright.
"There are a lot of good sports movies not on the list, such as 'The Natural' and 'Field of Dreams,'" he said. "My favorite -- 'Bull Durham' -- is not on the list even though I've been searching for Annie Savoy my entire life."
Page 2 asked Wright to ignore his own rules by taking sneak peeks at the eight sports films that are on the top 250 list. And we used a broad definition of "sports" just to find eight.
No. 211: "Rocky" (1976) -- "I loved it. The ultimate underdog movie. You've got to love the end when Apollo tells Rocky that there won't be a rematch and Rocky says he doesn't want one. He just wants Adrian. I rate it higher than this."
No. 188: "The Hustler" (1961) -- "You cannot top the acting, especially Jackie Gleason. He comes in late and steals the film as Minnesota Fats. Younger movie fans probably have never seen it but it should be much higher."
No. 143: "The Big Lebowski" (1998) -- "Well, you're really stretching to call this a sports movie. But it is one of the most quotable movies and one of the most enjoyable comedies. This film is a good example of the difference between a favorite film and a great film. I'd leave it right where it's at."
No. 141: "Million Dollar Baby" (2004) -- "I love Clint Eastwood as a director and this is his second-best film behind 'Mystic River.' I didn't see it coming when tragedy strikes and changes this movie totally from just another fight film. It should be ranked a little closer to the top 100."
No. 137: "Ben-Hur" (1959) -- "You're kidding, right? Well, OK, everybody does remember the chariot race and everybody knows that one of the extras actually dies during the filming. More importantly, it won 11 Academy Awards, so ranking it any lower than this would be an injustice."
No. 121: "The Wrestler" (2008) -- "I loved it although I would have changed the ending. I actually saw it twice as soon as it opened. No problem calling it a sports movie because these guys are great athletes. It's a performance-driven tragedy that really captures the twilight of a career. I think it's at just the right spot."
No. 72: "Raging Bull" (1980) -- "One of the great opening scenes. (Jake LaMotta -- aka Robert De Niro -- shadowboxing in slow motion to foreshadow the story.) The boxing scenes are incredible. And up-and-down life is captured perfectly. It's a crime this film is not ranked in the top 20 of all time."
No. 18: "Fight Club" (1999) -- "I liked it but it's the young fanboys who have it ranked this high. It should be in the top 100 but certainly not in the top 20. I'd switch it with 'Raging Bull' and be happy."
Wright saw his first movies in theaters as a small child. His grandfather instilled a love of film by taking him to see Cary Grant and "Frankenstein" and "The Wolfman." At age 11, he saw "Jurassic Park" and was hooked on cinematic magic forever.
Now, at 26, he's on a quest of discovery. One man. One year. 250 films.
And who knows how much Pibb Xtra and Red Vines licorice?
Jerry Greene is a retired columnist for the Orlando Sentinel. He can be reached at osogreene@aol.com.