Commentary
NCAA tourney bracket tips for dummies
Originally Published:
March 12, 2010
By
Jerry Greene
| Special to Page 2
It does not matter who or what you are right now. What matters is that next week you will be a full-blown bracketologist, even though you are no more qualified for that than you are to be a bacteriologist.
[+] Enlarge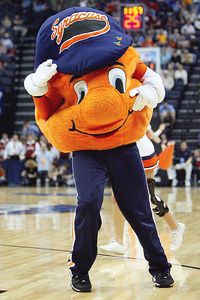 Joe Murphy/Getty ImagesIf you like oranges, maybe you should pick Syracuse!
But trust me, bracketology is more fun.
At least, it will be fun as long as you don't go all pretentious on us. Granted, we have experts here who can (and will) provide you with exhaustive amounts of information about the 65 teams chosen for the 2010 NCAA men's basketball tournament. But seriously, why even pretend you have paid attention to the college basketball regular season?
Clue: Nobody else has paid attention either (other than our experts, who have no real lives).
So go with your own flow. Make those bracket picks by using a system that works for you -- meaning a system that requires little or no knowledge of the teams involved. That way, they will truly be your picks.
And trust me, you're not winning your pool anyway, so don't tax yourself. Keep reading for some tips that demand little effort, knowledge or even intelligence on your part. Find the tip that fits your personality, and hit the brackets hard. Here are some potential guidelines you can use, for which team to take in each game:
• The school with the better football team. (This you know about, although I'm not sure if they even play basketball at Boise State.)
• Mascot power. (A traditional method -- a Nittany Lion will trump a Terrapin every time, especially when we don't even know what a Terrapin is.)
• Numerology. (Example: 12 is always a better number than 5. Trust us on this.)
• Best-looking cheerleaders. (You may not win, but you'll love the research -- even though you'll always end up with UCLA playing Western Kentucky in the title game.)
[+] Enlarge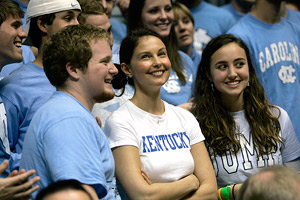 AP Photo/Gerry BroomeOne very good reason to root for Kentucky.
• WWTTP. (Who Would Tim Tebow Pick?)
• Any team with a player called "Magic" or "Bird." (This is old-school.)
• School with the sexiest alumni. (We all know about Ashley Judd and Kentucky, but there are others, such as Natalie Portman and Harvard. Well, OK, Harvard might be a stretch.)
• Let your rabbi, minister or priest make your picks. (Hey, it can't hurt.)
• Best Facebook page. (LOL.)
• Most worthless undergraduate major. (Look for schools that still offer Latin, or any SEC school that puts all its players into Criminology.)
• Team closest to the Atlantic Ocean. (Or the Pacific, but probably not the Indian.)
• Graduation rate -- the lower the better. (Houston, for example, is a lock.)
• Look at each team and ask yourself: "Are they the next George Mason?" (But George Mason doesn't count.)
• School that can get Al McGuire to dance.
• Pick a No. 16 seed over a No. 1. (No, silly, you won't be right -- but friends will be in awe of your independent spirit, or will laugh at your stupidity, but they do that anyway.)
• Just pick Duke. (Even though they haven't done very well in the tourney in recent years.)
• Let your dog decide. (You place a doggie treat in front of the name of each school. It's a great method, except that by the end of the tourney you'll have a really fat dog.)
• Coin flip. (It doesn't get more old-school than this.)
Jerry Greene is a retired columnist for the Orlando Sentinel. He can be reached at osogreene@aol.com.