Commentary
Mikhail Prokhorov: We have nicknames!
Originally Published:
May 27, 2010
By
Jerry Greene
| Special to Page 2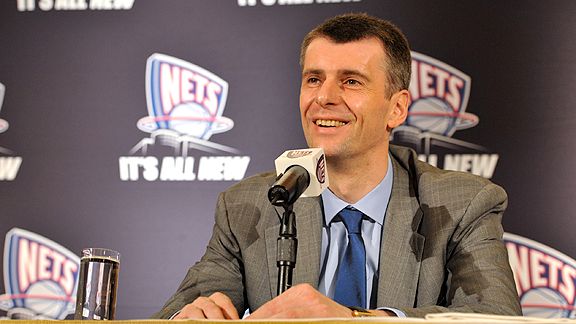 Jesse D. Garrabrant/NBAE via Getty ImagesMikhail Prokhorov asked whether the Nets should change their nickname when they move to Brooklyn.
One thing we learned this week is that you would love to be a tall, brash Russian billionaire who buys his own NBA team. Or, at the very least, you would have no problem naming that team if you did own it.
Mikhail Prokhorov recently asked a group of American reporters for advice on changing the name of the New Jersey Nets, the team he now owns and will probably move to a new complex in Brooklyn in time for the 2012-13 season.
No problem, Mikhail. We've got your name once you make the move.
Here's a hint -- old is new. Tradition rules.
Nyet to the Nets.
Say hello to your Brooklyn Dodgers.
In baseball, the Brooklyn Trolley Dodgers began in the 1890s and "Dem Bums" were beloved until Walter O'Malley moved the club to Los Angeles in 1958, breaking countless hearts. Brooklyn has waited more than a half century to get its Dodgers back.
They can be your Dodgers, Mikhail.
Truth in journalism. There was one other name that was more popular with our hundreds of "nickname consultants," but the Top Ten Rules Committee (i.e., uh, me) has disqualified that nickname and its associated nicknames. We're talking about the (New) Jersey Shore, along with the New Jersey Guidos, New Jersey Guidettes and even the New Jersey JWowws in tribute to Jenni "JWoww" Farley.
For those who don't know, "Jersey Shore" is a reality TV series on MTV. We don't believe Prokhorov would want to name his team after a reality show. If he did, he'd call his club the New Jersey American Idols. Besides, saying "the Shore played well" sounds even worse than saying the same thing about the Jazz or the Magic.
And now let's get to your list:
Top 10 New Nicknames for the New Jersey Nets:
10. New Jersey Teamsters -- Paul F., Corpus Christi, Texas -- It's "old school" but still carries clout.
9. Brooklyn LeBrontosauruses -- Matt M., Baltimore, Md. -- Hey, we had to have one LeBron reference. Just be thankful we didn't go with New Jersey Tebows.
8. New Jersey Tattoos -- Larry C., Dallas, Texas -- Players would kill to play for the Tats.
7. Brooklyn Roulettes -- Alex C., Simsbury, Conn. -- Be honest, fans, haven't you watched games that made you want to spin the chamber?
6. New Jersey New Jerseys -- Grant M., Arlington, Va. -- They would never wear the same jerseys twice! This is marketing genius.
5. Brooklyn Revolution -- Thomas C., Seoul, South Korea; Steve H., Hecker, Ill. -- Got a nice ring for the arena announcer: "Let's hear it for the Revolution!"
4. New Jersey Springsteens -- Bill P., Tualatin, Ore. -- And the team runs onto the court to the sound of "A Night With the Jersey Devil."
3. Brooklyn Bear -- Nick S., Rochester, N.Y.; J. Chaffee, Geneva, N.Y. -- Our own Bill Simmons likes Bears, but we like the singular better. Sorry, Bill.
2. New Jersey Turnpike -- Marc S., Parts Unknown, N.J.; Matt G., Parts Unknown, Va.; Brian Y., Carlisle, Pa. -- Our suggestion is that Mikhail change to this lovely name immediately because nothing says Jersey like a turnpike toll.
1. Brooklyn Dodgers -- Mike B., Manasquan, N.J.; Anton S., State College, Pa.; Tyler K., Waterloo, Iowa; Art S., Oxford, Pa. -- Our work is done.
As always, there were many names that were thisclose to making the list. They included: New Jay-Z, Joe M., Navarre, Fla.; New Jersey Boardwalks, Joseph B., Farmingdale, N.Y.; Brooklyn Bridge, Brian V., Pleasantville, N.J.; and our personal favorite that didn't quite make the cut from Ben M., Peoria, Ill. -- The Fighting Derrick Colemans.
Jerry Greene is a retired columnist for the Orlando Sentinel. He can be reached at osogreene@aol.com.