Big names, not big enough games

By Thomas Neumann and Scott Symmes
ESPN.com
What good is it to have an exclusive club without leaving a few people behind the velvet rope? With that in mind, we stir the Hall of Fame debate further by compiling a list of 10 high-profile players who definitely won't be going to the Hall of Fame -- not without buying a ticket, anyway.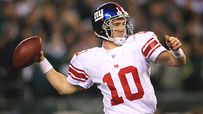 Manning has a big arm, but he lacks his big brother's accuracy, leadership qualities and overall football acumen. Despite having weapons like Tiki Barber, Plaxico Burress and Jeremy Shockey, Manning has been plagued by maddening inconsistency in his three seasons as a full-time starter. Does he still have room to improve? Of course, but we don't predict it based on his performance in the second half of last season. Little-known fact: His full name is Elisha Nelson Manning.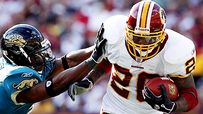 Portis can be a game breaker and he's only 25, but it's unlikely his body will hold up long enough for him to put up Hall of Fame numbers. Last season, when he played only eight games because of hand and shoulder injuries, could be a harbinger of things to come. At 205 pounds, Portis simply doesn't possess the bulk of most of the league's elite backs. It also appears that Portis misses running behind the celebrated Broncos offensive line. His yards per carry has dipped from 5.5 to 4.1 since Washington acquired him in 2004.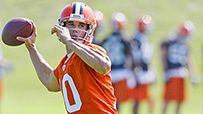 As soon as Quinn was chosen by the Browns on draft day, his chances to reach the Hall of Fame took a severe hit. The Browns haven't produced a Hall of Fame quarterback since Otto Graham, who retired in 1955. Since 1999, when they reopened for business in Cleveland, the Browns have had a revolving door of starting quarterbacks. Quinn might be the most talented passer the team has had in some time, but he has history and karma working against him.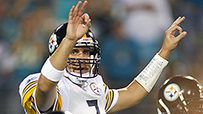 At first glance, it might seem preposterous to slam the Hall door in Big Ben's face so soon. But upon closer inspection, it makes sense. Roethlisberger proved to be an effective game manager in his first two pro seasons, and he has a Super Bowl ring to show for it. But his Super Bowl performance (9-for-21 with two picks) was dreadful, and then he regressed in 2006. Now the Steelers are losing personnel from their championship team, and nothing to this point suggests that Roethlisberger can carry an undermanned team on his shoulders to playoff success.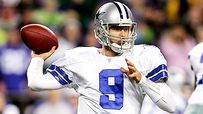 Time isn't on Romo's side. At 27, Romo will only be in his second year as a starter, making any thought of a run toward the top of the career passing charts extremely unlikely. Then there's the possibility that opponents were starting to figure him out toward the end of last season, when he produced a few clunker performances. But unlike JaMarcus Russell and Quinn, Romo is piloting a competitive team. It will take multiple Super Bowl victories, however, for him to become part of any serious Canton discussion.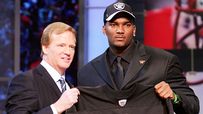 Russell certainly has the arm to succeed. The footage of his pre-draft workouts looked like the Powerade commercial in which Michael Vick threw the ball a country mile -- except Russell's footage wasn't doctored. Russell, however, finds himself in a brutal situation with the Raiders. Three of Oakland's top receivers are a converted quarterback, a
Lions
castoff and a malcontent who was suspended most of last season. The offensive line is porous, having allowed an NFL-worst 72 sacks last season. Russell just doesn't have a legitimate opportunity to succeed.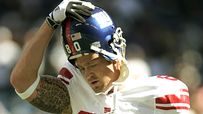 Shockey is an exciting and productive tight end, but nagging injuries and shaky hands have prevented him from reaching his true potential. Plus, with a relatively inaccurate quarterback in Manning throwing him the ball for the foreseeable future, Shockey will likely struggle to reach the lofty plateau where Antonio Gates and Tony Gonzalez currently reside. Further, although it is impressive that Shockey is often willing to play hurt, one has to wonder when the many injuries he has suffered will catch up with him.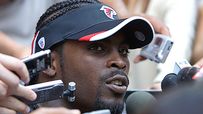 Although it was already decided that Vick would land on this list prior to his recent legal woes, the allegations against him obviously haven't helped. Regardless, running quarterbacks don't make the Hall of Fame. Through six seasons, Vick has completed only 53.8 percent of his passes and has never thrown for 3,000 yards in a season. At 27, Vick still has physical upside, especially with offensive guru Bobby Petrino now running the show in Atlanta, but it's nearly impossible to envision him developing into a Hall of Fame passer at this point in his career.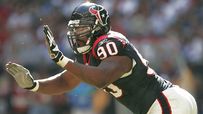 Through no fault of his own, Williams will be held to a higher standard than most No. 1 overall picks. That's going to happen, however, when you're selected instead of Reggie Bush and Vince Young. It didn't help Williams' stock that teammate DeMeco Ryans was named 2006 Defensive Rookie of the Year. Add the fact that there's little reason to expect the Texans to compete for a playoff spot -- much less a championship -- anytime soon, and you get a recipe for falling short of the hype.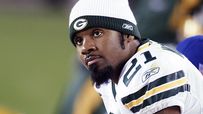 Woodson never did live up to the hype that went with being the first primarily defensive player to win a Heisman Trophy. Even considering his career-best eight interceptions last season with the Packers, Woodson has posted fewer than three per season as a pro. He has been named to three Pro Bowls, but team success in the postseason has been elusive. One season after a disappointing Raiders loss in the AFC Championship Game, the infamous Tuck Rule call in New England negated a crucial fumble that Woodson had forced. He was injured for much of 2002, although he returned to make an interception in the Super Bowl. If only the Tuck Rule hadn't been invoked …
Cantonized: Hall of Fame predictions
• Selections 1-10
• Selections 11-20
• Selections 21-30
• Selections 31-40
• Selections 41-50
• On the bubble
• The list: 1-50
CANTONIZED: HALL OF FAME PREDICTIONS
50 Future Hall of Famers
•
Cantonized: Selections Nos. 1-10
•
Cantonized: Selections Nos. 11-20
•
Cantonized: Selections Nos. 21-30
•
Cantonized: Selections Nos. 31-40
•
Cantonized: Selections Nos. 41-50
•
Cantonized: The list 1-50
Extra
•
10 players on the Canton bubble
•
10 big names who won't be Hall of Famers
Video analysis
•
Ron Jaworski on quarterback selections
•
Floyd Reese on running back selections
•
Sean Salisbury on receiver/tight end selections
•
Mark Schlereth on offensive line selections
•
Mike Golic on defensive line selections
•
Tom Jackson on linebacker selections
•
Eric Allen on defensive back selections
Audio analysis
•
Jeremy Green, John Clayton and Michael Smith dissect selections 1-25
|
26-50, bubble players

Photo gallery
•
Zoom gallery of top-10 selections
SportsNation
•
Vote: Who is bound for Canton?
Ratings key
We rated players on a 100-point scale in five categories worth up to 20 points each:
Mortality -- 10 possible points based on injury history (the more durable the player, the higher the score) and 10 possible points based on how close he would be to the Hall of Fame if an injury ended his career today.
Statistics -- Statistical milestones, awards, records and Pro Bowl appearances.
Team success -- Super Bowl victories and appearances, playoff appearances and victories, top playoff seeds earned.
Upside -- Perceived statistical potential based on age, skill, talent, fitness and durability. This includes potential to break records, climb statistical lists and earn Pro Bowl selections.
Intangibles -- Anything not covered by the other four categories, for instance: leadership, reputation, team success potential, superstar potential and positional representation in the Hall of Fame.
Order of tiebreakers: 1. Team; 2. Statistics; 3. Mortality
ESPN Top Headlines