Page 2
Note: Members of the Baseball Writers Association of America are busy this time of the year -- trying to decide who to vote for on their Hall of Fame ballots. Results will be announced Jan. 4, but in the meantime we thought it would be fun to have five ESPN employees who have actual votes -- Tim Kurkjian and Buster Olney of ESPN The Magazine, Jerry Crasnick of ESPN Insider and Jim Caple and Michael Knisley of Page 2 -- discuss this year's Hall of Fame issues.
Moderator: With Wade Boggs the only surefire candidate this year, is this the year the relief pitchers like Goose Gossage, Bruce Sutter and maybe Lee Smith break through?
Tim Kurkjian: No. The breakthrough year should have been five years ago; I wonder if it's ever going to come. I've voted for Sutter and Gossage every year they've been eligible, I'm mystified by their lack of support. They were saving 30 games when it meant something, they were pitching 100 innings a year, they entered games sometimes in the seventh inning, not with the bases empty in the ninth. The cheapened save of the 1990s doesn't pertain to them.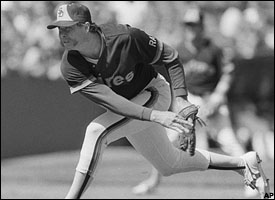 Gosage's ERA was under 3.00 for nine straight seasons.
Michael Knisley: I've been voting for these guys for the last few years, and I'll vote for them again. I feel about relievers the same way I feel about designated hitters. If they're a part of the game, then the best of 'em ought to be in the Hall.
Buster Olney: We're heading in that direction, for certain. You sense some confusion over the candidacy of relievers because typically, their period of dominance is shorter, and besides The Save, they don't have a lot of numbers to attach to their resume. And there is some question about The Save and what it really means; 300 victories is a clear benchmark for pitchers, 3,000 hits and 500 homers for hitters, but nobody is quite sure what the benchmark stat is for relievers. But I voted for Sutter and Gossage and think we will see more relievers get in, in time.
Jim Caple: I don't think they'll make it this year. Sutter received the most votes last year, with 59.5 percent, which still leaves him with a lot of space to make up. What is amazing to me is that Goose only got 41 percent of votes last year. What are people thinking?
Who would you vote for?
Click here to vote on who you think deserves to make the Hall of Fame!
Players on this year's ballot:
Returning players
(with last year's vote total; you need 75 percent for election)
Ryne Sandberg (61.1%)
Bruce Sutter (59.5%)
Jim Rice (54.6%)
Andre Dawson (50.0%)
Rich Gossage (40.7%)
Lee Smith (36.6%)
Bert Blyleven (35.4%)
Jack Morris (26.2%)
Steve Garvey (24.3%)
Tommy John (21.9%)
Alan Trammell (13.8%)
Don Mattingly (12.9%)
Dave Concepcion (11.3%)
Dave Parker (10.5%)
Dale Murphy (8.5%)

New players
Jim Abbott
Wade Boggs
Tom Candiotti
Chili Davis
Mark Langston
Jack McDowell
Willie McGee
Jeff Montgomery
Otis Nixon
Tony Phillips
Terry Steinbach
Darryl Strawberry


I vote for Goose. I voted for Eck (in large part because he was a good starter). I may vote for Rivera when he retires. But I don't vote for any other closers. I don't buy this "they're part of the game'' nonsense. The old ones -- like Goose, and maybe Sutter -- did work for a living, regularly pitching two to three innings at a time, coming in when the game was on the line, not when there was a save chance to pad the stats. The fireman job had real value -- the closer job is overhyped, overstressed and too easy. Backup catcher is part of the game, too, but we don't put them in the Hall of Fame.
Knisley: I'd say there's at least a glimmer of hope, though. Wouldn't you, Jim? Last year, Eckersley and Molitor were going to make it, regardless of who else got in. This year, I'd like to think voters will look past a Boggs-only ballot.
Caple: There is a glimmer, but not enough. I know some writers are more willing to vote for borderline guys in years there aren't a lot of definite new candidates but I don't understand why. I mean, I don't have a prescribed minimum or maximum of players I vote for; players are either on my list of they aren't.
Olney: I vote for as many candidates as I think are Hall of Famers. Boggs, for instance, is not a classic Hall of Famer, in my eyes, despite his 3,000 hits; he was a very, very good player, but not a dominant player. I suspect some voters held him off their first ballot for that reason. But I think if a player is good enough to get a vote in the second year, then he's good enough to get a vote in the first year. I've voted in two seasons, so I haven't had a full range of experience in terms of shifting standards, but I try to be as consistent as possible. I haven't voted for Mattingly, for example, and I don't plan to, because he simply did not have the sustained run and total stats of his best peers. If there is a late push for him as his eligibility starts to near the end, I would hope that I will evaluate the same way as I do now.
Caple: I suppose there are some voters who max out the ballot (10) and in a year with fewer new candidates, it allows them to vote for an extra guy they always wanted to vote for but didn't have room to include them. That's probably a minority of the voters, though, and the borderline guys they're adding probably aren't the guys who are already getting 50 to 60 percent of the vote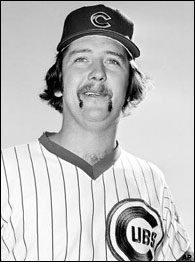 Sutter won the '79 NL Cy Young and finished in the top 10 in MVP voting five times.
Knisley: Fine But Jim, by your logic, you suggest I'd vote for a backup closer. And that obviously ain't going to happen. How can you pretend that Sutter or Lee Smith didn't have a major impact on the game? They were as dominant in their roles as Boggs was in his. And Gossage? C'mon. I'll never understand why he isn't already in.
Caple: I'm with you on Goose -- I always vote for him. Sutter, to me, didn't do it quite long enough, but guys like you and Jayson and John Lowe and Scott Miller keep working on me, so I may wind up convinced. No way on Smith, though. He was a beneficiary of the easy, one-inning save role and I just don't think that deserves the Hall of Fame. He was always considered a good reliever but there was a very, very limited span when he was held in the same ''game over'' regard of Goose, Sutter, Eck or Rivera.
Moderator: Bert Blyleven has 287 victories (25th all time). He's fifth all time in strikeouts, 13th in innings, ninth in games started and ninth in shutouts. Last year he received just 35 percent of the vote. Discuss his candidacy.
Jerry Crasnick: Blyleven is a tough one for me, but I haven't voted for him yet. I talked to writers who covered him, and they gave me the sense that he was sort of a petulant guy who bailed on his teams a couple of times. I know I'm talking style as much as substance here, but it resonated with me. The longevity numbers are pretty darned good, though. I wrestle with his candidacy a lot.
Knisley: I know Jim is a Blyleven guy, but I'm not there yet, either, Jerry. I look for dominance in a Hall of Famer, and I never had the sense that Blyleven dominated.
Caple: For years, I wrestled with Blyleven's candidacy. There were a lot of good arguments in his favor but something always kept me from voting for him. And every year when I sent in the ballot without his name, I felt bad. And so, last year I voted for him. And I felt good when I sent in the ballot and never regretted it.
I think he comes down to this view: No, he wasn't Seaver or Carlton or Palmer. But the Hall is about more than the elite of the elite. The standard is lower than that. Just because we honor Willie Mays doesn't mean we can't recognize Kirby Puckett or Billy Williams. Just because we have Bob Gibson and Seaver in there doesn't mean there isn't room for Blyleven and Eck.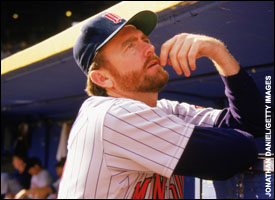 Blyleven finished in the top 5 in his league in ERA seven times.
Kurkjian: I vote for him. He won 287 games pitching for a lot of bad teams in a lot of bad parks for pitchers. He's one of the most durable pitchers of all time, his 22 years of service is a plus, not a minus. He's fifth all time in strikeouts (more than Sandy Koufax and Dizzy Dean combined) and ninth in shutouts (more than Koufax and Pedro Martinez). He should be in.
Knisley: I hate to bring up the "magic number" thinking, but we're going to have to deal with it sooner or later here. So I'll say it: I'd like for Bert to have reached 300 wins.
Caple: That's precisely the reason that kept me from voting for him for so long. But the fact that his curveball may have been the best in the game's history helped address the dominance issue for me.
I don't have magic numbers. People talk 300 wins. Well, if we have that as a standard, then we have to eliminate most of the guys in there already.
My rule of thumb: Can I imagine the description of his career reading impressively enough to be on a Hall of Fame plaque?
Agree with the roundtable?
Who deserves a key to Cooperstown? Based on the topics discussed in the Hall of Fame roundtable, SportsNation has compiled a poll page for you to give your opinions. Vote here to let us know what you think!
Olney: Blyleven is caught in that no-man's land created by the 300-victory benchmark. Eventually, as starters close their careers with fewer victories and the benchmark goes down to, say, 250, then you might Blyleven gaining momentum. But he is probably viewed as an accumulator, rather than as a peer to the best pitchers of his era. Fifty years from now, though, I bet he is in.
Crasnick: Blyleven had one 20-win season and two All-Star Game appearances, so I don't see him meeting that "dominant'' pitcher standard. His defenders might argue that if he had 300 wins instead of 287, he'd be in there, and they might have a point. But he just doesn't quite make it for me.
The "magic number'' theory applies more to borderline guys, obviously. It had to help Don Sutton and Phil Niekro. Randy Johnson and Pedro Martinez aren't going to need it, but in areas where you're on the fence, it gives a guy a certain extra cachet. You have to be able to draw the line somewhere (although Fred McGriff, for me, isn't a Hall of Famer even if he gets to 500 homers.).
Moderator: Are the 1980s the decade that Hall of Fame voters are forgetting? A lot of guys who were thought of as Hall of Famers while playing are struggling to get in -- Ryne Sandberg, Jim Rice, Andre Dawson. What's going on here?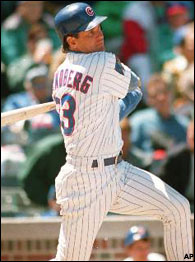 Sandberg finished with 2,386 hits and 282 home runs.
Crasnick: Well, for starters, their numbers don't measure up against the testosterone-enhanced '90s. But I vote for all those guys. Sandberg was a snap for me, and I don't care about Dawson's .323 on-base percentage. The guy was a leader and a great all-around player. They practically had to wheel him out there because of his knees for the last 10 years, and he continued to be productive. I didn't vote for Rice for a number of years, but I finally came around to voting for him, too.
Kurkjian: The Sandberg situation perplexes me. He was the premier second baseman in his league for at least 10 years. He hit for power (282 home runs, most ever by a second baseman), he stole bases (344), he won nine Gold Gloves, he holds multiple fielding records, he won an MVP and made 10 All-Star teams. Dawson's lack of support is almost as surprising. He was a team leader, a great defensive player (eight Gold Gloves), he hit for power (438 home runs), he could run (314 steals), he won and MVP and a Rookie of the Year. He shouldn't be punished for playing anonymously in Montreal, or because he didn't walk enough.
Knisley: I keep waiting for the VH-1 series on Baseball: The '80s. Maybe I need that sort of refresher.
Seriously, though ... What do people have against Sandberg?
Caple: You're joking but you're also right. People do need a reminder. Ryne? Rice? What, was everyone so busy running illegal weapons programs with Iraq and Nicaraugua that they didn't see them play?
Crasnick: I guess Sandberg suffered in the balloting because he quit a year or two too early, he was a boring interview, and he didn't dive for balls. People have to judge him against other second basemen. It appears he's now making the requisite progress to make it to Cooperstown this year or next.
Knisley: It's never as simple as this, but here goes, anyway: Joe Morgan: .271, 268 HRs, 1,133 RBI, .427 slugging percentage, .823 OPS. In the Hall.
Sandberg: .285, 282 HRs, 1,061 RBI, .452 slugging percentage, .798 OPS. Not in the Hall.
Everybody agrees on Morgan. Why don't Sandberg's numbers merit inclusion?
Caple: Must be the anti-Cub factor. Santo's not in, either.
Crasnick: Well, the "lovable losers'' thing is great, but it certainly didn't get Sandberg or Dawson any bonus points for the Hall. If Tony Perez had played for those Cubs teams instead of the Big Red Machine, he wouldn't be in, either.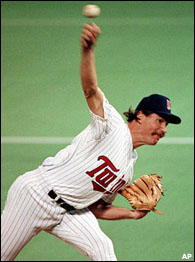 Who can forget Morris' 10-inning shutout in Game 7 of the '91 Series?
Moderator: I noticed nobody has mentioned Jack Morris. His support has been minimal so far. Any chance he slowly works his way up the ballot and into the Hall?
Caple: Jack gets my vote every time. He's another guy from the '80s who doesn't get any respect. I won't get into the, "He knew how to win" nonsense, but I will say, he was a pitcher every manager wanted to anchor his rotation.
Kurkjian: I vote for him every year, and he never comes close. He was the best pitcher in his league for an 11-year span. He helped three different franchises to World Series championships. Granted, his 3.90 ERA would be the highest in the Hall, but he pitched most of his career in Tiger Stadium, a home run park. With Morris, you never wondered who was going to start Opening Day, or the first or last game of a postseason series. That's what we call an ace.
Crasnick: Morris is another guy who goes a long way on intangibles. I left him off my ballot a few times because of that 3.90 ERA and a few other statistical factors, but I finally took a step back and realized that he belongs. If you don't think hitters got the shakes stepping in the box against that guy, you didn't see the '91 Series.
Knisley: He's one of those guys I waffle on every year, but I haven't voted for him yet. The thing is, Jim -- If I do, it'll be in large part BECAUSE of that "he knew how to win" nonsense. Why do you think that shouldn't be a factor?
Caple: I don't think there's any way to really measure what we're talking about. Your win total reflects whether you knew how to win. And all big leaguers know how to win -- well, maybe not Salomon Torres -- otherwise they wouldn't ever reach the majors. And that Jack won 254 games is proof of that as well. His dependability and the way he ate innings and was such a competitive cuss (even more so than most pro athletes) are the intangibles with Jack and I don't know how you appreciate that without having heard players talk about him.
Actually, I think this brings up a good point. I see similarities between Dawson and Morris. They're borderline candidates who get a lot of support from the people who saw them and not much from the people who didn't and can only go by the stats. Maybe that's the way we all think about the Hall. "Our" guys, the guys we grew up rooting for or covered or saw a lot belong in while the guys we didn't never measure up as high. Just a thought.
Crasnick: I remember going in and interviewing Andre Dawson once four hours before a game, and he came out of the trainers' room with two huge ice packs on his knees. It showed me that the guy basically had to kill himself to play every day. I also saw him draw five intentional walks against the Reds because they respected him that much. I don't see how you can be human and not have that influence your vote.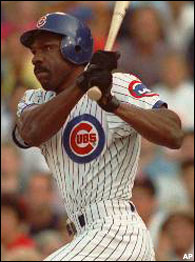 Dawson won his MVP with the Cubs, but his best years were with the Expos.
Caple: And as an American League guy, I never saw him, except on TV (bulk of his career was in the prehistoric days when you could only see the game of the week and local broadcasts -- and Seattle cable carriers, for some reason, never provided WGN). So I have to rely on the word of people who did see that sort of thing, which is never quite as compelling as seeing it with your own eyes.
Moderator: For what it's worth, Dawson and Darryl Strawberry, who is expected to receive essentially no support this year, both finished in the top 10 in the MVP voting just four times. Strawberry has a 34-point advantage in on-base pct. and 23-point edge in slugging pct. And he didn't play in Wrigley Field. If you vote for Dawson, do you have to at least consider Strawberry?
Caple: No. You're gerry-mandering numbers. Strawberry had a great run for about six years -- 86-91 -- and then he just fell off the map. That's just not sponge-worthy.
Crasnick: The way Darryl began his career, if someone told you he'd finish as a .259 hitter with 335 home runs (and a mere 1,401 hits), you would have considered him a disappointment. And that's the way he'll always be perceived. There's definitely more to his numbers than meets the eye.
Caple: And let's be clear -- no one gets into the Hall with a .259 average, 335 home runs and 1,401 hits.
Knisley: Here's a good discussion point on the good guy/bad guy issue. Puck, a first-ballot Hall of Famer, hit 207 home runs, drove in 1,085 runs, hit .318 with an OPS of .839 and a .477 slugging percentage. (Yes, I'm sitting next to Total Baseball.)
So is Albert Belle a first-ballot Hall of Famer? He had more RBI (1,239), more home runs (381), a higher OPS (.938) and a higher slugging percentage (.564).
This, frankly, is why voting for the Hall of Fame is such a tremendous joy and such maddening torture at the same time.
Caple: Very well put. It's also why baseball's Hall of Fame is the best guaranteed bar debate. The numbers mean something. You can use them and debate them and argue them. Football? No one even knows who's eligible. And if they did, the few numbers available are virtually meaningless to fans.
And Belle is going to be a real tough call. We may be voting not just on him but on the whole bloated offense era (he'll be the first guy eligible who played almost his entire career in that era) and how we view it.
Knisley: You're absolutely right. How the hee-haw do the football voters know whether an offensive guard should be in Canton?
Caple: I think the busts in the pro football hall of fame should have helmets on them.
Crasnick: Albert Belle was a one-dimensional player, a known sociopath and (as far as I know) something less than the world's best teammate. His offensive numbers really had to be above and beyond for him to qualify.
Moderator: It seems like all of you are voting for many guys this year. Aside from Boggs, if you could only vote for one guy, who would it be? Second?
Knisley: For me, it's going to be Gossage. (I'm stubborn that way.) Then Sandberg.
Kurkjian: Other than Boggs, the first guy I'd vote for is Gossage, in a close call over Sutter and Sandberg. Gossage saved 310 games, many of them coming for contending teams in pressurized situations. He pitched for 22 years, and was a power pitcher, an intimidator, for most of that time. He got the final eight outs of the1978 playoff game against the Red Sox.
Crasnick: After Boggs (who has his detractors, I'm sure), I'd say Sandberg and Gossage are at the top of my list for players this year. Sandberg has to be among the handful of best second basemen to ever play. And it baffles me why Gossage gets so little respect. People just don't realize what he accomplished and how feared he was in an age when "closer'' had a completely different meaning.
Olney: In order, I might have put Sutter ahead of anybody else. I think he was a special reliever, someone who changed the game, and his contribution and place in the game go far beyond stats -- which are pretty good, incidentally.
Caple: Ryno is the first guy on my ballot, followed by Boggs. I'll vote for six or seven guys, depending one whether I get convinced on Dawson.