Commentary
South Carolina fans storm the court
Originally Published:
January 27, 2010
By
Greg Hardy
| Special to Page 2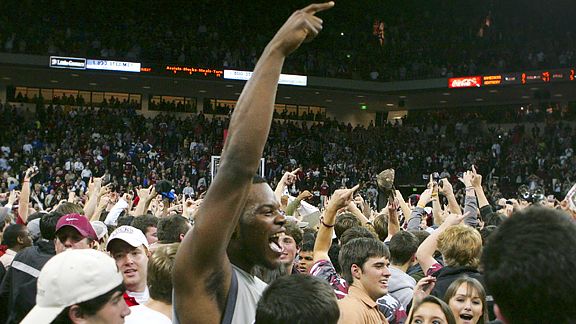 AP Photo/Mary Ann ChastainSouth Carolina forward Lakeem Jackson celebrates with fans after the Gamecocks stunned No. 1 Kentucky 68-62.
COLUMBIA, S.C. -- Yes, South Carolina Gamecocks fans stormed their home court Tuesday night after upsetting previously undefeated No. 1 Kentucky 68-62.
No, this is not a first-person account of storming the court at Colonial Life Arena. That would have been impossible for two reasons.
1. I had no rooting interest for either team. I joked to friends beforehand that I would be there strictly in a Jimmy Carter/U.N. observer/peacekeeping capacity.
2. My seat was 13 rows up in the upper deck.
So serving as an impartial observer on behalf of Page 2, let me pass along a few notes about the art and practice of allowing thousands of college students to storm a basketball court in 2010.
With 3:26 left and the Gamecocks up 56-51 after a Devan Downey layup, I nudged my friend next to me: "Do you believe in miracles?" The joke being that South Carolina ALWAYS finds a way to lose these types of games. The Gamecocks had never beaten a No. 1 team in their 102 years of playing basketball. That's referred to in the sports journalism business as "a drought."
But as the clock ticked through the final minute, the Gamecocks stayed on the top side of the scoreboard. That's when the P.A. announcer started warning, "Fans, we remind you to please stay off the court after the game." To show the capacity crowd they were serious, the security guards started lining the boundary of the court with -- are you sitting down for this? -- a long, yellow rope.
(Judging from my perch, I'd put the percentages of the 18,000 in attendance as 65 percent Gamecocks garnet and black, 34 percent Wildcats blue, and less than 1 percent me in a purple shirt. See? Impartial down to the wardrobe.)
Storming the court in the Southeastern Conference is a huge no-no. It comes with a $5,000 fine for the school as a first-time offense. My take is that the SEC would rather be a killjoy than risk being liable for a trampling accident. And when the SEC has to choose between your joy and its money … it's easier to make that decision than it is for Downey to score 30 points against the Wildcats.
The clock ran down. Gamecocks history was nearly upon us. Still, the arena staff was determined to prove they weren't about to capitulate to mob rule.
"Fans, we remind you to please stay off the court after the game!" the P.A. announcer reiterated. Armed security guards tried to get in position to deter would-be rowdies. "Do they even have enough security to stop the students?" my friend asked.
"I don't mind if they storm the court," I said. "I'm just gonna die laughing if the Carolina fans try to get an 'O-ver-rated!' chant going. I mean, yes, Kentucky was overmatched and outhustled this night. But I just don't think a fan base like Carolina's gets to shove 'O-ver-rated!' at a team that's 19-1."
Then came the buzzer. Final score: No Respect Gamecocks 68, No. 1 Wildcats 62. Downey had 30 points, Kentucky wunder-freshman John Wall had 19.
That's when the student sections made a mockery of the dainty yellow rope. It was a "Mr. Downey, tear down that Wall!" moment.
When security guards didn't handcuff or pepper spray the first wave of court rushers, everyone else knew it was safe. Yeah, mob rule!
There was no letting up. It wasn't just a mass of bodies at center court. The entire playing surface was ultimately filled with people packed shoulder to shoulder.
Then the funniest thing happened:
Once the court was wall-to-wall humanity, and there was nowhere else to move, it slowly dawned over everyone. "This is it? How long are we supposed to stay down here? Our throats are kaput from screaming the past two hours. How much time are we allowed to savor this moment?" It was truly one of those "the dog finally caught the car, and now what?" moments. Shoulders slumped. Necks swiveled in search of a clue for what to do.
That's when the P.A. speakers -- the same speakers over which the crowd was twice warned not to storm the court -- started blaring that crowd-rousing, techno-dance sports arena staple "Sandstorm." (Find the Darude tune on YouTube, you'll know what overplayed song I'm talking about. Not the "Zombie Nation" song, the other one.)
Like a light switch, all the body-hopping immediately resumed in full furious force.
Oh, so is that what the grown-ups decided? If you can't beat 'em back with a billy club, join 'em? Did the arena announcer change his mind -- Ah, these kids proved they have heart. Let's give 'em a thrill. -- or did other students have the foresight to storm the announcer booth and cue up the song? If it was a coup, I pray it was a nonviolent one.
Once the techno died down, the decidedly slower-paced alma mater was next. Once that was done, the crowd began to wade to the exits.
As we filed out, one dope did try to get the "O-ver-rated!" chant going, but he had no takers. Fine choice in selective celebrating, Gamecocks fans, I applaud YOU.
As for that fine? The Associated Press reported that students who stormed the court were handing athletic director Eric Hyman one dollar bills to help pay the fine.
That's your SEC basketball history lesson for the day. Beat the No. 1 team in the country and thumb your nose at SEC bylaws. Yeehaw!
I hope Hyman finds the fine worth every penny. The Gamecocks didn't "luck out" with the win. They never luck into anything, ever. Sure, Kentucky didn't execute on all cylinders, but the South Carolina defense didn't let it.
Thousands of fans storming the court still wasn't half the spectacle of Downey storming past the top team in the country. He was worth the price of admission and then some.
Maybe next time I'll get my money's worth out of Kentucky.
Greg Hardy is a Page 2 contributor. He lives in Columbia, S.C., where he writes the Sports Guesspert column for The State newspaper. It's all pop culture all the time at Twitter.com/HardyVision.