By Graham Hays
Page 2
John Hiatt didn't write any songs about smashing perfectly good ones, but records are made to be broken ... and written about.
Greatest Records
ESPN25 home page
Don't miss "Who's #1?" Tuesday night at 8 p.m. ET to see which records ranks No. 1. And then join The Show to chat about the list at 9 ET.
And while every record is eventually temporary, not all records are created equal. Nothing against Pete Rose's hits or John Stockton's assists, but they don't get us excited enough to tear us away from the latest Maria Sharapova news. If you want a comprehensive ranking of the best sports records of the last 25 years, tune in Tuesday night at 8 p.m. ET for another edition of "Who's #1?"
But if you want 10 records that make us doff our Page 2 caps, read on.
Edwin Moses: 122 straight wins
A long time ago, in a galaxy similar to our own -- only with shiny, white polyester pants -- Moses won a 400-meter hurdles race and Mark Hamill blew up the Death Star before racing home to kiss his sister. The year was 1977. Fast forward to 1987. Hamill's career and polyester pants were out, but Moses was still winning races. For 10 years, Moses didn't lose a single 400-meter hurdles race. Think about that.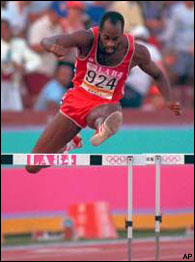 Moses won Olympic gold medals in 1976 and 1984.
Not only did he beat the best competition Communist money could engineer -- 122 times in a row -- he went 10 years without falling over a hurdle. Try making it 10 days without tripping over your dog.
Cal Ripken: 2632 consecutive games
On one hand, all the guy did was show up for work every day -- and part of the time he even worked for his dad. Compared to some of the Herculean feats on this list, that's sort of like gunning for a Guinness World Record in checkbook balancing. On the other hand, the man owned Baltimore for much of the 1980s and 1990s. We don't need Jim Bouton around to tell us there must have been at least a few nights when young Cal enjoyed the good life and still made it to the park the next day. Considering many of us start hearing "sick day" in our heads at the mere mention of an open bar, that's impressive.
Annika Sorenstam: 59
Long before she made waves by playing in a PGA event and dragging Vijay Singh and his ridiculously Freudian long-putter into the 21st century, Sorenstam did the unthinkable by shooting a round of 59 on a par-72 course in competition. That's tough to do on a putt-putt course. You know you're good when you have tournament organizers scrambling to make sure they didn't mistakenly leave out a hole.
Barry Bonds: .582 on-base percentage
Hitting 73 home runs in a season is nice, but nothing speaks to the way Bonds has turned the NL into his own personal slow-pitch softball league quite like his .582 on-base percentage in 2002. Tony Batista makes a nice living and has a career on-base percentage of .299; Bonds reached base 58 percent of the time in '02 and nearly had more walks than outs! It's a wonder he didn't have one of the bat boys, or even J.T. Snow, drag out his recliner from the locker room and stash it next to first base. Oh -- and he's at .599 this year.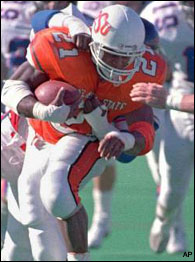 Sanders rushed for over 2,600 yards for OSU in 1988.
Barry Sanders: 234 points
Had he needed choreography, Sanders could have single-handedly stretched Wade Robson's 15 minutes of fame into a solid half hour. Flipping the ball to the referee after yet another touchdown always seemed like the epitome of cool confidence, but even Chris Klein could have acted like he had been there before with the kind of experience Sanders had at finding pay dirt. Sanders scored 234 points for Oklahoma State during the 1988 college football season. That's 39 touchdowns, or roughly 3.5 touchdowns per game for 11 games. Put another way, only 15 NBA players averaged more points per game during the 1987-88 season than Sanders did on the gridiron.
Cael Sanderson: 159-0
Imagine if Tom Hanks had skipped "Joe Versus the Volcano" or if Pearl Jam had never come out with "Yield." Perfection is a tough standard, even for the best and the brightest. But Iowa State wrestler Sanderson managed just that by finishing his college career as a four-time NCAA champion with a 159-0 record. And he didn't need a single folding chair to get it done. Imagine a college basketball star going undefeated and cutting down the nets all four years. All right, imagine a college basketball star sticking around for four years.
Wayne Gretzky: 92 goals
Gretzky scored 92 goals for the Edmonton Oilers during the 1981-82 season. Last season, the Carolina Hurricanes scored 172 goals. Total. Sure, the game has changed since Gretzky ruled the ice, but there's also a big difference between No. 99 and Josef Vasicek. And perhaps this pick has as much to do with a generation raised on hockey video games as anything else. Because with the exception of a few Bo Jackson runs, it represents that rare athlete who was actually able to dominate games as if he had discovered secret Easter-egg moves that no other players knew about.
Eric Heiden: 5 gold medals
Mark Spitz won more total medals in the 1972 Summer Olympics, but not only did Heiden win more individual events during his run at the 1980 Winter Olympics, he did it while displaying considerably less body hair than Spitz. And to us, that's worth big points. We're no experts on speed skating or mathematics, but we're smart enough to know that winning five events when the longest is 20 times the length of the shortest requires the kind of versatility that might lead to someone trying the Tour of France after retiring from skating ... as Heiden did in 1986. Let's see how Lance Armstrong looks on skates.
Tiger Woods: 15-stroke win at U.S. Open
Woods could have made Steve Williams an honorary pledge master after the 2000 U.S. Open and the rest of the field would have lined up to do his bidding. He probably could have even made Jesper Parnevik wear khakis and a white polo shirt. Woods didn't just win the Open by a record 15 strokes, he beat every other golfer at Pebble Beach into submission, using his irons like Mike Tyson used his uppercut in the early days. You half expected to see someone's mouthpiece go flying across the screen every time he hit the ball. Who knew golf could be so fun?
Scott Bowman: 9 Stanley Cup wins
With a list that features three guys on, or at least associated with, skates, we're going to have the folks from Immigration beating down the doors in search of illegal Moosehead beer and Tim Horton's donuts. But Bowman's nine Stanley Cups get us fired up for one reason: as a rebuttal for any latte-sipping, freeway-chasing Southern California resident who wants to start chirping about Phil Jackson's Zen brilliance. Throw in Larry Brown's dismantling of the Lakers in the NBA Finals and the city of Detroit may single-handedly wipe Jackson from our memory. All of which almost makes up for Kid Rock. Almost.
Graham Hays writes "Out of the Box" five days a week in-between moonlighting for Page 2. He can be reached at graham.hays@espn3.com.