What is so fascinating about the stir created by my "Kobe is better than Michael Jordan" column -- which generated more than 2,000 e-mails -- is that a couple months ago, I wrote a column on "The Hook Up" and no athlete generated more vitriol than His Airness.
A taste: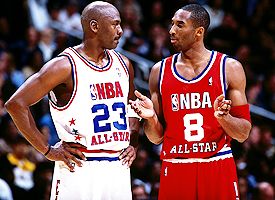 Andrew D. Bernstein/Getty Images
Do you suppose they were debating who's better at the 2003 All-Star Game?
"The ultimate Hook Up of all time is Michael Jordan. Not even close. America fell in love with him the moment word got out that he was cut from his basketball team in high school. His story is the American Dream. His attempt at baseball, gambling issues and marital problems did nothing to his Hook Up."
Disclosure: Dan is from Salt Lake City, but valid, valid points.
More:
Joe, a North Carolinian, wrote: "The man gambled a good bit of his money away, [allegedly] had a long-term affair with [had to be deleted for fear of a lawsuit], ran the Wizards into the ground, single-handedly destroyed Kwame Brown, and was overcompetitive to the point of violence. Despite all this, we love Michael Jordan. The man could get away with murder anywhere in North Carolina. I should know, I grew up in Durham."
Compare that to what reader Richard Kavalauskas wrote to me on Thursday, which summed up the overall sentiment toward my Jordan-Kobe column: "You are sick. The article you just wrote is blasphemy."
Based on the response, the only athlete who could possibly have generated such heated emotion is O.J. Simpson.
Kobe certainly has his defenders, but it is amazing how many people were more than willing to use Kobe's personal life as ammunition in a Jordan-Kobe basketball debate. People are aware of Jordan's personal lapses, but there is a state of denial there that is just startling.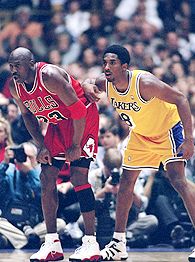 Jed Jacobsohn/Getty Images
About 75 percent of e-mailers believe that the fellow on the left is the better player.
Anyway, 75 percent of you disagreed with me, which is no surprise. But the responses were so overwhelming, it was worthy of sharing. But a couple quick explainers first:
(1) I do not believe the NBA is better now than it was then. It's my fault for not explaining this better. At least a third of you who e-mailed thought I was on crack -- and seriously at least 400-500 e-mails had, "Are you on crack?" in the subject line -- for even entertaining the possibility the NBA is a better product now.
No, it's not. That's not what I'm saying. I believe today's player is more athletic, stronger and has more raw ability than players in the '80s and early '90s. Clearly those players in the Magic, Bird and Isiah era were more polished, tougher and had unbelievable basketball acumen. It was a better game because the players were more skilled. Today, we see guys with extraordinary physical gifts and no fundamentals. So, to sum up: Today's player has more talent, but yesterday's player was a better basketball player.
(2) That being said, there are teams in the league right now that were better than at least three of the teams Jordan beat in the Finals. The Mavericks, Suns and Spurs are better than Clyde Drexler's Trail Blazers, Gary Payton's Sonics and Charles Barkley's Suns. The coaches: Avery Johnson, Mike D'Antoni and Gregg Popovich versus Rick Adelman, George Karl and Paul Westphal. Not even a debate there. Drexler was horribly overrated -- a slasher, terrific shot-blocker and rebounder for a 6-foot-7 guy, but he was a subpar shooter and mediocre ballhandler. You play the who-would-you-rather-have game with the rosters and you would favor most of the 2007 players. Nash or KJ? Duncan or Kemp? Stoudemire or Kemp? Shawn Marion or Buck Williams? The only untouchables are Payton and Barkley. And by the way, I'm not entirely convinced Jordan's Bulls could have beaten the Rockets in '94 or '95 when Hakeem Olajuwon was at the height of his filthiness (I mean that in a good way).
(3) I'm not totally certifiable. I know T-Mac or Vince Carter couldn't stop an 8-year-old on a PAL team. Dwyane Wade's defense also is suspect. My argument wasn't about their defense, but their offense. The evolution of size and skill from the '80s until now is obvious. This is a league filled with very tall, very big, athletic people who can shoot and do ridiculously dumb things above the rim. When Jordan played, some could match his athleticism, but not many. These days, 40-inch verticals are a dime a dozen. Jordan's killer instinct will always set him apart, but if he played today, his athleticism would not be the distinguishing factor it was before. I concede, though, he would have nearly 40 a game.
(4) I'll say it again: Kobe is just as good or better than MJ on the defensive end. Jordan was an unbelievable defender, but some of you seemed to forget he was playing alongside a defender who was just as capable -- Scottie Pippen. If you think that didn't help Jordan beef up his defensive stats, you are delusional. The reason I give Kobe even more credit is (A) he's the only player in the league even remotely interested in being a good defender and (B) he's been named to the All-Defensive first team four times during an age when every rule is geared to create more offense. Will Kobe ever win Defensive Player of the Year? Probably not. But then again, he probably won't win a lot of the awards Jordan received because people really, really hate Kobe. The wall of hate that Kobe faces is why he remains underappreciated. No matter how much surgery he performs on his image, most people always will view him as an egotistical ball hog who got away with a major sexual assault even though he was never convicted. Hey, people just prefer to show blind loyalty to a player some people believe is a degenerate, philandering gambler whose teammates would have killed him if they didn't fear prison.
(5) And yes, I still believe Kobe is a better player. This is an eyeball argument. Kobe will never be the best player who played the game. That achievement belongs to MJ alone. He'll never impact the world the way MJ did. But from a skill perspective, Kobe has MJ beat.
Now, a few e-mails:
Matthew Ivaliotes wrote: "Kobe Bryant is indeed comparable to a retired player. Dominique Wilkins. Both players were good enough to draw glory to themselves, alienating too many teammates, and selfish enough to make all but certain that they can't climb the mountain. Without Shaquille O'Neal, you never would have had the thought hit your head that Kobe Bryant is even an all time top-five player, much less No. 1."
Everybody needs help, even the great ones. How many titles did Jordan win without Pippen? I'll eat complete crow about this argument if Kobe gets a legitimate sidekick and doesn't do anything. So talk to me when his sidekick isn't Smush Parker.
From Steve Madison: Subject line: WHAT ARE YOU SMOKING?
"There is no way Kobe is/was better than Jordan. Jordan played in an era of Magic, Larry, Karl, Charles, etc. Jordan played in an era of team basketball and that's why he has six rings to Kobe's three. Better teammate, better defender and better player overall. Jordan could have put up 60 a night if he wanted to. Here's my list:
Better defender: Jordan
Better shooter: Jordan
Better passer: Jordan
Better teammate: Jordan
Better leader: Jordan
Better rapist: Kobe
The fact that the sexual-assault charge against Kobe was dropped was often overlooked by e-mailers.
And finally, my favorite e-mail, from Amsterdam:
"Hello, I'm Sharone Wright, a former top-six pick in the NBA. I was around Kobe my first and second year with the 76ers (Bryant worked out with the 76ers when he was in high school). Kobe would be the first to be at practice and he would be the last to leave. You want to talk about a will to win? This kid was amazing. He has a mad streak only the good ones have. When he wants to stop you, he will. When he wants 50, he'll give you 50. Simple as that. "I played a lot of games against Jordan, and truthfully Michael was the greatest I've ever seen, but Kobe has everything and even more to his game. The comparisons are so equal. So many critics let their displeasure for Kobe in his personal life blind them when it comes to his game and his place as one of the top-three players of all time. Kobe should be going on his fourth MVP, but they are so blinded by what their perception of Kobe is. Say what you want, but poll 20 NBA players right now, the ones that don't hold a grudge against Kobe, and they will tell you that it isn't even close to him and another player in the league. That's real talk for you."
Jemele Hill, a Page 2 columnist and writer for ESPN The Magazine, can be reached at jemeleespn@gmail.com.

Also See
ESPN Top Headlines