Listen up, NFL rookies. Enjoy feeling invincible -- no matter whether you're Brady Quinn, Calvin Johnson or Ramzee Robinson (pick No. 255).
The NFL fulfills dreams, bank accounts, even destinies. But stadiums, rosters and corporate suites must be filled, too.
The average NFL career supposedly lasts about 3.5 years, understand? But you don't think that will be you, do you?
You must learn the NFL is a fleeting thing. The story of Terreal Bierria might help you understand that better.
Like you, Terreal, a safety from Georgia who was the Seattle Seahawks' fourth-round pick in 2002, came into the NFL eager and thirsty. He couldn't believe he was being paid a handsome sum to play a kid's game. Whenever Terreal thought of how long his days in the NFL would last, he lost count.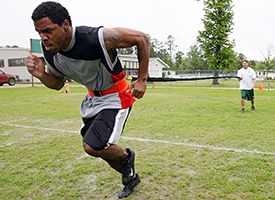 Chris Graythen for ESPN.com
Terreal Bierria contines to work out in hopes of getting another NFL tryout.
One decision -- it's worth noting it was the right decision -- changed everything. It altered his NFL career. Some might even say it killed it.
That decision, though, saved his family.
Bierria had started 12 games for the Seahawks in 2004, but was replaced late in the year because of performance and played only on special teams in Seattle's playoff loss to St. Louis. In training camp in 2005, he was fighting for a spot on the team. That's the NFL. And he was struggling.
But Bierria wasn't worried about his football career. He had far bigger concerns.
In the final days of camp, he had been sick with fear. His family -- some 150 relatives -- was trapped in the New Orleans area during Hurricane Katrina. He paced restlessly at the team hotel, watching as one news program after another showed thousands of people being feasted on by the deadly natural disaster.
He dialed family members' cell phones nonstop. He could find out only bits and pieces. He didn't know who was dead or alive. And he's supposed to worry about blitz schemes?
Thank God he heard from his daughter, mother, father and brother within the first couple days of the storm. His mother reached him from a hospital phone in Ruston, La. She did not have good news. The home Bierria bought for them was all but gone, along with his high school and Milne's Playground in downtown New Orleans, where his mother first signed him up for rec football. His grandmother was OK, but her home was buried by seven trees. A cousin was stranded on his roof, another on a bridge; some more family was in the Superdome, where news reports said something close to anarchy was taking place. An uncle was in intensive care in San Antonio, fighting for his life.
So many people he loved were suffering, and he was thousands of miles away feeling totally helpless.
"Just hearing the stories about the rapes going on in the shelters, people killing themselves, just the mad pandemonium going on down here," Bierria says. "As a man, I can't not go home and see about what's going on there."
He couldn't justify staying in Seattle, sitting comfortably in a lucrative NFL lifestyle while his relatives' lives were being torn apart.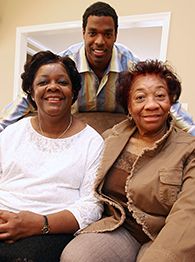 Chris Graythen for ESPN.com
Bierria at home in Slidell, La., with his mother, Brenda Williamson, and grandmother, Josephine Hartzog.
"I didn't know where half of my family was, and the other half, I didn't know if I was ever going to see them again," he says.
Bierria finally approached coach Mike Holmgren at the pregame meal before the Seahawks' final preseason game, against Minnesota. Bierria told his coach he couldn't play. He needed to leave to be with his family.
"Terreal is an emotional, caring person," said his mother, Brenda Williamson. "I didn't want him to see it. I told him to go back, dress and play. I didn't want him to see what was going on. His other family in New Orleans was missing. Everyone was in a state of panic. I didn't know how he would handle it."
Holmgren will tell you the worst part of his job is cutting players. He's cutting not just people, but dreams. But this was one of the most difficult situations he had ever dealt with.
He liked Bierria. All the coaches and players liked him, in fact. Holmgren empathized with Bierria, telling him before he left the team to call if there was anything he could do.
"When we drafted him, I was in charge of the draft," Holmgren says. "I really liked him. He's a great, young guy."
But the Seahawks were coming off a season with a pass defense ranked 23rd in the NFL (224.4 yards per game) and Bierria had started in most of those games.
That summer, there were five safeties in camp, including Michael Boulware, Seattle's new second-round pick. Boulware's emergence, coupled with the performance of the other safeties, put Bierria and Holmgren in a difficult spot.
"Unfortunately, this is a business," Holmgren said. "We have to do what is best for the football team. Tragedies like [Katrina] put football on the back burner, anyway."
Holmgren cut Bierria the day after he left to help his family in New Orleans. It was not easy because Holmgren was sensitive to his family situation. So sensitive, Holmgren says, that he held off from cutting Bierria the day the storm first hit.
"I want to say we might have cut him sooner if it hadn't been for Hurricane Katrina," Holmgren says.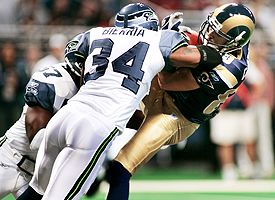 Peter Newcomb/WireImage.com
Bierria started the first 12 games at safety for the Seahawks in 2004.
While the Seahawks shaped their roster, Bierria and his brother loaded up a U-Haul full of supplies and drove to Houston, where several relatives had been transported by bus.
They drove in two-hour shifts from Seattle to Houston. By the time they arrived, Bierria was no longer a Seahawk.
It barely registered with Bierria, who didn't have time to grieve the NFL. He was in crisis management mode. Within days of arriving in Houston, Bierria bought a house. He was driving between Houston and San Antonio and New Orleans, sleeping in the U-Haul. Bierria got to see his uncle one last time before the ailing man died in a San Antonio hospital.
"He was talking to me and pulling me close and telling me to go back, we're proud of you and we're going to be all right," Bierria says. "That was the last thing he ever said to me."
Bierria's full-time job became helping his family rebuild. For the first time in his life, football was an afterthought. His then agent James "Bus" Cook -- who represents Calvin Johnson, Brett Favre and Steve McNair, among others -- started receiving calls from other teams as soon as the Seahawks cut him.
Bierria wasn't interested. He was too busy filling his new four-bedroom home in Houston with air mattresses. At one point, he had 20 relatives living with him. "He just lost interest in football for a period of time," Cook says.
Months passed, and his family got back on its feet. Bierria finally realized that while he was helping his relatives regain their lives, he had lost his. He and Cook severed ties because Bierria wasn't in a position to put football No. 1. Soon, no teams were calling.
"Once I saw that everybody was back in their homes and totally getting back to their everyday lives, I was like, OK, I don't have anything to go back to," Bierria says.
In a league where guaranteed money is a curse word, someone bigger, faster and cheaper is always there, ready to take your place.
Bierria works out every day and is anxious to play again, but the 26-year-old is heading into his third season out of the NFL. His workout with the Miami Dolphins, who brought him to South Florida last month, is the only one he has received since the Seahawks cut him.
Character has become an important issue in post-Pacman Jones times. But Bierria, who might have sacrificed his livelihood for his family's survival, got one shot. Jones, Tank Johnson and Chris Henry -- talented players, for sure -- have received multiple chances. Fair?
"It's not like I left football because I wanted to go party, go do certain exploits," Terreal says. "I left it because of one of the greatest tragedies in American history."
Says Cook: "He's a good kid and good football player. I can't understand why nobody is giving him a chance."
Says Holmgren: "He's really a great kid. I really want him to do well."
That's got to mean something, right?
A weaker man would be regretful, especially considering the Seahawks played in Super Bowl XL the season Bierria left. "If I had to do it 10 out of 10 times, I'd do it 10 out of 10," Bierria says. Ironically, Seattle lost to Pittsburgh because of two big plays allowed by backup safety Etric Pruitt, who had been on the practice squad a few weeks earlier. Pruitt was filling in for Marquand Manuel, who left in the second quarter with a hip injury.
Bierria is human, so there are times when he wonders whether leaving the Seahawks that way scared off NFL teams. He worries they question his commitment. He wonders whether he would still be with the Seahawks if he had decided to stay.
"I can in all honesty say no," Holmgren says. "Would he still be in the league? I don't know. Katrina was a horrible thing, but it had nothing to do with him being released."
Besides, Bierria's job as family savior isn't quite done. His family has needed him just as much in the Katrina aftermath as it did during the crux of the storm.
His mother and stepfather are in the middle of a divorce. Since Bierria and his mother returned to their hometown of Slidell, La., they've buried five family members who died of causes ranging from stroke to heart attack.
But Bierria blames the storm. One of his cousins died after a rogue contractor stole the money she gave him to build a new home in New Orleans.
"She was 54 years old," Brenda says. "She paid him all her money, and she just sat on her couch and passed."
If Bierria never played in the NFL again, he could handle it. He believes everything -- even the bad things -- happens for a reason. A phrase in the Bible echoes in his head. It goes: "It's only in the depths of silence that the voice of God can be heard." Although life without football is more silent than he imagined.
But Bierria doesn't want pity. Things could be worse. Imagine if he had left his family to fend for itself.
Jemele Hill, a Page 2 columnist and writer for ESPN The Magazine, can be reached at jemeleespn@gmail.com.