A historical question: Could Robert Horry's cheap shot on Steve Nash in Game 4 be the biggest shot of his career?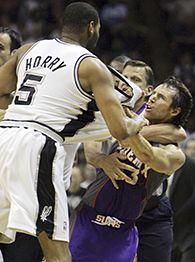 AP Photo/Lm Otero
It wasn't a 3-pointer, but Robert Horry may have struck the biggest blow in a playoff series yet again.
The trey Horry nailed to destroy the Sacramento Kings' NBA title hopes in 2002 did nothing compared to the damage his forearm could do to the Phoenix Suns, who until the final 18 seconds of Monday night's critical Game 4 were tougher than the San Antonio Spurs. The forearm buried Nash underneath the scorer's table, but most importantly, it incited Amare Stoudemire and Boris Diaw to charge onto the court from the bench -- which all but guarantees them a suspension for Game 5 in Phoenix.
Hey, they don't call him Big Shot Bob for nothing.
If the NBA hands out the expected suspensions, the Spurs will lose only the whopping seven points per game Horry is averaging in this series. Meanwhile, Phoenix will lose two of its top six players and a serious chance to put the Spurs' neck in a guillotine.
Is it fair? No. Is it right? Absolutely. The NBA doesn't have much choice but to suspend Horry, Stoudemire and Diaw for Game 5.
CHAT WRAP
We asked you to engage Jemele Hill
in a lively debate about Robert Horry's forearm shiver, and you came through with flying colors.
• Jemele Hill chat wrap
The rule about players leaving the bench is there to prevent situations from escalating into utter embarrassments. It's an ironclad rule that isn't open to interpretation, and it can't be applied differently because it adversely affects one team more than the other. In fact, the point of the rule is to affect teams so adversely they don't break it.
If the league does nothing to Stoudemire and Diaw, it will set an awful precedent and send the message that the rules are vulnerable to perception and public outcry. As if the Suns are the only team in NBA history that can claim this rule puts them at an unfair disadvantage.
And there's no way Stoudemire just was ambling to the scorer's table to check back into the game, as he claimed afterward. Give him (or the Suns' PR rep) credit for coming up with such a cute excuse. But go watch the replay. Stoudemire broke out into a Carl Lewis-like sprint toward the on-court scrum -- looking like he wanted to do to Horry what Uma Thurman did to David Carradine in the final scene of "Kill Bill: Vol. 2" -- which weakens Stoudemire's creative explanation.
Look, I get why Stoudemire and Diaw rushed to Nash's defense. Nash is their boy, and teammates are obligated to stick up for one another -- especially in a series that has grown as testy as this one. The Spurs were behaving uncharacteristically graceless, and Horry's forearm of frustration was exacted because the Spurs blew an 11-point lead late in the game -- and thus a golden opportunity to put their foot on Phoenix's neck.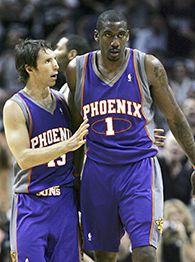 AP Photo/Lm Otero
We'll see if David Stern buys Amare Stoudemire's explanation, or just shows him some mercy.
But given how commissioner David Stern has shown zero tolerance for player misconduct since the Detroit-Indiana brawl, what Stoudemire and Diaw did simply wasn't smart. And by the way, did you notice how the Spurs' bench stayed put, further undermining Stoudemire's contrived explanation?
You'd have thought the Suns would have learned from Raja Bell's one-game playoff suspension against the Lakers last year. Bell's clothesline on Kobe Bryant could have cost the Suns that series.
The Spurs are much stronger than the Lakers, and losing Stoudemire and Diaw will hurt a whole lot more than losing Bell. Even if the league decides to suspend Horry for two games, Phoenix will be affected much more.
Of course, this is going to fuel speculation that Horry's cheap shot was on purpose. But all it does is show exactly how much the Spurs are in Phoenix's head.
The Suns won Game 4, but the Spurs are winning the mental war. The Suns' gritty victory was powerful enough to change this series permanently in their direction, but they've now given the power back to the Spurs with one bad decision.
The Spurs maintain a certain advantage as long they can yank Phoenix's chain whenever they want. And Big Shot Bob's reputation for delivering in the playoffs continues to be well-deserved.
Page 2 columnist Jemele Hill can be reached at jemeleespn@gmail.com.

Also See
ESPN Top Headlines