Now that the worst NBA Finals in history are over -- you can pour dirt on the Cavaliers, because they're dead -- we need to start discussing who should be named the Finals MVP.
If you think it should be Tony Parker, you're wrong. If you think it should be Tim Duncan, wrong again. If you think it should be Bruce Bowen … that's cute, but NO.
The truth is, most of the real MVPs of this series aren't even playing in the Finals. But they have as much to do with San Antonio's fourth title in nine years as Duncan's nightly double-double. And it's imperative that their contributions be recognized properly.
So here they are, the real MVP candidates: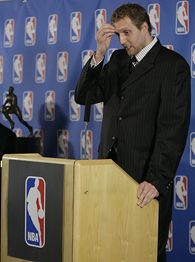 AP Photo/Matt Slocum
Enjoy that MVP trophy over the offseason, Dirk.
DIRK NOWITZKI
And people said Dirk couldn't deliver in the clutch. Thanks to the regular-season MVP's Charmin-esque performance against Golden State, the Spurs were able to roll through the Western Conference without facing the team that eliminated them from last year's playoffs. Way to go, Dirk.
AVERY JOHNSON
The Mavericks coach exposed his fear of the Warriors when he changed his starting lineup heading into Game 1, which turned out to be a horrible idea. Since when does the No. 1 seed change its lineup to suit the No. 8 seed? Johnson also couldn't figure out a way to use the league's MVP effectively against Golden State. He couldn't take advantage of Golden State's lack of size. Nor could he figure out how to stop Baron Davis. Don't tell me Johnson isn't a Spur for life!
DAVID STERN AND STU JACKSON
Although I had no problem with them enforcing the rule, the fact remains that their decision to suspend Amare Stoudemire and Boris Diaw did alter the series. So when Stern hands the Spurs the championship trophy, it truly will represent a team effort.
MARC IAVARONI, STOUDEMIRE AND DIAW
Iavaroni, then a Suns assistant coach, couldn't prevent Stoudemire and Diaw from leaving the bench after Robert Horry took out Steve Nash -- which is one of the three tasks an NBA assistant coach actually has. Stoudemire and Diaw were suspended for Game 5, which the Spurs won. If the Spurs have any class, they'll engrave Iavaroni's, Stoudemire's and Diaw's names on the Finals trophy. The least those guys deserve is a championship T-shirt.
FLIP SAUNDERS
The No. 2 question reporters at the Finals keep asking one another: How the hell did the Pistons lose to Cleveland?
The answer: Flip Saunders.
(By the way, the No. 1 question is: What time does the media hospitality suite open? Scroll down to read about an MVP performance that took place there after Game 3.)
Among the many brilliant moves Saunders made in the Eastern Conference finals: (1) Not consistently trapping LeBron James, who has committed 17 turnovers in three games against the Spurs because of the Spurs' trap; (2) Not fouling James, a shaky free-throw shooter, at some point when he was annihilating the Pistons in Game 5; (3) Dusting off Nazr Mohammed in Game 6, even though Mohammed had been used this season about as often as ColecoVision. With coaching moves like those, it's no surprise the Timberwolves made it out of the first round of the playoffs just once during Saunders' nine years in Minnesota.
VANCOUVER GRIZZLIES
In the 2001 draft, the Grizzlies took Jamaal Tinsley at No. 27 instead of Tony Parker, who went to the Spurs one pick later. Bravo. That's worthy of a Spurs championship ring.
DREW GOODEN'S HAIR PATCH
To be fair, it's called a "duck tail" -- which I last saw in the movie "Breakin'." That hair patch is so disturbing, it can be directly linked to the Cavaliers shooting 40 percent from the field in this series.
BRIAN MCINTYRE, NBA SENIOR VP OF COMMUNICATIONS
Or "B-Mac," as Slam executive editor Lang Whitaker calls him. McIntyre skillfully persuaded the hotel staff at the Marriott Renaissance in Cleveland to continue serving alcohol in the media hospitality suite for an extra hour Tuesday night. In fact, "skillfully persuaded" probably doesn't do B-Mac's performance justice. It was Jack Bauer-esque. I'm pretty sure B-Mac told the hotel manager at one point, "You probably don't think that I can force this towel down your throat. But trust me, I can. All the way."
B-Mac's my MVP, but you can cast your MVP vote at jemeleespn@gmail.com.