There's been a tribute missing at this year's Wimbledon.
We know all about these sports pioneers and barrier breakers: Jackie Robinson, Arthur Ashe, Tiger Woods.
But one name doesn't come up nearly enough. And if there ever was a year for us to remember her, it's this year. So remember her along with me …
Althea Gibson.
Today marks the 50th anniversary of Gibson's historic singles win at the All-England Club, when she became the first black to bring home tennis' most prestigious title.
But this week, of all weeks, and today of all days, why is the Wimbledon brass not honoring Gibson? A perfect storm appears to be gathering. Venus Williams remains strongly in the mix to win her fourth Wimbledon. This is the first year the men's and women's champions will earn equal prize money.
Know how much money Gibson earned for winning Wimbledon in 1957? Zilch. Know what Venus will bank if she wins win? $1.4 million. Now that's progress.
But let's not forget the Wimbledon elite found time to be outraged about 19-year-old Tatiana Golovin's red underpants. And the hot-button issue this week has been whether Wimbledon should be moved to avoid the drab weather. Glad to know the priorities are intact.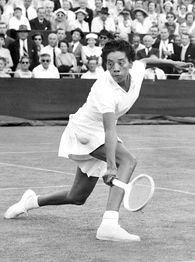 AP Photo
Althea Gibson deserves more recognition for the path she blazed.
The sad part is, Gibson, who died in 2003, was used to being ignored.
"Some people think Arthur Ashe was the first one to make inroads, but it was Althea Gibson," said Yanick Lamb, a journalism teacher at Howard who co-wrote the book, Born to Win: The Authorized Biography of Althea Gibson. "He always gave her credit for that."
But could you imagine MLB overlooking the 60th anniversary of Jackie Robinson's major league debut? Several players wore the number No. 42 that day earlier this season to honor Robinson. Can't tennis do something to honor Gibson?
There are plans to honor Gibson at the U.S. Open, but why wait until then? Doesn't it make more sense to honor Gibson in the same place where she made history?
This isn't a battle of barrier breakers, but it can be argued that Gibson's place in sports history -- American history, really -- is just as important as Robinson's. After all, Gibson broke not just one color barrier, but two. Not only was she the first African-American to integrate tennis, she also was the first black woman on the LPGA Tour.
Unlike Robinson, Gibson was one of the best players in the world when she integrated tennis. She'd won 10 national championships in the American Tennis Association, the governing body for black tournaments. Gibson didn't have a Branch Rickey to ease her transition into the all-white world of tennis. And she faced incredible discrimination, because she carried the dual burden of race and gender.
According to Lamb's book, tournaments were sometimes canceled if Gibson entered them. During the first match she played in the U.S. Lawn Tennis Association -- which predated open tennis and the WTA -- people in the crowd yelled "Beat the nigger!" Gibson commonly heard outbursts like that when she played.
But racism didn't stop Gibson -- the daughter of South Carolina sharecroppers -- from being a two-time Associated Press Female Athlete of the Year. Or from winning 11 Grand Slam titles, including two U.S. Opens and three consecutive doubles titles at the French Open.
"She's an amazing, amazing person," said Traci Green, who took over the Harvard women's tennis program this month -- making her the first African-American female head coach ever at the university. "I feel like I'm a part of her legacy."
Because a pro tennis tour was nonexistent back then, Gibson eventually turned to professional golf. She was nowhere near as dominant in golf as she was in tennis, but when she joined the LPGA another door was opened.
The latter stages of Gibson's life were also full of hardship -- another important aspect of her story. She nearly went bankrupt before some close friends, including tennis legend Billie Jean King and former New York City Mayor David Dinkins, began raising money on her behalf. Her health deteriorated rapidly. She had a stroke and a heart attack before eventually dying of respiratory failure in 2003 at age 76.
"I think she softened a bit, but she did have points where she was bitter," Lamb said. "Part of it was the times, and what the country was evolving to. She didn't get the endorsements people got, or the opportunity to be a teaching pro. She was too early."
Lamb said Gibson took great pride in the Williams sisters' accomplishments. Any bitterness Gibson felt wasn't directed at the generation of minority players she helped spawn. Gibson could do anything she wanted on the court -- just not off of it.
The least we can do is make sure no one forgets her.
Page 2 columnist Jemele Hill can be reached at jemeleespn@gmail.com.