"It's just so hard to be this fabulous."
--Victoria Beckham, 2007
If you sacrificed a few brain cells and watched Victoria Beckham's reality TV show on NBC, "Coming to America," then you know she isn't lying.
It is difficult to stay fabulous when all you do in a 24-hour span is ... be fabulous. Your fabulousness can't top itself every minute, can it? Sometimes, even fabulousness needs to replenish itself.
But that is why we're lucky reality TV is around to document not only the Beckhams and their arrival in Los Angeles, but the other celebrity sports couples who decided we need an inside look at their dysfunction.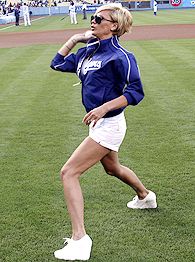 WireImage.com
Shockingly, the Dodgers immediately signed Posh to a $5 million contract. ("Hey, it's not as bad as the Juan Pierre deal," said GM Ned Colletti.)
The Beckhams are just the first of several celebrity sports couples to have a reality TV show. Theirs is the most inane, but there are others who have provided us with an inside look at, er, fabulousness.
"Victoria Beckham: Coming to America"
Starring: Victoria and David Beckham
Network: NBC
The breakdown: I was bummed to learn this wasn't the Eddie Murphy movie, which is an all-time comedy classic just for the barbershop scenes alone. (Best line: "His momma called him Clay. I'mma call him Clay.")
Anyway, the Beckhams' reality show is centered around Posh Spice's adjustment to America. You might have missed this on the news, but her husband, David Beckham, is a really famous international soccer player who is coming to the Los Angeles Galaxy to force us barbaric, mindless Americans to embrace soccer.
If we were better Americans, we would be appalled by a reality show that features a washed-up pop singer who weighs less than a gym shoe and a mildly overrated athlete who is No.1 on the Scientology recruiting list.
But this is the type of reality show we typically love!
Thursday night's episode had some scintillating moments, including Posh using a blow-up doll to evade the paparazzi, Posh throwing out the first pitch at the Dodgers game, Tommy Lasorda's awkward attempts to try to talk to this woman about anything, and of course, Posh and Becks getting all kissy-wissy at a photo shoot.
PLEASE, SIGN THEM UP
Here are the celebrity sports couples who should have their own reality TV show:

Allen and Tawanna Iverson: Let's see, in 2002 Allen was accused of throwing Tawanna out of their mansion and then looking for her at her cousin's apartment with a gun in tow. He recently settled a civil suit for an incident stemming from a nightclub fight two years ago. The Iversons could make Bobby and Whitney look like June and Ward.

Tom Brady, Gisele Bundchen and Bridget Moynihan: Imagine the battles between the baby momma and new girlfriend. Imagine an angry Gisele looking on as Bridget and Tom share a moment with Baby Brady. Imagine a brooding Brady just standing there looking like an Abercrombie & Fitch ad.

Matt Leinart and (insert name here): Like Brady, he also has baby-momma drama. But the big payday would be when Leinart wakes up next to someone and doesn't know who she is.

Kobe and Vanessa Bryant: If a $4 million ring gets him off the hook for cheating, what does not taking out the trash run you in the Bryant household?

Tony Parker and Eva Longoria: We can see what they really did with their $15,000 cake and hope one of Longoria's "Desperate Housewives" co-stars hits on her husband.
Disastrous is too kind of a word. Who knew Posh could make Pam Anderson and Jessica Simpson seem like Mensa board members? When Posh's assistant told her she was going to throw out the first pitch at the Dodgers game, Posh responded with a straight face: "What if I make them lose?"
Oh, Becks, the dinner conversation must be so engaging.
Memorable moment: Of course, upon arriving in Los Angeles, Posh just had to hire a new assistant. The exchange during their "interview":
Assistant: Will I be assisting David, too?
Posh (offended): Why? Do you want to? Do you think he's hot?
Assistant (uncomfortable): Um, he's not ugly.
Memorable moment No. 2 was when gossip blogger Perez Hilton asked Posh if her breasts really looked that big.
"They're not that big in the flesh," she said.
Rating: I give it two silicone implants, a tummy tuck and a collagen injection.
"Committed: The Christies"
Starring: Doug and Jackie Christie
Network: BET
The breakdown: This was supposed to be the behind-the-scenes story of the most whipped man in the history of professional athletics and his unstable partner.
But their series wasn't what anyone expected. HBO's "Real Sports" in-depth look at their relationship was a lot more compelling than anything the Christies came up with in their reality series, which aired last October.
Jackie made it known the only way to stay happily married to a NBA player is to stalk him, but she barely summoned Alex Forrest on the reality show. She had a few moments, like when her girlfriend agreed that Doug was a good catch and Jackie snapped, "See, if you weren't my friend, I couldn't go for someone talking about my man like that!"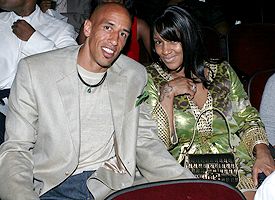 WireImage.com
You can't see it, but Doug has a leash tied to his right wrist.
It was one of BET's most-hyped shows, but never lived up to the billing. Of course, I wouldn't go so far as to call the Christies normal, but we knew the best details about their relationship before the series -- Jackie following the team bus in a separate car on road trips, Jackie not allowing Doug to do one-on-one interviews with female reporters, and the constant kiss-blowing during games. In their "Real Sports" interview, Jackie sets herself as the only possible suspect should Doug come up missing. She told HBO if he cheated on her, she would kill him. Now, that's drama.
Memorable moment: This was tough. Couldn't decide if it was when Jackie swore she saw Sasquatch in Seattle, when Doug unsuccessfully tried to convince his wife that owls existed, or when Jackie wondered if there were elves. I see a National Geographic reality show with Jackie coming soon.
Jackie: "So are they out at night or in the morning?"
Doug: "Night owl!"
Jackie: ""No, you're saying what you heard on TV. They're not real."
Even though Doug bet her a foot rub that owls existed, I give Jackie credit for not giving up easily. "They're not real," she said. "Why aren't there any at the zoo? You can't go see the owl exhibit at the zoo."
Rating: Two-and-a-half ice picks.
"I Married a Baller"
Starring: Eddie George and Tamara Johnson-George (aka Taj)
Network: TV One
The breakdown: Easily the most intelligent and balanced of the celebrity sports couple reality shows … which means nobody cared.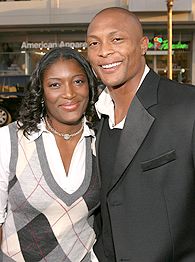 WireImage.com
They're smart, normal and in love -- wait, why do the Georges have a reality program, again?
In case you don't know about his wife, allow me to give you a quick lesson in 1990s' R&B. George's wife was a member of the singing group SWV-Sisters with Voices, a multi-platinum group. Unlike the Spice Girls, SWV was actually good.
This show had no stereotypes, gratuitous sex talk, nudity, or any of the low-rent behavior that is commonly associated with reality shows. There was an episode where Eddie took the GMAT, one where he and Taj went rock-climbing, one where Taj visited the Ohio State campus because she wanted to get a feel for the college life she missed.
It was just too wholesome. They were too normal. This was a real marriage where you understood why the couple was together. Most reality shows, you feel like you'll rot in hell for watching. This one made you feel like you should have morals and values.
Ugh.
Memorable moment: Taj is the only reality wife who doesn't come off as stupid, so there wasn't a lot there. However, you were given the rare, genuine, heartfelt reality moment when Eddie accepted his induction into the Ohio State Hall of Fame. Eddie cried and thanked his father, who had been estranged.
Rating: Two thumbs up. All kidding aside, sometimes it's good to be reminded that there are positive, intelligent African-American athletes and not all sports couples are dysfunctional. Although, dysfunction makes for great reality TV.
Page 2 columnist Jemele Hill can be reached at jemeleespn@gmail.com.