NASHVILLE -- This one could have been called "House Hunting with Eddie George."
When Page 2 caught up with former NFL running back Eddie George and his wife Tamara "Taj" Johnson, they were in the middle of some serious house scouting in Nashville. They invited us to tag along (and even used us as the tiebreaking vote when the couple couldn't decide between a pair of multi-million-dollar homes.)
Eddie and Taj are exactly who we thought they were. Their reality show "I Married A Baller" wasn't contrived. They are definitely real folk. They are the anti-Christies, the anti-Beckhams, the anti-Bobby and Whitney.
A big reason they didn't wind up like Nick and Jessica is they had their own identities before becoming a celebrity couple. Before she was Eddie George's wife, Johnson was one-third of the R&B group Sisters With Voices (SWV), who dominated the R&B charts in the 1990s. And before he was Taj Johnson's husband, George starred at Ohio State and later with the Tennessee Titans for seven of his eight NFL seasons.
George retired unceremoniously from football in 2005 -- no press conference, no tears, no swan song -- with more than 10,000 rushing yards, finishing his career as a Dallas Cowboy after a nasty departure from the Titans. These days, the four-time Pro Bowler is absurdly busy. He and his wife have a non-profit organization (V.I.P -- Visions with Infinite Possibilites). He has a weekly Internet radio show on voiceamerica.com, a restaurant in Columbus, Ohio (Eddie George's Grille 27), makes regular appearances on "The Best Damn Sports Show Period" and is a college football analyst for Fox.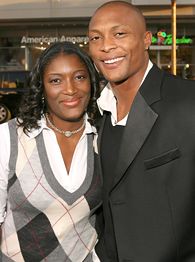 Eddie Grant/WireImage.com
Eddie and Taj look like a happy couple, don't they?
Jemele Hill: How did you and Taj meet?
Eddie George: We met in the mall in Orlando, and she was in there dressed up. I was in there with [former OSU teammate and current Washington Redskins cornerback] Shawn Springs doing some Christmas shopping. We noticed her -- like, there's the girl from SWV! Shawn was like, "Let's get her autograph." I told him, "No, I'm not trying to sweat her like that." She had all these bags and stuff. I said, "Are you the girl from SWV?" She said, "Yeah." I asked her for her autograph and she said, "I'm just here with my family." I was like, "I will never, ever buy another album from you again!" I said, "You know what? That evil, stuck-up, conceited chick dissed me!" I said, "OK, wait 'til I blow up."
So, the next year, I won the Heisman Trophy. That night, I went out to celebrate at a club. I walked in, I saw a couple of celebs and I see Tamara walking by. Next thing I know, I feel a tap on the shoulder. I think, "A ha! I got her!"
What's your favorite food?
I'm going to say cheese pizza. What did she say?
She said pizza. I also told her to list three things you do that irritate her. What do you think they are?
Tickling. She hates tickling. I put my finger in her belly button. She hates that. When we're in bed, I put my big toe and my index toe, I try to put that on her Achilles' heel and she hates that.
She said none of those.
Really? Not the tickling?
Nope. She said you're very messy and you have taught your sons [Eriq and Jaire] to be messy.
But they're around her all the time! How are they getting it from me?
She also said you are so methodical.
I am methodical.
A lot has changed since you left the NFL. The major thing is, there is a renewed emphasis on how guys behave off the field. What do you think about the renewed emphasis on player conduct in the NFL?
I think Roger Goodell has done a good job of implementing new rules for that, because at one point it was getting out of hand. Someone was doing something [wrong] routinely. Goodell's job, and he'll tell you this, is to protect that shield and everything that involves that shield, including [the] integrity of the shield. It wasn't a good situation. It was starting to tarnish the shield. He had to do something. I totally agree with what he's done. If you so much as sniff trouble, you'll be dealt with. You look at Pacman Jones, and yeah, he's not guilty of anything, but he had 11 run-ins with the law. When does it end? To me that says: I'm above the law. I can do what I want to do. It's never my fault. So, at some point in time, you have to lay the hammer down and say, "Listen, this type of behavior will not be tolerated."
Between Pacman Jones, Michael Vick and Tank Johnson, as an ex-player, did they make you feel any sense of embarrassment?
Not at all. Every year when I was playing you had issues like that. You had guys who had issues like that, but it wasn't as prevalent. A lot of guys weren't doing it. It was pretty much kept in check. Nowadays, it seems as though it's run amuck.
Because all of those cases involve high-profile black athletes, some have termed it a crisis for black athletes. Do you see it that way? Or is it exaggerated?
Well, 80 percent of the NFL is black. And, like it or not, it's coming from the black players. I think it was USA Today or Sports Illustrated -- they had on the front cover, I guess it was 31 players [who had committed crimes as NFL players] and of 31, two of them were white. The facts are there. I believe it's not because of our culture or racially against us. We do things differently, but you have to understand something -- we have a bull's-eye on our back. Let's talk about the elephant in the room. That's what it is. You're young, you're black, and if you don't handle it correctly, and you're making more money than certain people, they don't accept that very well. You have to be smart. You have to know how to play the game. It's not selling out, but it's really conducting yourself in a way where you stay out of the public eye. You have your fun, but you also have to think beyond the playing field itself and look forward toward the future.
What was helpful for you in terms of handling being a young, black athlete making a lot of money? How did you make the transition?
I had a good support system. I went to military school, where I had to go because I lacked discipline for a long time. What helped me was my mom's guidance and going to military school. I was never of the mind-set of being really into materialistic things. I like cars. I like nice things, but that's not what drives me. What drives me is to be great, to be the best at whatever it is I do and to really embrace whatever my life's work is. It's not about cars. It's not about impressing people. I'm not going to sit up here and say I'm a saint or an angel and never did anything wrong. I made plenty of mistakes, but none where it was so big it was in the public eye.
Your split with the Titans was very nasty. When you saw Steve McNair go through similar things, what were your thoughts?
I wasn't surprised. I've seen that organization handle players like that for awhile. But Steve was a franchise quarterback, the face of the organization, he had done so much. He played hurt on several occasions. He sacrificed his body and was told to get out. To be barred from the facility was absolutely disrespectful.
Did the irony ever dawn on you that you and Steve McNair had nasty splits with the Titans, yet the Titans seem like they're doing everything they can to keep Pacman Jones?
(Laughs) He doesn't have the mileage that we had. So it comes down to a money thing, in my opinion. Right now, [Pacman] could have played his last game in a Titans uniform, but they would probably like to use him as trade bait or see where he is a year from now. No doubt about it: Pacman Jones is a great talent. He has issues off the field. But if he deals with those issues and finds a way to show people that he can handle his business and not be out in public making trouble, then he'll be fine. On some level, Jeff Fisher and that organization, they believe in him as a person and a playmaker. They think he can change. With us, at that particular time, they felt like they got the most out of us and they wanted to move on.
How often do you think about Super Bowl XXXIV?
Oh, only when people mention it. It's not something I think about every day and I'm like, "Oh, gosh, I feel like I'm going to go jump off a bridge because we didn't get the one yard." Nah. That's life. That's how it happens. But that's a game that everybody remembers. Although I don't have the ring, [people] appreciate the fight. They appreciate the battle. They appreciate the fact we went to the bitter end. So in that regard, we will always be remembered.
Admit it: You think you could have gotten that one yard.
You're damn right I do.
---
In the spirit of "The Newlywed Game" we tested Taj and Eddie on how well they know each other, to further prove they weren't faking it on "I Married A Baller." And, like most married couples, they gave us completely different answers.
We also asked Taj how she and Eddie have survived -- unlike other reality show couples. (Nick Lachey and Jessica Simpson, Bobby Brown and Whitney Houston, and Carmen Electra and Dave Navarro all divorced after their reality shows.)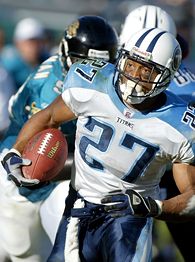 AP Photo/Phil Coale
Eddie George was one of the best running backs in the NFL in his prime.
Jemele Hill: How did you two meet?
Taj Johnson: This will be two different versions, but believe me, my version is the truth. We actually met in a mall in Florida during Christmas '94. He was there for the Citrus Bowl and I was there with a friend of mine. I was at the mall shopping and I had gotten separated from my friends. Him and Shawn [Springs] noticed me standing by a store. They walked up to me asking me for an autograph. I had been in the mall seven hours. I was stressed. I was tired. I signed the autograph and went away. He says I blew him off and didn't pay him any attention. I really didn't look at him. I would have never recognized him. He looked a little different that year compared to the next year.
We kind of lost touch. A year later he was in New York picking up his Heisman Trophy. I was at a jazz club getting over my ex-boyfriend and he was there celebrating. We just kind of bumped into each other. We talked for about a week. We lost touch again, for two years this time. Then, as fate would have it, we ran into each other again at a fashion show in New York. As I was walking toward the bar, he was walking away from the bar and we kind of bumped into each other. We've been stuck together ever since.
So he approached you?
He was my fan first. We weren't really pursuing each other then, but the next year it was a mutual thing. When we lost contact, it was because of me. I ended the relationship because I was still kind of attached to my ex-boyfriend. I didn't want to involve Eddie in a triangle because he was such a nice guy. But when I told him I didn't want to see him anymore, he wasn't heartbroken.
What's Eddie's favorite food?
Pizza. He loves pizza. He's greedy, though. He's like a little ninja turtle.
Give me three of Eddie's pet peeves.
He doesn't really have any. See, Eddie lives this little carefree life, where nothing gets to him or bothers him. Now, he has some pet peeves that drive me crazy. For instance, he's messy. I think it's a gene thing because it was passed down to my sons. He's a typical male and he's passed those typical male genes down to my poor babies. They act just like their daddy.
Between the two of you, who is better at fixing things?
I'm the person that fixes everything. I'm the gadget person in the house. I do the tires. I do the cars. I do everything.
Who is the better cook?
Eddie is the better cook. He makes the best homemade tomato sauce for spaghetti.
Who is the bigger kid?
I always say I have three sons and my oldest is 33.
What kind of response have you gotten from "I Married A Baller?"
The response has been overwhelming. It was our first reality show. We didn't know what to expect. When we were shooting, we were just being ourselves. People find us to be so refreshing, like we're this couple that brought love back. And we're just like everybody else. Sometimes, I just want to knock the crap out of him, but my wanting to hit him doesn't exceed my love for him.
You saw what happened with Nick and Jessica. Were you worried about letting America in on your day-to-day life with Eddie?
I wasn't worried at all about our marriage after hearing about the jinx with reality shows for couples. I knew, going in, we wouldn't try to be anything other than what we were. If what we were wasn't strong enough to endure one reality show, then we didn't need to be together.
On one episode of "I Married A Baller" you and SWV briefly reunited. Any plans for a full-blown reunion?
For the most part, we're all doing our own projects. Coko has her album. My husband and I have our show, and my book, called "Playa Hate Her," will be out later this year. Unfortunately there isn't time for a SWV album. But we're all still here and aren't going anywhere.
Page 2 columnist Jemele Hill can be reached at jemeleespn@gmail.com.