To quote that astute, ghetto philosopher, Deebo: "Beat him down, I beat you down."
Just one of the many gems Deebo dropped in the movie "Friday," but it's appropriate to recollect for this column since it sums up what we've seen from Bill Belichick and the New England Patriots as they've cruised to 8-0.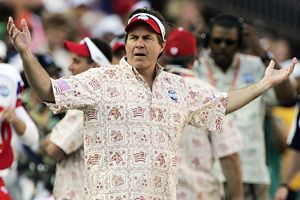 AP Photo/Reed Saxon
Suge Knight probably wouldn't wear this shirt,
but you can't deny Bill Belichick's street cred.
The Patriots, who prepare for Sunday's midseason Super Bowl against the 7-0 Colts, have redefined pissed off. No one thought better of poking the bear earlier in the season, when the media and other NFL players took shots at the Patriots for Videogate, questioning their championships and calling them cheaters -- even though New England engaged in a practice as common as corsages at the prom.
But like a man once told my trash-talking momma after he whipped her in a game of pool: "Ain't no fun when the rabbit got the gun."
The NFL world is considerably brighter since the Patriots assumed the role of the strapped rabbit. The venom the Patriots have displayed the past several weeks has taken them from boring, goody-goody multi-Super Bowl winner to the most interesting, reviled NFL team in years.
In fact, Belichick is no longer just a genius coach with a ratty hoodie. He's added an element of pure gangsta to his already impressive game. He is officially the NFL's Suge Knight.
From here on out, he's Suge Belichick.
This is not a rip on Belichick or the Patriots. This is me fully appreciating their contempt and sense of revenge.
Suge Belichick doesn't care if you like him, his team or his methods. He'll ring up 52 on you, beat you like you stole something, and if the media dares question him about it, he makes Barry Bonds' interactions with the press seem like International Coffee moments. And, according to the tabloids, Suge Belichick will steal your wife, too.
Straight from the Book Of Suge.
Has any team gone from beloved to be-hated like the Patriots? And I thought dogfighting had the real staying power. Turns out, nothing has traction like bitching about the Patriots.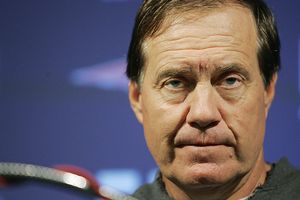 AP Photo/Stephan Savoia
This is the man who might just steal your wife.
Who will be the next player to call the Patriots classless? Who will be the one to question a Patriot flea-flicker at a supposedly inappropriate time? Who wants to be the sacrificial lamb to ensure that another team on the Pats' schedule gets its hind parts rearranged?
People don't seem to understand that the more they criticize the Patriots, the more it fuels their vengeance.
Concerns about whether the Patriots are setting themselves up for a costly cheap shot at one their best players are overblown. Far more disconcerting is the possibility of Belichick exerting more of his Suge-ness.
Ever hear the story about how the real Suge Knight allegedly dangled rapper Vanilla Ice from a 20th-floor balcony to coerce Ice into signing over royalties from "Ice, Ice Baby"? If someone else calls Belichick classless, I'm afraid he might do the same thing to LaDainian Tomlinson, the first to publicly make that statement because New England players stomped on the Chargers logo after disposing of them in last season's playoffs.
The attacks on the Patriots' character are certainly amusing and highly hypocritical. Naturally, Tomlinson failed to mention what teammate Drayton Florence reportedly told fans at Gillette Stadium following San Diego's 41-17 win in 2005. "[Expletive] New England and their team," Florence said, according to the Providence Journal. "Get that look of shock off your faces. Don't be shocked. We beat your ass."
How could the Chargers ever single the Patriots out for cheating -- "I'm not surprised," Tomlinson said when asked for his reaction to the videotape scandal -- when their best linebacker, Shawne Merriman, went to the Pro Bowl after a suspension for violating the league's steroid policy?
Yep, you stay classy, San Diego.
The Dolphins and Redskins, the latest crybabies, should be more embarrassed by their play than anything the Patriots did to them. Miami is pathetic, and the Redskins looked like they checked out of that game in the first quarter. How is it the Patriots' responsibility to have more respect for these teams than they have for themselves?
Besides, it's not in Suge Belichick's nature to care about offending anyone's fragile sensibilities. In fact, if you think about it, how he's handled the Patriots this season represents some of the most masterful coaching ever demonstrated.
All that these controversies have done is give Belichick an excuse to operate in a bunker mentality. Suge Belichick is proving to his guys he will ride or die for them, rejecting the same NFL fraternity that played innocent while his coaching methods and Super Bowls were being deemed a fraud.
So many have risen to demean the Patriots. Now Suge Belichick demeans you. And he loves it.
Page 2 columnist Jemele Hill can be reached at jemeleespn@gmail.com.
PATRIOTS BEAT COLTS, 24-20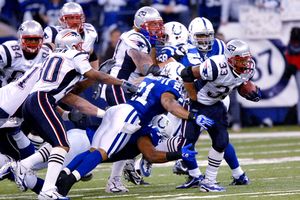 It's a battle of unbeatens ... and a possible AFC title game preview. It's Brady vs. Manning. Belichick vs. Dungy. It's 8-0 New England vs. 7-0 Indianapolis in Week 9 at the RCA Dome.
Sunday Countdown, (ESPN, 11 a.m. ET)
• In a report by Greg Garber, Hall of Fame QBs weigh in on the matchup of future Hall of Fame QBs Peyton Manning and Tom Brady. Also, special guest analyst Bill Parcells joins the crew to help cover every crucial angle of the epic matchup.
Commentary/features
•
Predictions: ESPN experts make their picks
•
Pasquarelli: Colts, Patriots take different paths
•
Clayton: Colts face Pats' big weapons
•
Sando: Manning or Brady? Experts make the call
•
Garber: Hall of Famers assess Manning, Brady
•
Drehs: Colts' Sanders a small wonder
•
EA Sports video: How they use Sanders
•
Chadiha: NFL's Top 5 rivalries
•
Power rankings: Pats No. 1, Colts No. 2
•
AccuScore: Pats have the edge
•
Clayton: Belichick seeks to run it up
•
Pasquarelli: Colts can finally focus on Pats
•
TMQ: It's an NFL battle of good vs. evil
Page 2
•
Got a problem? Ask coach Belichick
•
Inside the brain of ... Adam Vinatieri
•
Hill: Just call him Suge Belichick
•
Gallo: Secrets facts about Colts and Pats
•
Animation: Belichick's Cleveland years
Video
•
Colts, Patriots gamebreakers
•
EA Sports: How Colts use Sanders
•
Colts relishing underdog role
•
Cowboys' Crayton wants Colts to beat Pats
•
Keyshawn on Pats-Colts
•
Schlereth: Belichick breaking unwritten rules
•
Ismail: Colts, Pats right there together
•
Fassel: Teams must block out hype
•
Colts' Jackson ready for the Pats
Audio
•
Mike & Mike: Jimmy Johnson's preview
•
Jaws: Previewing Super Bowl XLI½

•
Freeney: Colts won't change approach

•
Patriots-Colts debate
•
Crayton: Colts have a great shot

•
Phil Simms on Brady-Manning

•
Jaws: QBs are pleasure to watch

Scouts Inc.
•
Horton: Both offensive lines are underrated
•
Green: Addai is offensive X-factor
•
Kidd: Maroney gives Pats another weapon
•
Maalouf: Pats have edge in punt game
•
Six keys to beating the Pats and Colts
•
Pats vs. Colts: Tale of the tape
•
Take 2: Pats-Cowboys scouting report
•
Colts' secondary will get physical
•
Cowboys' safeties are vulnerable
•
Follow this red-zone checklist
•
Wayne emerging as Colts' No. 1 receiver
•
Patriots-Colts scouting report
•
Seymour's return big for Pats
•
Clark, Welker play big roles
SportsNation
•
Who will win? Who's the better QB?
•
Where does the Colts-Pats rivalry rank?
Community
•
Got an opinion on the game? Let's hear it
•
Colts good, Patriots evil?
•
Sound off on Belichick's no-mercy approach
Manning vs. Brady: Previous results
•
Sept. 30, 2001 (at NE):
Patriots 44, Colts 13
•
Oct. 21, 2001 (at Indy):
Patriots 38, Colts 17
•
Nov. 30, 2003 (at Indy):
Patriots 38, Colts 34
•
Jan. 18, 2004 (at NE):
Patriots 24, Colts 14 *
•
Sept. 9, 2004 (at NE):
Patriots 27, Colts 24
•
Jan. 16, 2005 (at NE):
Patriots 20, Colts 3 **
•
Nov. 7, 2005 (at NE):
Colts 40, Patriots 21
•
Nov. 5, 2006 (at NE):
Colts 27, Patriots 20
•
Jan. 21, 2007 (at Indy):
Colts 38, Patriots 34 *
* = AFC championship game
** = AFC divisional playoffs
2007 Results
NEW ENGLAND (8-0)
•
Game 1:
Patriots 38, Jets 14
•
Game 2:
Patriots 38, Chargers 14
•
Game 3:
Patriots 38, Bills 7
•
Game 4:
Patriots 34, Bengals 14
•
Game 5:
Patriots 34, Browns 17
•
Game 6:
Patriots 48, Cowboys 27
•
Game 7:
Patriots 49, Dolphins 28
•
Game 8:
Patriots 52, Redskins 7
•
Patriots clubhouse page
INDIANAPOLIS (7-0)
•
Game 1:
Colts 41, Saints 0
•
Game 2:
Colts 22, Titans 20
•
Game 3:
Colts 30, Texans 24
•
Game 4:
Colts 38, Broncos 20
•
Game 5:
Colts 33, Bucs 14
•
Game 6:
Colts 29, Jaguars 7
•
Game 7:
Colts 31, Panthers 7
•
Colts clubhouse page
ESPN Top Headlines