DETROIT -- Jon Kitna remembers his "saved day" like some soldiers remember their "alive day," the way they commemorate narrowly escaping death.
"October of '93," Kitna said. "It was my third year in college."
The end of the pre-J.C. (pre-Jesus Christ) days.
"I was an alcoholic," Kitna said. "I was cheating my way through college. I was a womanizer. The final straw was my girlfriend at the time caught me in bed with another girl. I was just like, what am I doing with my life? This was the best thing that ever happened to me, something I didn't deserve. She's far too beautiful. She loves me. What are you doing?"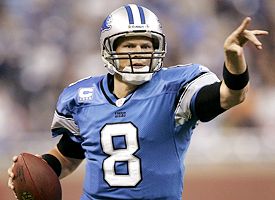 AP Photo/Paul Sancya
In his second season with Detroit, Kitna has a career-best 94.3 passer rating through eight games.
A couple months after Kitna got serious about God, the same girlfriend who caught him cheating did the same.
They've been married for 14 years.
"The worst thing I could do to her wound up being the best thing that ever happened to us," Kitna said.
The Detroit Lions quarterback always has maintained a certain influence over people. His parents, who were Catholics, both became born-again Christians soon after he did. Kitna is in his second season with the Lions, but every Monday he hosts a Bible study at his home that draws at least 30 teammates.
Some pooh-pooh the Jesus talk. And while no one would dare say God is rooting for the Lions, it's hard not to note the impact spirituality has had on the team's incredible resurgence, which would be a far bigger story if not for those pesky New England Patriots.
By Kitna's count, at least two dozen of the Lions -- including players' wives -- have become Christians since Kitna's arrival. Kitna is modest about it, but a nice percentage of them say they converted because of his example.
"It's more about what questions they've asked me, not what I've put out there," Kitna said. "I just live my life how I live it. If they have questions; I just try answering them as effectively as I can."
Not everybody on the Lions is a Christian and even those that are, aren't as devout as Kitna. But that's not the point. He has gained such respect in the locker room because from the first day he got to Detroit he was open about what he believed and what he didn't.
Somehow, Kitna manages not to compromise his beliefs, yet still accepts people for who they are. If you don't come to Bible study, that isn't going to prevent Kitna from sitting in the middle of the locker room and challenging you to a game of checkers, cards or dominoes.
And judging by his Halloween costume, he can still tell a good joke. Kitna dressed up as assistant coach Joe Cullen, who was arrested last year after he went through a Wendy's drive-thru naked, resulting in a two-game suspension and $20,000 fine.
Certainly, Kitna's beliefs have made him a target, particularly after he explained that "a miracle" enabled him to return in the Lions' 20-17 win over Minnesota after a concussion knocked him out.
"I told the people you're going to look at me, roll your eyes and laugh and have a good time with me," Kitna said, "but, to me, when something happens and I can't explain it and the medical staff can't explain it, that's a miracle."
Since then, he's been jokingly called God's quarterback and the Lions have been called God's team, which I suppose is one way to explain Detroit's 6-2 start -- just one game behind Green Bay and Dallas for best record in the NFC.
Kitna, a journeyman who played a season for the Barcelona Dragons, four years in Seattle and five in Cincinnati, boldly predicted this past summer the Lions would win 10 games in 2007. They were 3-13 in 2006.
People had an easier time believing the "miracle."
Now, everyone is running to the Lions' altar. Detroit is known as "Hockeytown," but the Lions are truly the soul of the city. If the Lions make the playoffs -- which would be their first postseason appearance since 1999 -- or heaven forbid they smell a Super Bowl, it would be one of the biggest sports stories in Michigan history and easily dwarf the championships won by the Red Wings and Pistons. If the Lions won a Super Bowl, it might even be the biggest story in the state's history, period, ranking right up there with the 1967 riots. The Lions have never won or appeared in a Super Bowl and they've only won one playoff game since William Clay Ford Sr. bought the team in 1964 for $4.5 million.
With the withering auto industry keeping Michigan's economy on life support, the Lions' unforeseen success is a much-needed salve. The local papers are smattered with news of high foreclosure rates and auto plant layoffs, but if you check the most-viewed stories on either the Detroit News' or Detroit Free Press' Web sites, a Lions story will almost certainly be among the most popular, well ahead of whatever economic doom is forecasted for the day.
Lions fans have suffered through five decades of losing, but no position has provided longtime Lions sufferers more torment than quarterback. The trail of quarterbacks is long and not particularly impressive: Eric Hipple, Erik Kramer, Andre Ware, Rodney Peete, Scott Mitchell.
Now comes Kitna, who might be the best quarterback the Lions have had since Bobby Layne, who quarterbacked the Lions from 1950 to 1958 and was the last All-Pro QB the Lions had. Think the Cubs' Billy Goat is fearsome? When the Lions traded Layne to Pittsburgh in 1958, he said the Lions wouldn't win for 50 years. And, they haven't.
This year, they have a shot and so much of their success revolves around Kitna. His stats don't blind you (10 TDs, six interceptions, 2,000 yards), but his presence does.
"I don't think [Kitna's spirituality] has anything to do with the success of the team, but it has to do with the tightness of the team," center Dominic Raiola said. "We're just coming together. Nobody is passing judgment on anybody. It just really brings people together."
Some fancy Kitna as a religious zealot, but if having strong faith is the worst thing we can say about a professional athlete, maybe we're the ones who need to reevaluate our priorities.
To Kitna, this is all God's will, right on down to the part you think he's crazy for proclaiming a miracle, crazy for saying God told him months before the conclusion of his final season in Cincinnati that he'd be a Lion, and forecasting the resurrection of a franchise that, well, only Jesus could muster.
"Don't worry, some other things will be spoken of when the time comes," Kitna says mysteriously.
Only there will be a lot fewer nonbelievers this time around.
Page 2 columnist Jemele Hill can be reached at jemeleespn@gmail.com.