Les Miles is a liar. And, a mediocre football coach.
He is, however, a victim of circumstance.
Loosely.
I don't believe that Miles, or his people, never ever had conversations with Michigan about taking over as head coach. He's danced around the subject since Lloyd Carr retired. Mighty rich of Miles to throw a tantrum against the media when a buyout clause in his own contract invited the speculation that he wanted to go to Michigan.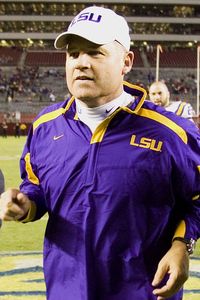 Marvin Gentry/US Presswire
Put yourself in Les Miles' shoes. Wouldn't you be interested if you were a candidate for the top job at your alma mater?
But there's an old, slang commandment that goes "game recognize game." I recognize Miles' game. The question is: Why don't the rest of us?
Long before LSU was in the picture, Miles envisioned himself taking the helm at Michigan, where he lettered under famed coach Bo Schembechler and was an assistant for 10 seasons.
When the Michigan job became open, it was naive to think Miles didn't give it heavy consideration. It's even more naive to think he wasn't immediately thinking of how much he'd have to plop down for prime Ann Arbor real estate. If coaching the Wolverines was never a reality, Miles would have killed the speculation immediately, his contract wouldn't make specific reference to the Michigan job, and over the past month, he wouldn't have been choosing his words so carefully. He may be happy as heck to be at LSU, but that doesn't mean a part of him doesn't long to be in the maize and blue.
But having seen these scenarios play out for a while, how exactly was Miles supposed to navigate such a thorny situation? How is any coach supposed to balance personal and professional aspirations against an unrealistic fan base that expects a coach's emotional commitment to match its own?
As Nick Saban has proved, as Miles' public relations minefield illustrates, when coaches are faced with career decisions, they are left with only one choice: Lie.
We can't really be upset when coaches resort to this tactic, considering most of us truly don't want to accept the truth.
The truth is, no matter if you tow garbage for a living, work the checkout at Wal-Mart, manage stocks and bonds, or are CEO of a major company, one eye is always shifted toward a better opportunity.
Loyalty should matter, of course. But every situation is different. Bob Huggins owed Kansas State more than one season because it hired him despite an embarrassing DUI conviction and graduation rate. But Billy Gillispie, who did some pretty impressive work at Texas A&M, didn't owe the Aggies anything when he left for Kentucky, a destination job for just about any college basketball coach. Had Billy Donovan kept his word and coached the Magic, who could argue? He gave Florida back-to-back national titles and was the best basketball coach in the state of Florida for some time. At some point, he deserves the opportunity to coach the best basketball players in the world.
We seem to equate money with loyalty, but the two don't often add up. If coaches were truly focused on loyalty, contracts wouldn't have exit clauses or buyouts. We can blame the coach all we want, but if the school agrees to accept those terms, hating the coach for leaving is a pointless, overrated exercise. Besides, most Americans don't envision staying in their current jobs forever, so why do we expect coaches to feel the same way in an increasingly lucrative job market? Detest Saban all you want, but what would the reaction have been if, while coach of the Dolphins, he told the truth. What if Saban said: "Hey, this baby is the Titanic and I want off. I misjudged what it takes to be an NFL coach." Considering the Dolphins are 0-12, the Alabama move is looking smarter each time Miami loses.
Saban's a carpetbagger, but expecting any coach to be truthful when a serious job offer arises is like expecting Britney Spears to have a hysterectomy tomorrow.
If instead of grandstanding and denouncing ESPN for reports that have been well reported in Detroit's newspapers, Miles would have said, "I love it at LSU, but Michigan is my dream job," how would that have gone over?
Answer: Not well.
Even after the posturing, I'm not completely convinced Miles will coach LSU next season. I'll believe that when I see him on the sidelines the first game of the 2008 season with Mike the Tiger looking on. Miles is saying and doing all the right things, but as long as his reported extension offer from LSU remains unsigned, Michigan still has a chance. Miles can get his hands on more talent at LSU, but a path to the national title is clearer in the Big Ten.
It also shouldn't be forgotten that LSU granted Michigan permission to speak to Miles. And the conspiracy theorist in me believes LSU craftily maneuvered the present circumstances to force Miles into an awkward position. LSU backed up the money truck to Miles' front door and made him an offer he'd be foolish to refuse. And if he does refuse it, the consequence is being known as a world-class bozo.
Not that Saban seems to mind.
Still, the college coaching game should be recognized for what it is. College coaches are no different than most in the job market, trying to hustle for what they can.
Doesn't make it right, just makes it real.
Page 2 columnist Jemele Hill can be reached at jemeleespn@gmail.com.