You didn't believe that, did you?
Fraud-ger Clemens was about as believable as Michael Corleone when he tried to convince Kay he didn't kill Carlo.
Clemens did nothing to exonerate himself in his "60 Minutes" interview with Mike Wallace that aired Sunday night or in his overly defensive news conference Monday.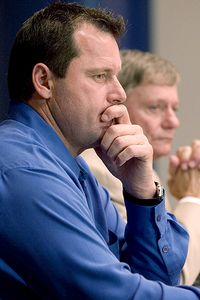 Dave Einsel/Getty Images
If this is all a lie, Roger Clemens risks a level of outrage, retribution and disgust that would put him in some pretty infamous company.
Anyone who has ever cheated in a relationship knows the best way to hide cheating is out in the open. That seems to be the defense Clemens is running.
Fraud-ger is acting like a man who is falsely accused. Key word here: acting. He is outraged (a month later) about being connected to performance-enhancing drugs through his former trainer, Brian McNamee, who told the feds and former Sen. George Mitchell he injected Clemens between 16 and 21 times with human growth hormone and steroids.
Now, Clemens is willing to tell his side (although he could have done that when Mitchell first approached) and he has filed a defamation suit against McNamee. He even came to his news conference with a trump card, playing a taped conversation for the media between him and McNamee.
Ultimately, that phone call and everything Clemens has done the last two days has been pointless. That phone call proved nothing, but added to the growing list of doubts about Clemens' innocence.
You'd think if a guy was trying to ruin your livelihood, Fraud-ger would have dropped a couple choice four- and 10-letter cuss words on him, or simply never have taken the call. You would think, at some point, Fraud-ger would have implored McNamee to tell the truth and wouldn't have given a care if McNamee's son was sick. Instead, Fraud-ger acted as if McNamee had borrowed a DVD and didn't return it.
So we are left with an act that is officially long past tiresome. See Fraud-ger's interview and ensuing news conference for what it was: compelling, but not very informative. He said little we hadn't already heard. All Clemens did was supply measurements -- as in exactly how much rope Clemens was going to use to hang himself.
But honestly, given what Fraud-ger stands to lose if McNamee's allegations are somehow proven true beyond its he-said-he-said nature, you can't blame Clemens for the all-out assault. Clemens' legacy and reputation are not only in jeopardy, but possibly completely unredeemable. This is a man who has peddled his values just as much as his fastball.
No one should have expected Fraud-ger to tear open his guts and tearfully admit that what McNamee said was true -- that Clemens had taken injections of steroids and human growth hormone to maintain his career.
Telling the truth never has been an option for Fraud-ger, given what he loses if McNamee's allegations are somehow proven true beyond their he-said-he-said nature. This is a man who has built his livelihood on not only being a dominant pitcher, but a good guy, a tough guy and a real American. He has sold his values just as much as his fastball.
If this is all a lie, Fraud-ger risks a level of outrage, retribution and disgust that would put him in some pretty infamous company. Many Americans want to believe Fraud-ger didn't do it. Unfortunately, he isn't giving them much to work with, alternately presenting doubt and hope.
I hope Fraud-ger understands his tirades not only have questioned McNamee's credibility, but the federal government's. He's inviting them to come after him. And if there is anything we've learned from the cases against Barry Bonds, Michael Vick and, heck, even Martha Stewart, the feds are more than willing to make an example out of those who mock them.
For the most part, Clemens has defended himself in such a baffling manner, it's difficult not to view this as an elaborate con.
Clemens told Wallace -- and Clemens' attorney Rusty Hardin reiterated this in the news conference -- that he wasn't sure taking a lie detector test would help. Funny, I thought the entire point of the test was to prove if someone is telling the truth. Unless Fraud-ger is Jason Bourne, why wouldn't people buy those results? Instead of giving himself another avenue of truth, Clemens seemed to be giving himself an out for either not taking the test or failing it.
Perhaps the most comical part of the interview with Wallace was when Clemens tried to argue that taking steroids and HGH would never have been beneficial to his career. So, Fraud-ger, you mean Jose Canseco, Rafael Palmeiro, Barry Bonds and the litany of other athletes who have been connected to performance-enhancing drugs are allegedly endangering their reputations for a product that doesn't pay off? HGH, which many doctors claim is akin to a fountain of youth, is reportedly being bought on the black market by at least dozens of athletes because it doesn't do anything?
Clemens says he couldn't have possibly been taking PEDs because his "tendons didn't turn to dust."
"If he's doing that to me, I should have a third ear coming out of my forehead," Clemens told Wallace. "I should be pulling tractors with my teeth."
Either Clemens thinks we're all stupid, or he's forgotten the information we've learned about steroids and HGH in the wake of so many athletes using those drugs. We are a far cry from the days of Lyle Alzado, who died from a brain tumor, though some (including Alzado himself) believe it was connected to his admitted steroid abuse. The BALCO scandal showed that athletes are able to operate quite comfortably on a carefully monitored drug cocktail. Besides, most of the baseball players caught with PEDs have been pitchers, and none of them had an extra ear or were dragging John Deeres.
Clemens reiterated Monday he didn't know Andy Pettitte took HGH, but that hardly passes the smell test. Your best friend, who used the same trainer as you, who worked out with you on a regular basis, took HGH and you had no idea?
Fraud-ger is in full blustering and hustling mode, but there is so much we don't know. Fact is, Fraud-ger has no credible answers for why, McNamee, a former police officer who we learn from the phone call clearly idolizes Clemens, would tell the truth about Pettitte, but lie about Clemens? Of all the hindparts to stick a needle in, why would McNamee point out Clemens'? What would he have to gain by fingering a man many consider to be the best pitcher ever?
Fraud-ger has no rational explanation for not talking to Mitchell when he had the chance. Fraud-ger claimed he had no idea he would be named in the report -- which is hard to believe since his name was previously connected in a newspaper report to the Jason Grimsley affidavit, albeit erroneously. Wouldn't you want to talk to Mitchell to clear up any possible misconceptions?
Brilliant of Clemens to turn the allegations against him into a sob story, telling Wallace he chewed the painkiller Vioxx "like Skittles," to help his team. Telling those at the news conference that he only reached out to McNamee because of his sick son. When he talked to Wallace, he also resorted to using one of the most over-used clichés because, frankly, Fraud-ger is in a bad spot.
"I don't know if I can defend myself," Clemens said. "I think people -- a lot of people have already made their decisions. And that's our country, isn't it? Guilty before innocence -- that's the way our country works now."
By the way, this is the same country that has made Clemens millions.
At this point, all we can expect from Fraud-ger are well-constructed lies disguised as genuine outrage. It's not like we haven't seen this before. Marion Jones held a teary-eyed news conference proclaiming her innocence, threatened to sue BALCO mastermind Victor Conte and even lied in her own autobiography before she finally admitted she took performance-enhancing drugs. Pete Rose maintained his charade for years before finally admitting he bet on his own team.
One thing Clemens said definitely was true. He said the Hall of Fame is the least of his concerns. He's right. He's playing a dangerous game of chicken. We'll see if he's bluffing.
Page 2 columnist Jemele Hill can be reached at jemeleespn@gmail.com.
THE MITCHELL REPORT

On March 30, 2006, baseball commissioner Bud Selig asked former Sen. George Mitchell to investigate steroid use in baseball. Now, the report is out.
The Mitchell report
•
Mitchell delivers his report
|
Read it (pdf)
•
Players: Who's named in the report
•
Recommendations from the report
•
Report reaction: What they're saying
•
Drugs listed in report
|
The Dope On Steroids
•
Evidence may limit Selig's punishment choices
•
Mitchell defends naming stars in report
•
Owners praise Selig, support extended tenure
•
Seligs hopes to finish review by spring
Clemens news
•
Reports: New name surfaces in Clemens saga
•
Date set for Clemens, McNamee depositions
•
McNamee unlikely to get congressional immunity
•
Mitchell reportedly tried to contact Clemens twice
•
McNamee's attorney defends immunity request
•
Source: Clemens hedges on giving deposition
•
Report of Clemens abscess raises more questions
•
Astros unsure if Clemens to help at camp
•
Clemens' accuser meets with federal prosecutors
•
Rocket reps: McNamee 'avoiding' being served
•
Source: No immunity expected for Clemens
•
Laywer: McNamee 'avoiding' being served papers
•
Clemens denies steroid use in taped conversation
•
Trainer's lawyers alert Congress to second tape
Pettitte news
•
Pettitte undecided if he'll testify before Congress
•
Pettitte gets new lawyer for congressional hearing
•
Pettitte admits using HGH in 2002
Grimsley/Radomski documents
•
Unsealed documents:
Radomski
|
Grimsley
•
Federal agent Jeff Novitzky's sworn affidavit
•
Watson denies allegations in Grimsley affidavit
•
Hearst wants goverment. to explain conduct
Other News
•
Players, owners try to modify drug agreement
•
Fehr: Foreign players deserve equal drug penalties
•
Pujols bans TV station that erroneously named him
•
MLB establishes drug investigations unit
•
Report: Knoblauch ends silence on steroid report
•
Kent: Players should undergo blood testing
•
Rose investigator says Mitchell undermined report
•
Report: Congressional hearing postponed
•
MLB to crack down on clubhouse security
•
Congressman blasts Selig on steroids policy
•
Report: Players may still testify at hearing
•
Report: MLB players won't testify for Congress
•
Rose says users 'making a mockery' of game
•
Selig defends baseball's drug-testing program
•
Post-'03 cases face most MLB scrutiny
•
Congress calling new hearings on steroids, HGH
•
Report: Deal with feds led to McNamee testimony
•
Report: Roberts admits one-time steroid use
•
Nats prez: Team had no advance copy of report
•
Indians' Byrd discusses HGH use with MLB
•
Vina admits HGH use, but disputes steroid claims
•
MLB's man: Progress in urine test to detect HGH
•
O's respond to Mitchell findings
•
A-Rod's reply to Canseco: I never doped
•
Bush: MLB must take report seriously
•
Pujols sets record straight on inaccurate report
•
Reliever Donnelly 'sick' over inclusion in report
•
Former D-back Cabrera denies using steroids
•
Lowell calls for stronger steroid testing
Analysis
•
Munson: Delay means Congress serious
•
Wojciechowski: Rocket's logic fizzles
•
Assael: Clemens throws up and in at McNamee
•
Munson: Clemens' lawsuit is part propaganda
•
Olney: There's one thing Clemens can't change
•
Crasnick: A tale of two Rockets on "60 Minutes"
•
Neyer: Time to stop behaving like a child

•
Bryant: Odds are against Clemens in interview
•
Munson Q&A: Clemens, McNamee on the hot seat
•
Neyer: Investigate all players

•
Wojciechowski: Time for Clemens to speak up
•
Neyer: Does HGH enhance performance?

•
Hill: Pettitte's apology was a joke
•
Stark: Pettitte no different than Pats' Harrison
•
Stark: Clemens, Bonds tales similar, yet different
•
Bryant: Selig must address steroids era records
•
Santangelo admits HGH use; will 'face the music'
•
Helyar: Not good for short-term business
•
Fish: Baseball's steroids crisis management
•
Crasnick: Clemens' Hall of Fame chances?
•
Gammons: Drug culture quite slimy

•
Hall of Fame voters speak out on Clemens
•
Stark: Indelible impact on the game
•
Wojciechowski: Thaw needed in cold war
•
Bryant: Mitchell report flat without feds
•
Fainaru-Wada: Report sheds light on Bonds
•
Crasnick: Recently acquired players named
•
The man behind Clemens, Pettitte bombshells
•
Munson: Legal challenges troublesome
•
Fish: Congress reacts quickly to report
•
Helyar: Anti-doping experts don't agree on report
•
Nelson: Fehr, MLBPA kept in dark on report
•
Neyer: Non-surprising names

•
Neyer: Scout's telling take on Gagne

Video
•
Complete coverage
Audio
•
David Justice on The Herd
•
Best of Mike & Mike, on report's fallout
•
PTI discussion over report's release
•
Michael Kay Show
•
ESPN.com's Keith Law
SportsNation
•
SportsNation reacts to Mitchell report
•
What do you think of it?
•
Fan blogs: How fans are reacting
More
•
Mitchell investigation timeline
•
Kirk Radomski timeline
•
List of suspended MLB players
ESPN Top Headlines