To all participating voters, I offer an apology.
I'm a month late with the annual Hook Up column. Year Two of the Hook Up awards was so difficult, extra time was needed.
Over the last year, we've seen the Hook Up perverted in so many ways. So many athletes attained the Hook Up, meaning they could do no wrong in the public's eyes and even if they did, they'd be forgiven faster than you can say "Britney Spears is the white Whitney Houston."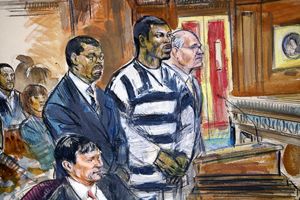 AP Photo/Dana Verkouteren
When you're featured in a courtroom sketch, there's a good chance you've had the Hook Up revoked.
But so many athletes lost it, too. Last year, Michael Vick was first-team All-Hook Up. Today, he's running the flag football team from Leavenworth prison. During last year's column, I opened up the floor for Hook Up for nominations, and those responses have been taken into careful consideration. I am both surprised and elated most of you took the job of awarding the Hook Up so seriously. Let me share a few nominations.
From Reese in Danbury, Conn:
"Doug Flutie was hooked up for life on a single play. He ended his career on a drop kick in a blowout loss against the Dolphins. While being considered the best CFL player ever, he has never done anything decent in the United States sports-wise in 20 years, but he could still kill a kitten on College GameDay and no one would question it."
I'm thinking PETA might say, "Not so fast!"
From Ajene in Brooklyn, who nominated Derek Jeter:
"My man is the Teflon Don. I'm a big Yankees fan, and I watch him every day, so I'm not one of these guys that doubts his skills on the field or his impact on how hard his teammates play -- but he gets the ultimate free pass. Gold Gloves and he doesn't have range toward second base, $20M annual salary when he doesn't put up big power numbers, and lots of cuties even though he's kinda funny looking for a 'handsome' guy."
And finally, from Anonymous in Maryland, who explained why no one can ever know he submitted a Hook Up nomination.
"I nominate Johnny Unitas. I don't know if this is a Baltimore thing, since we basically did the same thing to Cal Ripken. But Unitas could not possibly have ever done wrong. I've been told he won the MVP every year from 1932 to 1974, never throwing an interception or an incomplete pass. If it weren't for Johnny Unitas, John Mackey would have been about as revered as Mark Chmura, without the hot tub notoriety. There were rumors that he didn't really get along with (insert any teammate, coach or family member's name), because it had to be the other guy's problem. And he never played for San Diego. That never happened. PLEASE DON'T USE MY NAME IF YOU USE THIS. I'd never eat in this state again. Not because they wouldn't serve me, but because my mouth would be stretched to swallow a football." Just like last year,
you can e-mail me
Hook Up nominations. The Hook Up has been expanded this year to include the Hook Up Of The Year award, given to the person or persons who have received the biggest free pass of the year.
And with that, drum roll, please …
Hook up of the year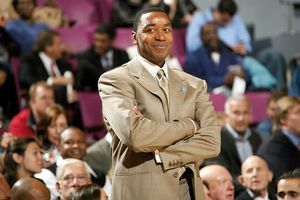 Ned Dishman/Getty Images
There are plenty of reasons to smile when you've got the Hook Up.
This was a close call and almost could have been a shared award, but being found liable in an $11.6 million sexual harassment suit was the difference. Ladies and gentleman, Isiah Thomas, who has the Hook Up of the Year. Perhaps the decade.
Thomas' endless free pass is not given to him by the fans or media, but the most important person: his employer, Knicks owner James Dolan. What's sad is Thomas has become such a disgrace as an executive, you can't even remember Thomas is a Hall of Famer, one of the NBA's 50 Greatest Players, led the Detroit Pistons to two NBA titles and is arguably one of the two or three best point guards ever.
He has shattered his reputation without having a criminal record -- although a sexual harasser in the eyes of a civil court. But he's no dog fighter and, to our knowledge, hasn't been accused of punching women in strip clubs.
Thomas' trail of destruction includes: Single-handedly destroying one of the NBA's signature franchises, bankrupting the CBA and doing the unthinkable -- uniting New Yorkers behind his incompetence. Yet Dolan sticks to Thomas like Greg Anderson does Barry Bonds.
Runner up: Detroit Lions president and CEO Matt Millen.
All-time Hook Up team
Current members: Brett Favre, David Stern, Shaquille O' Neal, Ray Lewis.
The 2008 class:
Michael Jordan:
His Airness should have been first-ballot Hook Up. He was the leading vote-getter for All-time Hook Up team. Jordan has been receiving the Hook Up for three decades, beginning when NBA officials started cracking down on the "Jordan Rules." Jordan never lost widespread support in the African-American community, despite choosing not to support North Carolina Democrat Harvey Gant in the 1996 U.S. Senate race against Jesse Helms, who infamously blamed gays and lesbians for AIDS and once nicknamed Jordan's alma mater, North Carolina, the "University of Negroes and Communists." This prompted Jordan's famous "Republicans buy sneakers, too" quote. Jordan allegedly cleverly evaded a gambling scandal and the tabloids detailing alleged extramarital affairs. Last year, Jordan reportedly settled one of the biggest celebrity divorces in history with ex-wife Juanita, who reportedly received a $168 million settlement. Plus, Jordan received the No. 2 Hook Up call of all time: The push-off on Bryon Russell that led to the Bulls' sixth title. No. 1 was, of course, the Tuck Rule.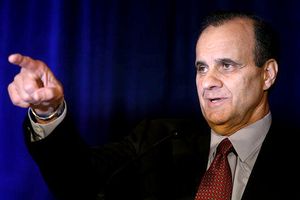 Michael Nagle/Getty Images
Will the Hook Up follow Joe Torre to Los Angeles?
Joe Torre:
When Joe Torre got canned by the Yankees, it was if Gandhi exited stage left. No one in charge of a team escaped blame like Torre. The Yankees' recent batch of postseason collapses always were blamed on age, pitching, A-Rod -- EBT (Everything But Torre). Let's face it, the Yankees' routine collapses should have gotten Torre run out of town much sooner, but his granddad routine had the media and fans blinded. One megacollapse got Marty Schottenheimer fired, yet Torre survived despite the Yankees becoming only the third team in North America to ever lose a best-of-seven series after being up 3-0. In '03, the Yankees had the best record in MLB, but lost to the Marlins in the World Series. They were a favorite again in '06 and were beaten soundly by the Tigers. I get that Torre made the playoffs every year he was in New York, but so could a hippo. Surely Torre made some bad decisions that contributed to the Yankees going seven years without a World Series title.
Wayne Gretzky:
Best player of all time, but coaching and part-owning the Phoenix Coyotes has yielded little for that franchise. The NHL didn't even lift an eyebrow when the Great One's name was brought up in a gambling ring in which his wife, Janet Jones, and former Coyotes general manager Michael Barnett. Nope, not a bad idea at all to have a guy mentioned in reports about a gambling ring coaching and owning a professional hockey team. All-Hook Up first team
Peyton Manning:
Putting aside the fact that you can't watch television for two minutes without seeing one of his commercials, no quarterback in the NFL gets more bogus calls in big games than Manning. It's not even close. Take this season's game against the Patriots or Sunday's game against the Chargers, when Manning was awarded a mythical pass interference call in the third quarter and a holding call toward the end of the first half that negated an Antonio Cromartie interception return for a touchdown. Also, despite having turned around the Colts' defense and making Tampa Bay a respectable franchise, Tony Dungy doesn't get the credit he deserves for the Colts' success.
Charlie Weis:
How he still has a job is a miracle, so maybe it's fitting he's at a religion-based university. Under the alleged "offensive genius," Notre Dame had the third-worst offense in the nation. The Irish have gone from being the team no one could beat to being the team nobody wants to lose to because it's considered a terrible loss. After the Irish's 3-9 season, Weis admitted he might have made a mistake by not having full-speed practices. Ya think? Weis is getting to learn as he goes, which is an opportunity that is rarely afforded to anyone. Weis came in drunk off his own undeserved reputation, and just as Dungy has received little credit for the Colts, Weis received entirely too much for what happened in New England. The real geniuses were Bill Belichick and Tom Brady, who have won just fine without Weis.
Pacman Jones:
How is he still able to gain entrance into any strip club? Having him near any exotic establishment is like taking Lindsay Lohan to a party where there's an open bar. Somebody revoke his license to see scantily clad women.
Reggie Bush:
The NCAA is conveniently dragging its feet with an investigation into whether Bush received thousands of dollars in illegal benefits while at USC. In the time it has taken the NCAA to investigate, a book has been written about Bush's money enterprise at USC. Bush also remains a hot marketing commodity, despite producing few results. Bush was a disappointment this season and has been an average runner in the NFL. It's becoming more apparent the most important offensive player on the Saints is Deuce McAllister, not Bush.
Pat Riley:
Miami's sudden collapse into NBA lottery land has been blamed on Shaq's decline and Dwyane Wade's injuries, but Riley seems to be getting the Joe Torre pass in South Florida. Riley has mercilessly criticized his team, calling them out for their lack of motivation and effort. But isn't it his job as coach to motivate them? And if they aren't listening, isn't that a reflection of the ineffectiveness of his grating coaching style? Riley led the overthrow of Stan Van Gundy just so he could finally prove he could win a title without Magic Johnson. The only reason Riley still has a job is because he's team president and can't fire himself. Though, he should.
Last year's team:
Tom Brady, Dwyane Wade, Michael Vick, Steve Nash, Matt Millen. And the Hook Up shall be taketh away …
Those of note who lost the Hook Up:
Michael Vick:
Let's hope he works on his accuracy at Leavenworth.
Dirk Nowitzki:
Although not mentioned in the Hook Up column last year, has any MVP had his reputation as a player plummet so quickly?
Donovan McNabb:
Now viewed as a whiner even though he took the Eagles to three NFC title games and a Super Bowl.
Roger Clemens:
Fraud-ger's credibility is thin and the showdown with Congress in February could potentially be a career killer.
Page 2 columnist Jemele Hill can be reached at jemeleespn@gmail.com.