PHOENIX -- A female friend and I were at dinner recently when we both admitted something that, under normal circumstances, would get us kicked out of the female species.
Neither of us thought less of Tom Brady for having a baby outside of wedlock with Bridget Moynahan while juggling a burgeoning relationship with supermodel Gisele Bundchen.
In fact, most women don't. It's a direct violation of the female code, which states that not only are we supposed to despise Brady for the way he reportedly stiff-armed Moynahan, but we're also supposed to loathe Gisele because she hijacked another woman's baby daddy. Only it's hard to hate a woman who, on top of being so mind-numbingly beautiful, compelled the nation's No. 1 quarterback to bring her flowers during the off week of the most-hyped sporting event of the year, all while limping around in an ankle boot. Now that's the whip appeal Babyface was talking about.
But this is just part of what makes Brady amazing. He is that rare celebrity who isn't judged by whom or how he dates because his accomplishments, coolness, elegance and good looks are too overwhelming.
This is why Brady is Joe Namath reincarnated. Namath invented living outside the rules of what was considered socially acceptable and polite. He didn't mind flaunting his women or his sex appeal. He didn't possess a whole lot of tact, either. No one else could get away with saying, "When we won the league championship, all the married guys on the club had to thank their wives for putting up with all the stress and strain all season. I had to thank all the single broads in New York."
Brady isn't quite that outspoken, but it's interesting how former golden boy Matt Leinart is now considered a tad sleazy even though he and Brady essentially ran the same play from the playbook. When he was at USC, Leinart was arguably the Tom Brady of college football. He was on his way to being an A-lister before he put on an NFL helmet. He had the looks, arm, personality and the championship hardware.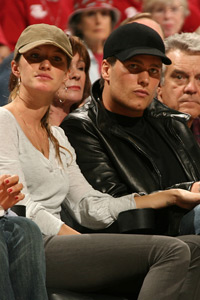 Nathaniel S. Butler/NBAE/Getty Images
How do you leave a pregnant woman to date a supermodel and come out unscathed? Your name is Tom Brady, that's how.
Then Leinart was linked to Paris Hilton and Britney Spears, two women who keep TMZ in business. If Leinart was going to go that route, why didn't he just hook up with a floormat?
Leinart also has a baby momma, who called him out for being a bad dad. Brynn Cameron, a USC basketball player and mother of Leinart's son, Cole, told the Ventura Daily Star, "It's kind of hard for me as the mom -- I'm with Cole probably 99.9 percent of the time -- to open a magazine or read a newspaper article with Matt saying, 'Oh, I love being a dad. I love changing diapers. I love doing this.' I'm like, 'Wait, what?' I don't know how to word how he is about this, but it has been hard when I'm doing all the work, but he gets all the credit for it."
Now because Brady has mastered things most humans have not, I'm going to assume even though I've seen numerous pictures of him and Gisele holding hands and gallivanting around New York, he's secretly spending time with his son that not even the vigilant paparazzi are aware of. Otherwise, why isn't he considered to be as grimy as Leinart?
Never underestimate how much a romantic relationship/hookup can influence what you think about a professional athlete. Fair or not, Tony Romo's dalliance with Jessica Simpson is a major reason his moxie is being questioned. The tryst with Simpson came at a critical time in Dallas' season, prompting critics to wonder whether Romo was capable of putting bros before blondes.
Nobody could imagine Gisele obnoxiously shimmying for Pats fans in a pink Brady jersey the way Simpson did. Besides, if Romo couldn't see that Simpson needed to draw as much good publicity as possible after "Blonde Ambition" bombed, then it's no wonder he missed his receivers against the Giants and couldn't sidestep their pass rush.
This isn't a trash job of Brady, but merely an appreciation for his Teflon. LeBron James has been a serious MVP candidate the past couple seasons and by all accounts is a good guy. But that didn't stop more than a few Clevelanders from raising their eyebrows when it was announced he and his girlfriend were having their second child together. Certainly, Reggie Bush's problems with the NCAA are bigger than the headlines he has created with Kim Kardashian. But you wouldn't be human if some part of you didn't find it odd that Bush is in a relationship with a woman who made a sex tape with Ray J, best known as the little brother of R&B singer Brandy. Although you don't really question why Bush is with Kardashian, some of you just question why it's a "relationship."
Brady has elevated himself to such a point that he is above criticism about his dating life. The who's and the how's don't matter. Just the W's.
Page 2 columnist Jemele Hill can be reached at jemeleespn@gmail.com.
PAGE 2 ON THE SUPER BOWL
Don't miss any of Page 2's hard-hitting Super Bowl coverage as we gird for an epic clash between the Giants and Patriots.
Bill Simmons
•
Postgame: Free fallin' out into nothing
•
Super Bowl XLII preview and pick
•
Awards from the conference championships
Tuesday Morning Quarterback
•
TMQ: Super ending to a tumultuous season
•
Easterbrook: Spygate returns to headlines
•
TMQ: Conditional immortality
•
TMQ: All-Unwanted All-Pros
Notes, jokes and potpourri
•
Super Bowl commercials bingo cards
•
Flem File at the Super Bowl
•
Friday, Feb. 1: News you can't live without
•
Thursday, Jan. 31: News you can't live without
•
Wednesday, Jan. 30: News you can't live without
•
Tuesday, Jan. 29: News you can't live without
•
Monday, Jan. 28: News you can't live without
•
Celebrities make their picks
•
Poll: Tom Brady celebrity photo ops
Insight and wisdom
•
Hill: Super Bowl party report
•
Page 2: Pop culture roundtable
•
Gallo: Boston's five stages of grief
•
Neel: Bittersweet game for Hoover's people
•
Hruby: Page 2 Week in review quiz
•
Uni Watch: Where's all the blue in Big Blue?
•
Milz: What does Gisele's dad think of Tom?
•
Hruby: Super Bowl is hazardous to your health
•
Hill: Moss was right to quit on Raiders
•
Hill: Teflon Tom Brady
•
Page 2: Suggested questions for media day
•
Jackson: Perks for perfect Patriots
•
Hruby: Analyzing the Brady tape
•
Best teams not to win a championship
•
Fleming: Footnoting greatness
•
Gallo: The first 24 hours of hype
•
Page 2 obtains Boston's contract with the devil
•
Snibbe: Championship Sunday by the numbers
•
Garfamudis: Patriots aren't perfect
•
The curse of Mo Lewis
Inside the brain
•
Inside Jared Lorenzen's brain
•
Inside Matt Cassel's brain
•
Inside Tiki Barber's brain
All things Super Bowl
•
Complete ESPN.com coverage
•
From 2007: The Ultimate Super Rankings
E-Ticket
•
Klosterman: All too perfect
•
Neel: Almost immortal
ESPN Top Headlines