No matter what you think of rapper Mike Jones' music, you've got to admit he's a dynamic marketer.
Jones, whose debut album "Who Is Mike Jones?" sold nearly 2 million albums, came up with one of the simplest ideas in the history of humankind. He became famous by shouting his name repeatedly, proving that if you say your name enough, at some point people will remember it.
The 27-year-old Jones had the entire country shouting, "Who?! Mike Jones!" like an anthem. He then further increased his fame by printing T-shirts with his personal cell phone number, and yelling out his Web site at every possible opportunity.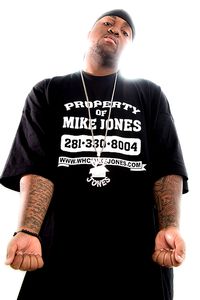 AP Photo/Jim Cooper
Mike Jones says basketball was his first love -- even before rapping.
It was self-promotion at its finest. But with his third album due out in July, Jones, who performed at ESPN The Magazine's pre-draft party in New York on Friday, is still a crafty marketer. That's why we knew it wouldn't hard to persuade Jones to do a Q&A with Page 2.
---
Page 2: Are you a big sports fan?
Mike Jones: Huge. In fact, I'm watching the Pistons-76ers right now.
What's your favorite sport?
I love basketball.
College or pro?
I love both. I love the pros because they have all the excitement. I love college because they show the hunger.
Favorite NBA team?
In the beginning, it was the Sacramento Kings, but I ride with Houston, too.
So are you over what happened to the Kings against the Lakers?
Naw, I'm still heartbroken. They went through it. But I'm still with them, win or lose.
Did you play basketball growing up?
Basketball was my first love, before rapping. I'm definitely a hooper.
What kind of player are you?
I'm a team player, but I can break you down at any time.
Who's the best rapper-baller?
R. Kelly's pretty good. I heard The Game could play, too.
Rappers want to be athletes, and athletes want to be rappers. Why is that?
The reason they want to do each other's profession is that they have haters and critics saying they can't do it. They just want to prove they can do something different. A lot of rappers want to show people they can multitask.
Who's the best athlete-rapper?
When I first heard AI (Allen Iverson), I was like, 'He's nice.'
If you could play for any team for one day, who would it be?
First, I'd pick the day of the NBA Finals, Game 7, so I can win a championship. I'd play for Boston right now. With Ray Allen and Paul Pierce, they have some heavy hitters over there.
Hip-hop music has faced a lot of criticism in the past year. Some people felt the Don Imus controversy with the Rutgers basketball team was overblown, because some rappers and hip-hop artists use language in their songs that degrade women far worse than that. Was that a fair criticism?
What Don Imus did didn't have anything to do with hip-hop. He doesn't know anything about what we do. You might (spank) your child, but that doesn't mean it's cool for me to do it. Besides, a lot of women in the rap game call themselves those names. Like Trina, she calls herself the baddest b---- and she raps about how she gets down with this many people. So how are we degrading them when they say that about themselves? We're not talking about all women, but those specific groups of people. Some women come up to me and say, 'I like your music.' Some women come up to me and say, 'I like your music, but I want to do this and that to you.' We rap about those women, but we rap about nice women, too. People focus on the degrading stuff, but never the sweet stuff. Like they don't look at sweet songs, like the song Nelly did with Kelly (Rowland), "Dilemma."
How responsible do you try to be with your music?
I try to make sure what comes out is good music. I try to make sure it's real and it's positive. And I tell you how it is. TV won't tell you how it is.
Who was your biggest musical influence?
I love Big Poppa (Notorious B.I.G.) because he wasn't an image person, but he was successful. Some people have to work out 24 hours, but he came out saying, "heart throb never/black and ugly as ever/however I stay Coogi down to the socks." He was always clean, but he took a negative and turned it into a positive. Then he came out with "Juicy" and showed us where he comes from. That made me appreciate him even more.
Your first album sold 2 million copies. Now that you're about to release your follow-up, have you been able to look at the success of your first album and put it in perspective?
I'm thankful and blessed. A lot of people think I can't do it again. I did it before, and I can do it again. I'm going to shut up all the critics.
Time for me to put you on the spot: What teams will make it to the NBA Finals?
Boston-Spurs in the Finals. If that comes true, ESPN should give me some tickets because I predicted it.
Jemele Hill can be reached at jemeleespn@gmail.com.